This State-corporate 'cooperation' didn't begin with the arrival of the Modi government.
Many of the big licences, contracts, and even environmental clearances for the Adani group had come in the UPA's time, points out Shekhar Gupta.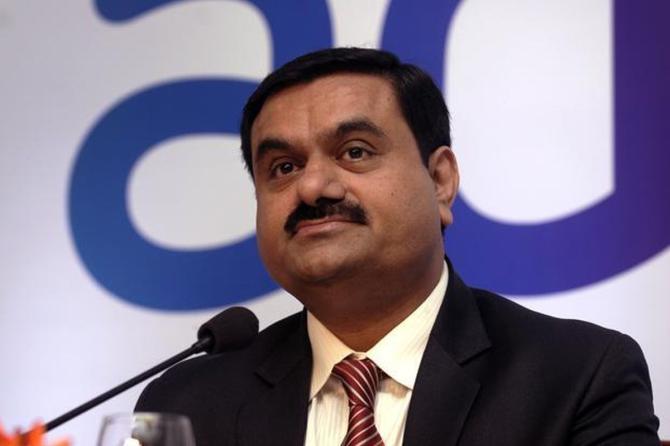 The Adani controversy brings to our attention many related aspects of India's political economy.
The first is the most important and immediate one: The Opposition's allegation of cronyism.
When elaborated, it becomes a larger theme encompassing the top four or five leaders of corporate India.
You can add Ambani, Tata, Birla, and Vedanta to the list. All these qualify to be called conglomerates.
They all have interests in diverse fields. This, to be sure, isn't a definitive or comprehensive list.
The Tatas, for example, are often described as a salt-to-software group.
They produce automobiles and military aircraft, run a massive and diverse airline business now, and also make steel.
Mukesh Ambani's Reliance Industries spans a wide range of businesses too, from refining to telecom as the main course, to retail and even biosciences research, and some media thrown into the dessert trolley.
The Aditya Birla group has interests in metals (aluminium in particular), telecom, cement, yarns and more.
Vedanta is still mostly into metals but is now on the energy (oil and gas production) radar too.
All these have three things in common. One, they are all legacy or at least family-controlled enterprises.
Reliance (Ambani) and Birla are empires founded by the previous generations.
Vedanta and Adani have first-generation founders who control their businesses directly.
The extent to which members of the family are in control of key businesses can vary, from the Adanis at one extreme and the Tatas at the other.
Two, all these have most of their businesses in areas where the government overhang is heavy and decisive.
These are highly regulated areas and often -- especially in the case of Adani -- monopolies by definition.
Think Mumbai airport and electricity distribution, or Mundra Port, or the mega plants with power purchase agreements.
The same applies to refining and telecom, mining and oilfield concessions.
A direct and extensive interaction with the state is critical to these.
Third, and the most important for this week's discussion, none of them owns a truly global Indian brand.
There will be protests from the Tatas, I understand, because they have the Taj Hotels and now Air India is back with them.
I'd say, with some humility, that Taj is still not a hotel brand to awe the world -- probably because it works in so many categories, from super-luxury palaces to the very working-class Ginger.
And Air India was killed by the sarkari kiss of death decades ago, and it will take some doing now to bring it back to its old glory.
Much of the criticism Gautam Adani has faced in particular stems from his proximity to the Narendra Modi government, especially given how critical working with the State is for his main businesses.
If running ports on India's coast is a business fully regulated by the government, buying port assets overseas is impossible without a supportive government.
Whether that's a good thing or bad isn't the question. It can often border on cronyism.
The Congress, for example, cites this as a case of the Modi government running foreign policy to 'serve their friend Adani's interest'.
Others might see it as important that any government work closely with powerful Indian conglomerates to compete overseas, especially with a rampant China with its Belt and Road Initiative and unlimited treasury.
Similarly, think of the airports, highways, railways, tunnels, metros and much else that is being built in India now, as The Economist noted in its latest issue.
You'll need companies that have deep pockets and large balance sheets to build so much infrastructure.
Would you leave it to Bechtels of the world to come and do it for you, or would you rather have Indian conglomerates do it?
Nobody can do it without working closely with the government, so that isn't the issue.
The debate, therefore, has to be about whether there is a level playing field for all comers. The Bechtels included.
This State-corporate 'cooperation' (nexus if you are conspiratorially minded) didn't begin with the arrival of the Modi government.
Many of the big licences, contracts, and even environmental clearances for the Adani group had come in the time of the United Progressive Alliance.
Of course, they will insist they did it fairly after asking the right questions and giving all competitors an equal chance.
But the fact is, there are so many areas in a growing economy with such a hunger for infrastructure that private capital and the state will need to work closely together.
We've discussed the Adani case in greater detail because it is the subject of most of today's debate.
But all these conglomerates do most of their business in India, and in areas where they can't escape the government's shadow.
Much of their revenue is domestic as well. There are exceptions, for sure, like the Tatas' software business.
To understand this better, look at the case of the Dhamra Port on India's still poorly served eastern seaboard.
The Tatas built it in the face of heavy odds, in particular opposition from environmental activists who had a much greater say under the UPA dispensation.
There were questions and litigation, ranging from whether it was consuming reserved forest land to the feared destruction of the nesting sites of Olive Ridley turtles.
The clearances did finally come in the UPA era, if after much delay because -- despite its devotion to environmental activism -- its top leaders were too wise not to understand the vital need for another efficient port in the east.
That the Tatas finally sold it to the Adanis is another story.
While many would believe the insinuation that the Tatas must have been arm-twisted into selling it to the Adanis, we need to think whether India's oldest and most respected business house has become such a weakling now, with no mai-baap in the Modi government.
The third point, the failure of these super-powerful Indian corporations. To build global brands is a real disappointment.
We can classify brands broadly in three categories: Country, company and product brands, respectively.
In the first category, India has some: Yoga, ayurveda, spirituality maybe.
Engineering and maths talent, IITs and IIMs, generic pharma. You can add more to the list.
There are powerful Indian company brands known across the world, at least in business circles: Tata, Reliance, Vedanta and some companies within the conglomerates, like TCS.
Then there are other tech companies like Infosys, Wipro and HCL.
None of them, however, has created a product brand that rules the world.
India does not have a purely homemade car, a two-wheeler, a software or operating system, not even a perfume or a beverage.
We are collecting GI tags for scores of -- mostly agri -- products and yet not a brand that looks out from shop shelves globally.
Corporate India has failed to create a garment brand, and almost all that our factories produce and export is sold under the labels of international store chains.
To that extent, our garment makers are also doing outsourced work.
Which is precisely what the Modi government is now promising in its larger manufacturing push with production linked incentives and other concessions.
While it is great that India is now making a lot of mobile phones for export, none of these carry an Indian brand name.
The Chinese and Koreans, on the other hand, have spawned a half-dozen brands that dominate global markets.
The Modi government's manufacturing push is very good and necessary, but basically it is pushing Indian manufacturing in the same direction as our software (services) industry: Outsourcing.
Cronyism is abhorrent and it is good that it is now being debated so robustly.
But the much bigger failure of these incredibly powerful, rich and successful companies, and of the State policy, lies in India's fully brand-free economic growth.
By special arrangement with The Print