The reason why Prime Minister Narendra Modi should have attended the President's iftar was not merely to break a fast with the faithful, but more importantly to broker an understanding with India's second largest set of citizens, says Shehzad Poonawalla.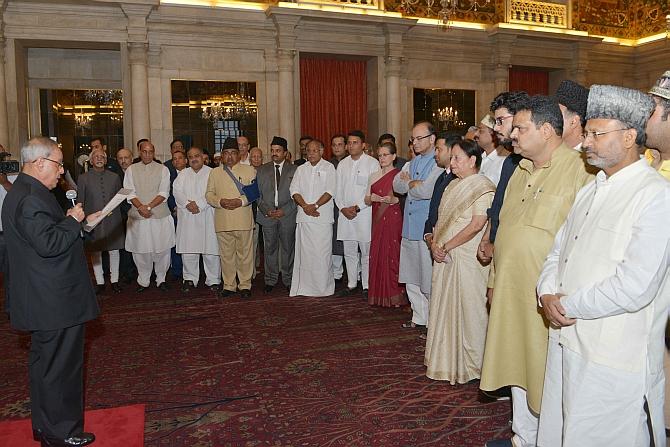 Image: President Pranab Mukherjee hosted a well-attended iftar at Rashtrapati Bhavan, July 15. One notable absentee, for the second year running, was Prime Minister Narendra Modi. Photograph: Kind Courtesy Rashtrapati Bhavan.
For the second year in a row, Prime Minister Narendra Modi skipped attending an iftar gathering organised by the President of India.
Unlike then prime minister Atal Bihari Vajpayee whose iftar parties were the talk of the town, Modi won't host any official iftar either.
While many eyebrows will be raised about the PM's reluctance to partake in the cultural manifestation of India's second largest community, it hardly comes as a surprise to those who have watched Modi's transition from Gujarat to New Delhi, from 'Modi 1.0' to 'Modi 2.0' as Congress leader Shashi Tharoor often describes it. The moot question, however, is whether there is any real difference in the worldview of the two Modi versions.
From the looks of it, neither his governance model nor his personal outreach to the community bears any evidence of that. The latest undeclared 'iftar boycott' by the PM only adds to that growing perception among the Muslim community.
While officially the Prime Minister's Office has said that Modi would be busy with Niti Aayog meetings, appointments with state chief ministers and launching the Skill India initiative, more than 12 CMs gave this a miss including Akhilesh Yadav of Uttar Pradesh, Mamata Banerjee of West Bengal and Naveen Patnaik of Orissa.
Is it then so difficult for the prime minister to block 10 minutes to attend a programme hosted by the President of India?

Modi 1.0 successfully ruled Gujarat for over 12 years with a style that could well be described as polarising and lacking a sense of inclusiveness, at least as far as the minority community of Gujarat was concerned. No less than a Vajpayee felt that he needed a gentle reminder of 'Raj Dharma.'
Modi 2.0, who emerged on the national scene in 2014, promised to be different. He had to be, given the basic premise that India was not Gujarat. And as far as slogans were concerned, Modi 2.0 got those right, from 'Sabka Saath, Sabka Vikas' to 'Ek Haath Mein Quran, Ek Haath Mein Computer.'
But Modi, while travelling to Muslim-dominated Central Asia from where he desperately needs energy and security cooperation, didn't shy away from praising Islam and its place in India, like he did recently at Kazakhstan's Nazarbayev University where he eulogised India's (and Central Asia's) Islamic heritage as being 'defined by the highest ideals of Islam... Knowledge, piety, compassion and welfare.'
Back home, it remains to be seen if his new way of thinking, where he celebrates the 'confluence of Islamic and Indian civilisations', however convenient it may seem, filters through to his mentors and colleagues in the Rashtriya Swayamsevak Sangh who continue to hold that Muslims were 'invaders' who persecuted Hindus.
Modi seems hesitant yet amenable to 'talking the talk'. A single greeting on Eid or Ramzan, even if delayed, comes through from his official Twitter account. So what if he seems more eager to tweet in languages of different countries when he visits them but is reluctant to tweet in Urdu, an Indian language?
And while Modi 2.0 may not meet any known leaders from the Muslim community to discuss any real issues, settling instead for some 'rubber stamp' leaders, the question is whether he will ever meet a Zakia Jafri or a Bilkis Banu?
Today, those raising questions about Modi not attending iftar parties are not perturbed by his mere absence at a gathering, but the baggage of his politics that governs his absence. It assumes significance only because Modi 2.0 has not been able to 'walk the talk' yet on the big promises he made about demonstrating zero tolerance for those who speak the language of communal hate, very often by his own party and ministerial colleagues.
From the beef ban to saffronisation of education, from Ghar Wapsi to Love Jihad, the constant ambience of communalism over the last one year has increasingly added to the suspicion of Indian Muslims about the agenda of the majoritarian government led by Narendra Modi.
Had he resisted the RSS's interference in education or ensured action against those spreading communal venom, his absence at an iftar would have probably gone unnoticed.
Another question that also arises is whether Modi 2.0, much like Modi 1.0 did, still believe that hosting or attending an iftar and or donning the 'topi' amounts to 'Muslim appeasement,' even while he has no problem with the 'religio-cultural symbolism' of performing puja in Varanasi along the banks of the Ganga, visiting temples in every foreign destination he travels to, handing out copies of the Bhagvad Gita to eminent persons (note, not the Constitution of India which should be the most important book for an Indian PM) or donning the headgear of all other religions and regions including the Sikh pagdi?
Being part of an iftar, essentially, is an espousal of similar humanitarian values of faith, charity and goodness, which the PM has no qualms in demonstrating vis-a-vis traditions pertaining to the largest community of India (and other communities) when he liberally flaunts their religio-cultural symbols. But nobody would call that 'Hindu appeasement' or 'Sikh appeasement', would they?
Why should it then be seen as 'appeasement' when the PM hosts or attends an iftar for India's second largest community? His home minister and other colleagues don't seem to share that view, by the way.
And if Modi truly believes that the office of the PM must be above religious symbolism and considerations, then why does he prefer one kind over the other? We have had many PMs who have been staunch practitioners of their religions, but nobody made it out to be a tool of political communication like Modi does, especially when he includes temple visits as part of his official trips and public events on foreign soil.
Frankly, as Muslims what bothers us is not the PM's absence at an iftar event, but the politics and the mindset behind it. One is pretty sure during his tenure Dr Manmohan Singh too missed an iftar or two, but no adverse interpretations could ever be drawn from those.
Today, Muslims are wondering if the slogans of Modi 2.0 are nothing but a spin to make Modi 1.0 more palatable.
If the only reason the PM chooses to stay away from an iftar is the shallow political calculation that it may look like 'Muslim appeasement,' then the same narrative has been used as a justification for the denial of the most basic of rights, including education scholarships to Muslims in Gujarat.
Even the Sachar Committee report, which is the most comprehensive research on the socio-economic position of Indian Muslims, had been rejected by the Bharatiya Janata Party. Where then does this argument stop?
The reason why Modi should have accepted the invitation to the President's iftar was not merely to break a fast with the faithful, but more importantly to broker an understanding with India's second largest set of citizens and demonstrate that he genuinely believes in 'Sabka Saath, Sabka Vikas.'
Shehzad Poonawalla is a lawyer-activist and founder-member of the governing body of the think-tank PolicySamvad.
REDIFF RECOMMENDS