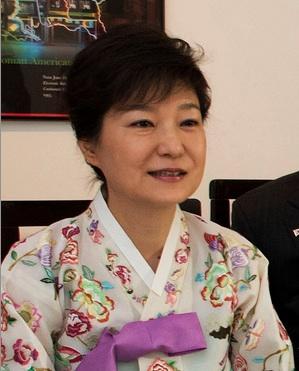 Both India and South Korea will use President Park Geun-hye's visit to unveil a comprehensive programme for mutual benefit and impacting on regional security environment, says Srikanth Kondapalli.
Korean President Park Geun-hye's visit to India this week is expected to leave a positive and long-term impact on the bilateral relations. As members of the G-20, top ranking Asian economies and 'strategic partners' since 2010, both India and South Korea are expected to unveil a comprehensive programme for mutual benefit and impacting on regional security environment.
Matching the Korean enthusiasm for expanding relations, New Delhi as well needs to seize the momentum with bolder initiatives. For there are hardly any areas of concern between New Delhi and Seoul, only further prospects for further improving ties.
Firstly, both the republics have similar regional security concerns. Subversion and terror strikes both stare at South Korea and India. South Korea is weary of the unpredictable North Korean nuclear and ballistic missile programme and the demographic challenge of influx of migrants. With the Six Party Talks on denuclearisation of the Korean Peninsula going nowhere and in the light of the destruction of its Cheonan ship, the Yeongpyeong firing, Seoul is making efforts to reach out to various capitals.
With energy dependence on the Indian Ocean increasing, South Korea has also expressed concerns on piracy issues affecting its maritime convoys in the region. As a 'middle power', Korea intends to leverage its weight in the regional and international arena and influence the order in its favour. Expanding relations with 'emerging' India will provide rich dividends for Seoul in the years to come.
India is equally concerned with the fallout of nuclear and ballistic missile 'Wal-Mart' between Pyongyang and Islamabad. Besides, working with Seoul could stall any rising hegemon on the horizon. To counter regional security challenges India and South Korea concluded defence technology and maritime cooperation agreements in 2009 and during this visit by President Park will further expand cooperation in this direction.
Secondly, much of the glue between Seoul and New Delhi is provided by the economic and technological links. Both signed a Comprehensive Economic Partnership Agreement in 2010. Seven joint commission meetings took place between the two so far to lay down comprehensive cooperation in different fields. As a result, bilateral trade expanded from a mere $2 billion in 2001 to $10 billion in 2007 to $20 billion in 2011 and projected to $40 billion by 2015.
Cashing in on the consumer boom in India, Korean companies like Hyundai, Samsung, Daewoo, LG and others have become household brands. It is time for South Korea then to diversify into infrastructure projects, specifically in shipping sector in which it excelled globally.
President Park had recently initiated 'creative economy' as a part of her three-year economic reform plan. This is expected to influence her policy towards India as well. Coinciding with President Park's visit will be the summit meeting of India-Korea Infrastructure Development & Partnering Plaza 2014 to be held at Mumbai. Power generation, shipping, railways, IT, etc will be the focus areas during this summit. The Ubiquitous City in the suburbs of Seoul -- which had integrated urban planning, mapping land patterns, revenue collection, efficient monitoring of law and order and provision of timely disaster relief -- offers a useful model for India in graduating towards the 'smart city' phenomenon.
For India, the Korean model -- apart from that of the Taiwanese -- is attractive to the second largest populous country as it tends to generate jobs for the aam admi. Korean companies also have a comprehensive approach in adopting whole communities in terms of human resources development. In addition, Korean industrial conglomerates (chaebols) have important lessons for resurrecting Indian public sector units in efficiently regrouping, upgrading their managerial skills, technology infusion and enhancing competitive skills.
Thirdly, civilian uses of space have opened up new vistas in India-Korea relations. An MoU exists between the two countries, with India helping launch the KITSAT for South Korea in 1999. South Korea became 13th country in the world in establishing a space centre in the southern island of Naro in June 2009 but its Naro-I launch has to be aborted. South Korea has an ambitious space programme with aims to build a rocket completely on its own by 2018, a moon survey satellite launch in 2020 and lunar landing explorer by 2025 but faces technological hiccups.
It had been looking for international partners and had sought assistance from Japan's Mitsubishi Heavy Industries to launch an earth-imaging satellite. India's cost-effective space launches are attractive to Seoul, specifically after the successes in Chandrayaan mission and GSLV launches recently.
Fourthly, given the regional settings and similar terrain, both India and South Korea have been enhancing defence cooperation in the recent period. Seoul had agreed to sell minesweepers to the Indian army, besides plans for the export of T-50 Golden Eagle trainer. Ballistic missile defence is another area of cooperation as both face missile threats. Joint design and development of weapon systems, agreed to during President Park's visit, could provide rich dividends to both.
Image courtesy: Wikipedia
Srikanth Kondapalli heads the East Asian Studies programme at Jawaharlal Nehru University.