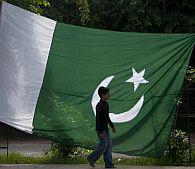 What is more frightening is the level of radicalisation of Pakistani society, where jail authorities conspire with other convicts to kill an inmate on death row. This represents a dangerous trend in Pakistan's society of delivering instant justice, says Alok Bansal.
Sarabjit Singh, the Indian national languishing in Pakistan's jails for over 22 years died on Thursday morning, due to the injuries sustained in the grievous assault on him in Lahore's dreaded Kot Lakhpat Jail.
Sarabjit had been accused of planting bombs in 1990 that resulted in three blasts in Lahore and one blast in Faisalabad, killing 14 people. He was convicted by the Pakistani courts in 1991 for his role in the blasts under the Pakistan's Army act and had been sentenced to death. The fact that he was convicted as Manjit Singh and not as Sarabjit Singh, raised serious questions about the impartiality and authenticity of the entire judicial process. Subsequently, one of the prime witness stated that he had been forced by the police to identify him, giving credence to the theory that it was a case of mistaken identity.
According to Sarabjit's family, on August 28, 1990, he had left to plough his fields near the Wagah border, but never returned. Pakistani authorities claimed to have arrested him the same night at Indo-Pak border near Kasur in an inebriated state. He was initially charged for crossing the border illegally and after eight days was charged with involvement in the bomb blasts.
Internationally acclaimed jurists have found the whole process of his conviction quite flawed. None of the four first information reports filed for the blasts, contained either his name or description that matched his identity. The whole judicial process was conducted in English, a language which he did not understand and nor was he provided with an interpreter.
His appeal against the death sentence was turned down by the Supreme Court of Pakistan in March 1996, because his court appointed lawyer failed to turn up. Since then there have been numerous appeals by human rights organisations and activists from Pakistan, India and other parts of the world to release Sarabjit, who had already spent a number of years in solitary confinement.
President Asif Ali Zardari and his government were sympathetic to the cause, but the all powerful security establishment backed by religious right-wing elements prevented him from doing so. He was actually pardoned by the President in June 2012, but he was forced to change the statement under pressure from the army and the religious parties.
There has been a clamour amongst right-wing elements in Pakistan for hanging Sarabjit, especially after the hanging of Afzal Guru in India. On April 26, Sarabjit was attacked in the jail by six inmates with bricks and improvised weapons, which led to grievous injuries. He had been in coma since then and the ineffective and inefficient caretaker administration of Pakistan could not take a decision to shift him to medical facilities abroad.
Sarabjit's family had clearly articulated their lack of confidence in Pakistani doctors and wanted him shifted. They had even raised apprehension that "They might do something to him now" and within 24 hours Sarabjit was no more. It needs no elaboration that the type of attack on Sarabjit could not have taken place without some sort of a complicity of the jail authorities. The action taken by the Pakistani government against the prison officials has not been substantial.
In fact what is more frightening is the level of radicalisation of Pakistani society, where jail authorities conspire with other convicts to kill an inmate on death row. This represents a dangerous trend in Pakistan's society of delivering instant justice, be it people accused of blasphemy or even minor crimes.
There have been numerous cases where even petty robbers have been lynched and hapless accused of religious crimes have been burnt alive. This not only shows the Pakistani society's complete absence of faith in its judiciary, but also the perception that it is their messianic right to eliminate another human being as long as he or she does not agree with their perceptions and beliefs.
Of course the aspersions being cast on Pakistan's judiciary are not without substance, it has not only justified coups, it has helped the cause of society's radicalisation and has conducted trials both in the case of Rinkle Kumari and Sarabjit Singh, which have defied globally accepted norms of justice.
The killing of Sarabjit, within the jail premises is not the first case of an Indian prisoner being assaulted whilst in the custody of the Pakistani state. Earlier an Indian soldier was similarly killed in Pakistani jail and his body was handed over after a long time and the post mortem report has not been given to the Indian authorities to date.
The killing of any prisoner, irrespective of his conviction or crime cannot be condoned and raises serious questions about the authority and legitimacy of Pakistani state. Indian government must take up the issue with Pakistan both bilaterally and in international fora to ensure that those responsible are duly punished.
Alok Bansal is executive director, South Asian Institute for Strategic Affairs and a senior fellow at Centre for Land Warfare Studies, New Delhi.