'For showing us a shining vision of how even a ceremonial role can be infused with life by a patriot, a scientist and a humble man of the people, representing the best of India's pluralist ethos, we will remember Dr Kalam,' says Sankrant Sanu.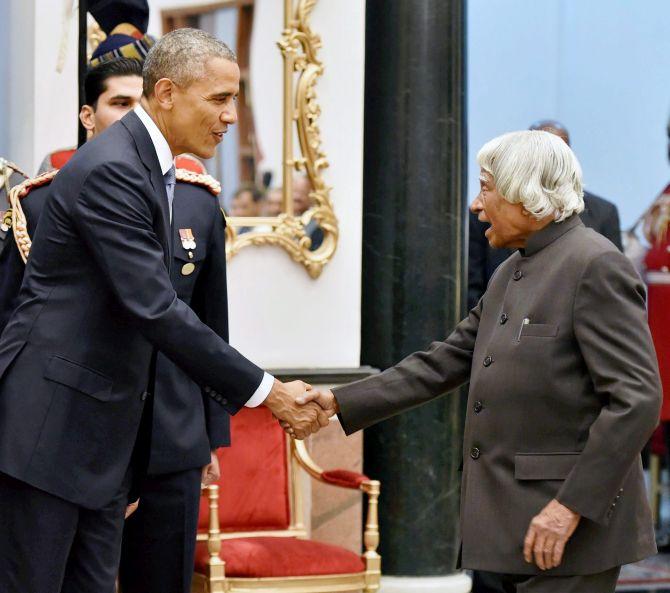 I heard Dr A P J Abdul Kalam in person only once. This was in Seattle, a couple of years after he had stepped down as President, in a small gathering arranged by The Indus Entrepreneurs group. What struck me then was his infectious energy, his childlike enthusiasm and his abiding love for India.
He had the audience of business men and entrepreneurs, most dressed in business formals, stand up and recite after him, like somber tie-clad students at an Indian school, an oath to not give or take bribes.
It was a bit out of place and felt a bit silly, but it was quintessential Kalam. His was a life of undaunted hope, the mind of a scientist and the heart of a child. He was a President of the people, one that connected with the general public as few people in that ceremonial role in India did before or since. Yet, as the tributes flow, Kalam's ascension to President and the unceremonious denial of his second term also casts a harsh light on the Congress party and 'secular' politics in India.
Kalam's nomination by Prime Minister Atal Bihari Vajpayee, ended a history of the Congress party largely appointing its party functionaries to the post. Kalam was not a politician, he was a scientist. And while he was a Muslim, unlike other previous Presidential appointees his election was not one of tokenism, but from respect for his work and career. That did not prevent the naysayers, whether political, or in the media or academia.
His election as President was opposed by the Left parties, who fielded their own candidate Colonel Lakshmi Sahgal, against him. But one of the real tragedies of how secularism is interpreted in India is that Dr Kalam, who represented India's syncretic traditions at their finest, was looked upon as suspicion as not sufficiently Muslim. Dr Rafiq Zakaria, writing in the Asian Age in 2002 asked 'What's Muslim about Abdul Kalam? (external link)
'Dr Kalam never reads the Quran but every morning he goes through the Gita and is enchanted by it.... Namaaz does not appeal to him nor has he ever fasted in the month of Ramzan. He is a strict vegetarian and a life-long brahmachari.'
This portrayal of Dr Kalam represents a tragedy of the identity politics produced by Indian secularism as well as a tragedy for Muslim Indians. Starting with our 'secular' Constitution, which explicitly discriminates (external link) based on religious identity, to the politics of independent India, secularism has come to be defined with pandering to separatism and right-wing Islam and Christianity rather than via India's genius of syncretic assimilation.
Gandhi tried to achieve this via 'Ishwar Allah tero nam' and Vajpayee by choosing a President who transcended religious boundaries while respecting his own traditions.
It is the secular ghettoisation of Muslim identity that has thown up political leaders like Asaduddin Owaisi as 'true' representatives of Muslims rather than someone like Kalam who captured the pan-Indian imagination as a leader who also happened to be Muslim, rather than a leader of only Muslims.
And yes, he did do the namaaz as well. Here he tells M J Akbar (external link):
'In the book, you mention that you do the morning namaaz.'
'Yes, every day, whenever possible. My father was very strict about namaaz and would wake me up at 4 am and take me to the mosque. I also fast.'
'So why is it that the so-called Muslim leaders in the north always have the feeling that you are not a practising Muslim?'
'First of all, I am an Indian and try to be a good human being. People can call me XYZ, that's their freedom of expression. There is no conflict of any kind regarding my faith in Islam. I often visit temples and churches as well. God is everywhere.'
As is often the case in India, the problem of making Kalam not Muslim enough arises equally from the coloured secular vision that wants to be more extreme even than right-wing Muslims and Christians, all in the name of secularism. Ramchandra Guha illustrates (external link) this best on CNN IBN: 'Kalam benefited from being the good Muslim at a time when Dawood Ibrahim was the bad Muslim.'
Thus, a Muslim who takes a universalist vision, an Indian vision, of happily visiting mosques as well as temples and churches is derided as the 'good Muslim' or 'Muslim poster boy' thus creating a narrative of a true Muslim as one who wouldn't do these things. The right-wing Muslim becomes the true Muslim in this secularist vision.
Rather than hold Dr Kalam or Azim Premji as exemplars, the secular narrative consigns Muslims to ghetto politics while continuing the hypocritical hand-wringing over the lack of economic and educational achievements of the community.
Ultimately, the Congress party refused to support Dr Kalam for a second term, choosing Pratibha Patil, a Congress politician. Dr Kalam had restored the honour of the ceremonial office of President. The selection of Patil brought it down quickly to its Congress past of appointing pliable stooges with no vision or interest in nation building.
For showing us a shining vision of how even a ceremonial role can be infused with life by a patriot, a scientist and a humble man of the people, representing the best of India's pluralist ethos, we will remember Dr Kalam much after the Pratibha Patils and Fakhruddin Ali Ahmeds have faded from view.
Sankrant Sanu (Twitter: @sankrant) is an author and entrepreneur based in Seattle and Gurgaon. He blogs at sankrant.org
MUST SEE!
Image: US President Barack Obama greets President A P J Abdul Kalam at Rashtrapati Bhavan, January 25, 2015. Photograph: PTI.
Obama mourned President Kalam's death in a statement: 'On behalf of the American people, I wish to extend my deepest condolences to the people of India on the passing of former Indian President Dr A P J Abdul Kalam. A scientist and statesman, Dr Kalam rose from humble beginnings to become one of India's most accomplished leaders, earning esteem at home and abroad.'
'An advocate for stronger US-India relations, Dr Kalam worked to deepen our space cooperation, forging links with NASA during a 1962 visit to the United States. His tenure as India's 11th President witnessed unprecedented growth in US-India ties. Suitably named 'the People's President,' Dr Kalam's humility and dedication to public service served as an inspiration to millions of Indians and admirers around the world.'