Just like China wants Trump to lose the US presidential poll, it may want Modi to lose the Lok Sabha polls.
So months before the 2024 elections, China may take possession of an important area, say one of the Char Dhams, warns Sanjeev Nayyar.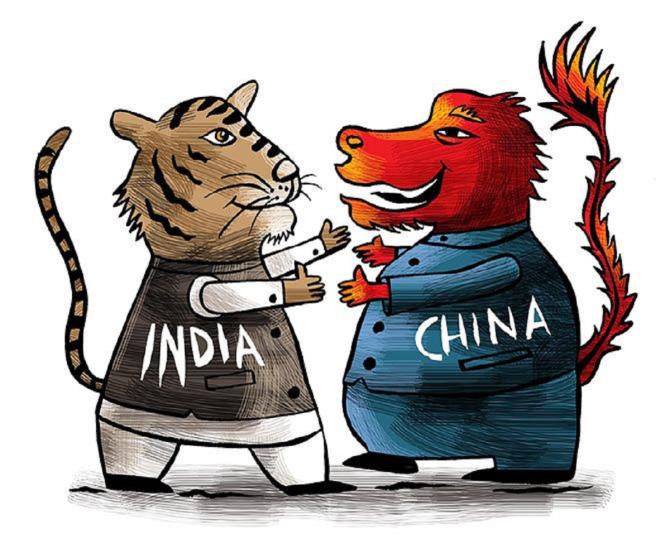 Now that the latest India-China stand-off does not seem to be ending, it might be useful to reflect on the learnings for India.
Post Pokhran 2, then defence minister George Fernandes justified India's second nuclear explosion by naming China as 'India's Enemy No 1'.
Twenty-two years later, the current stand-off has resulted in the average Indian too seeing China as enemy number one, thanks to the Galwan Valley clash in which 20 Indian soldiers made the supreme sacrifice.
Here are some key learnings and observations for India on how to handle the dragon to our eastern borders.
1. Never trust the Chinese. ]=;They have mastered the art of deception. As Geostrategist Brahma Chellaney wrote (external link), 'Deception, concealment and surprise have driven China's repeated use of force -- from seizing the Johnson Reef in 1988 and the Mischief Reef in 1995 to occupying the Scarborough Shoal in 2012 and now vantage locations in Ladakh. It has changed the South China Sea's geopolitical map without firing a shot or incurring any international costs.'
2. Never let your guard down. Political leaders might shake hands, but the Indian armed forces should always be on the alert, and plan for the unexpected.
3. The Chinese respect strength, both economic and military power. India should work towards building both.
4. The Chinese hate to lose, so expect them to be back in Ladakh with renewed vigour or they will acquire new areas that makes the current understanding irrelevant.
5. Iran, North Korea and Pakistan are among China's best friends. Their plans will now work more in tandem than ever before and require close observation.
6. The Chinese cherry pick agreements. Former foreign secretary Kanwal Sibal wrote (external link), 'China has repeatedly demonstrated that either it does not respect the agreements it signs or interprets them as it wants. In 1996 it agreed to 'clarifying the alignment of the LAC in those segments where they (the two sides) have different perceptions In 2002, China decided to repudiate this agreement unilaterally.'
7. India need not always play by the rule book or go by signed agreements, but be driven by national interests alone. Remember the story of Ashwatthama in the Mahabharata.
8. Appeasement postpones but magnifies problems. For decades successive Indian governments have been sensitive to Chinese interests.
What India got in return was encroachment of its territory, arming of Pakistan by China and Galwan Valley clash!
9. India must accept that China and Pakistan are made for each other. Former high commissioner to Pakistan G Parthasarathy wrote (external link), 'Nawaz Sharif described his country's relations with China as: 'Sweeter than the sweetest honey'/. Pakistan's ambassador to China gushingly described the Sino-Pakistan relationship as: 'Deeper than the ocean, higher than the mountains and stronger than steel'.
Remember that China protects 'Pakistan-based terrorist groups like the LeT and JeM from international sanctions in the United Nations'.
Therefore, India should expect that China would continue to support Pakistan in every way and prepare for a two-front war, with China and Pakistan, in the next three years or risk losing parts of Arunachal Pradesh and Ladakh.
10. China has a bigger economy and is a stronger military power than India, but Indians are no pushovers either.
We must stop underestimating ourselves, at the same time not underestimate Chinese intent to harm India's rise non-stop.
Former ambassador P Stobdan wrote (external link) in India Today, 'India is not a pushover like the three Central Asian states of Kazakhstan, Kyrgyzstan and Tajikistan, with which China fixed boundary settlements in its favour through a blend of 'incentives with coercion' pressure tactics.'
11. China follows the creeping acquisition route. They take possession of a small area of another country. If the protests are not strong enough they continue.
The Dalai Lama said on Rediff.com, 'The Chinese way... is to do something rather mild at first; then to wait a bit, and if it passes without objection, to say or do something stronger. But if we take objection to the first statement or action, they urge that it has been misinterpreted, and cease, for a time at any rate, from troubling us further.'
12. China is used to presenting countries with a fait accompli, for example, the road through Eastern Ladakh from Sinkiang to Tibet via eastern Ladakh or Aksai Chin.
If China wants such favours there should be a clear strategic status quo.
Strategic affairs analyst Maroof Raza wrote (external link) in The Tribune, 'If China has control over the Galwan valley, the Depsang plains (north of Leh) will greatly shorten the route taken by the Chinese -- to link up with the Shaksgam valley, that China first grabbed and then made Pakistan 'temporarily' gift it to Beijing! This valley, though inhospitable, has the largest collection of glaciers (over 250 to be precise) that China regards as a source of water to further its agenda of world domination.'
13. Talks with China on the boundary question must take place only when China submits its version of the Line of Actual Control. So far China has not given India any such maps.
14. India must remember that China has deliberately kept the border dispute unresolved so as to keep India off balance and 'reduce its maritime military investments'.
15. The Chinese strategy is to win without fighting. They captured the US market with low cost products such that US industry became dependent on it. They are replicating the same strategy with India.
India needs to enhance domestic production and design capabilities so that dependence on China reduces.
Similarly, they take possession of a country's territory, then negotiate a pullback by which they continue to be in possession of the country's territory and simultaneously ensure Indian Army pulls back from its own territory. Brahma Chellaney says it is part of the well-known 'advance ten miles, retreat six miles strategy'.
16. Gautam Chikermane of the Observer Research Foundation, summed up the Chinese approach in his tweet: 'How China negotiates 101: First intrude, then seek "partners". First attack, then talk "peace". First create zero-sum, then push for "win-win". First build suspicions, then ask for "trust". First go backwards, then pursue "forward".
17. Boycott Chinese products. Start with not buying Chinese brands. So if I have to buy a laptop I will buy an American brand, even if it is made in China, instead of a Chinese one. Companies that own brands make profits, not the ones who contract manufacture.
Indian consumers must not buy products of companies who indulge in 'lazy manufacturing', meaning Indian companies who import a finished product from China, stamp their brand name and then sell to consumers.
18. The Government of India must remember that diplomacy works best when it is backed by military power. So India must arms itself adequately, enough to fight a two-front war.
19. Present-day China is 'centred on the rhetoric of national rejuvenation', according to Aswini K Mahapatra (external link).
Deeper intent is to end China's humiliation and restore to its historical position, returning China to its rightful position in the world stage.
'Likewise,' he adds, 'China's assertion of territorial claims, whether in the South China Sea or in the East China Sea over Japan's Senkaku islands or over territory along the India-China border, including Arunachal Pradesh, has much to do with its national rejuvenation logic.'
The Chinese want to retrieve lands they feel were theirs before the Western and Japanese invasions of the 19th century, hence the current aggression.
20. China wants the 21st century to be the Chinese century and not an Asian century.
Even though many Indians are not aware of it, China is aware of India's potential and hence wants to 'thwart India's rise to the global high table'.
How many Indians know that Indian masters helped the Chinese deal with epidemics between the 1st and 8th centuries AD, as Prof Dr Shashi Bala recently wrote (external link) in Bhavan's Journal.
21. Whilst building strategic border roads, India must check whether it occupies the mountain heights, to prevent a Kargil-like situation where Indian convoys were fired from hill tops by Pakistanis, to ensure the enemy does not dominate the road.
22. Indians must note that jingoism works with Pakistan, whilst low key dialogue works better with the Chinese.
23. Water could be another weapon that China would use aggressively against India.
Sonali Mitra wrote (external link), 'The absence of data sharing on the Brahmaputra during and after the Doklam standoff and lack of clarity on the intent behind the 1,000 m⎯long tunnel to transfer water from Yarlung Tsangpo in Tibet to Xinjiang betray China's self⎯declared 'responsible' behaviour involving transboundary waters.'
24. Just like China wants Donald Trump to lose the coming US presidential poll, China may want Modi to lose the Lok Sabha polls.
So months before the 2024 elections, China may take possession of an important area, say one of the Char Dhams.
Options given to Modi would be war or give up all claims on Gilgit/Baltistan if he wants the possessed area or tirth sthan back.
25. India all along has been too sensitive to China's concerns. So India must:
Ask what it has achieved by being sensitive to China's concerns.
Start exporting arms, for example the Brahmos missiles to countries like Vietnam and Indonesia.
Establish diplomatic relations with Taiwan.
Establish close economic, defence and tourism ties with countries of South East Asia with whom India has centuries-old civilisational linkages.
Award the Dalai Lama the Bharat Ratna.
Prepare a comprehensive plan to increase domestic production of key items like active pharmaceutical ingredients where India depends on China substantially for supplies.
Note that Indian pharma companies can export medicines to the West because of API that comes from China. If China chokes the supplies, the world gets affected.
Organise packaged tours to Daulat Beg Oldi, close to the Xinjiang Highway. Tourists are one way of saying the territory is India's.
Make one organisation responsible for guarding the Line of Actual Control. Currently, the LAC is guarded by the Indian Army and the Indo-Tibetan Border Police. So let the army control the ITBP, but the responsibility should be made clear.
China will treat India with respect only when India increases the cost for Chinese expansionism and makes the Chinese lose face.
---
Sanjeev Nayyar is a chartered accountant and founder, www.esamskriti.com.