It's clear that India is treating Muslims facing persecution in their countries differently to people of other religions, says Karan Thapar.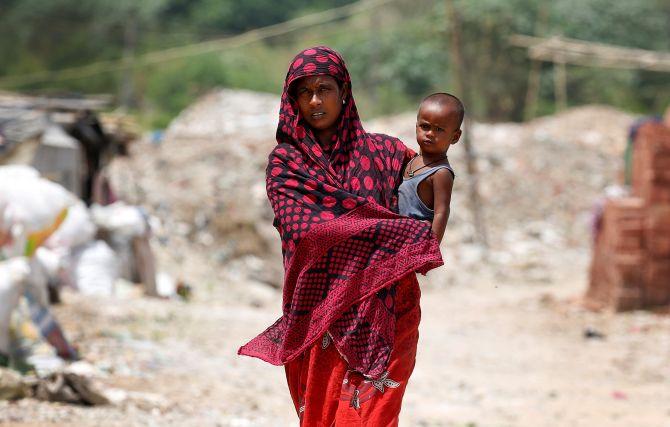 IMAGE: A Rohingya refugee walks through a camp in Delhi. Photograph: Cathal McNaughton/Reuters
In a country the size of India it's not surprising that important developments sometimes don't get the attention they deserve.
However, the fact that the home ministry's decision to forcibly deport 40,000 Rohingya refugees, including 16,500 who have been officially registered by the United Nations High Commission for Refugees, has been disregarded by most of the media is particularly dismaying and upsetting.
This is not just because an important story has been neglected but, more importantly, because the decision to forcibly deport is immoral, arguably illegal and definitely damaging to the idea of India we supposedly cherish.
Home ministry officials have said the government plans to set up 'detention centres' for the Rohingyas and, if required, 'push them back' over the India-Myanmar border.
Speaking in Parliament, junior home minister Kiren Rijiju confirmed that states have been directed to deport in a 'continuous manner'.
A home ministry advisory (24013/29/Misc./2017-CSR.III(i)) of August 8 has informed all state governments they have 'powers to identify and deport the foreign nationals staying illegally in the country'.
If this were to happen, the deported Rohingyas would face discrimination and persecution in Myanmar but also, possibly, elimination. There can be no doubt of that.
The UNHCR reports that since last October hundreds have been killed and up to 69,000 forced to flee to Bangladesh.
This is why the UN Secretary General's office, Amnesty International and Human Rights Watch have appealed to the Indian government to reconsider.
So too our own National Human Rights Commission. As the NHRC put it: 'Refugees are no doubt foreign nationals but they are human beings.'
However, home ministry officials continue to maintain that India will proceed with its deportation plans.
India is not a signatory to the 1951 Refugee Convention or its 1967 Protocol but we are still bound by the many UN and other international conventions on human rights. This includes the UN principle of 'non-refoulement', which explicitly forbids the forcible return of refugees. The decision to 'push back' Rohingyas deliberately disregards all of this.
Worse, it's clear proof that India is treating Muslims facing persecution in their countries differently to people of other religions.
In September 2015, the home ministry issued a notification exempting minorities facing persecution in neighbouring countries from the requirements of the Passport Act and Foreigners Act.
The notification explicitly mentioned 'Hindus, Sikhs, Christians, Jains, Parsis and Buddhists' but pointedly left out Muslims. The Rohingya refugees fulfil two requirements of this notification but not a critical third. They're a minority and they face persecution. Unfortunately, they're Muslims.
Is this not immoral discrimination?
As the NHRC has pointed out, this deportation could also flout India's Constitution.
The Supreme Court has ruled that the Right to Life and Personal Liberty under Article 21 applies to all people in India, irrespective of citizenship. That includes the Rohingyas no matter how much their presence might embarrass Prime Minister Narendra Modi when he visits Myanmar after the BRICS -- Brazil, Russia, India, China, South Africa -- Summit.
But instead of circumventing our legal requirements, Modi should remind Aung San Suu Kyi nothing has damaged her iconic status more than her expedient equivocation on the Rohingya issue.
Finally -- but, perhaps, most importantly -- the decision to forcibly deport Rohingyas damages the idea of India which we claim to uphold.
We see ourselves as a secular democracy where equal treatment is guaranteed regardless of caste, creed, culture or complexion.
Indeed, in 1971 India accepted 10 million refugees from Bangladesh, many or most of whom were Muslims, and considered that as a badge of honour.
Today, when we boast we are the third-largest economy in terms of purchasing power parity, a home ministry advisory says of the 40,000 Rohingyas: 'Infiltration from (the) Rakhine state of Myanmar into Indian territory… (is) a burden on the limited resources of the country.'
That's only true if our concept of India has altered.
That's only true if our hearts have shrivelled up.
That's only true if prejudice has eroded our principles and diminished our commitment to justice.
In fact, it's not true at all. It's an unconscionable lie trumped up to justify a deplorable decision which, if implemented, will shame us.
But does the government care? It seems deporting Muslims is a greater priority than protecting human lives.