There were reports of lobbying within the Pakistan army for the ISI DG's post, which falls vacant in June, reveals Rana Banerji, who headed the Pakistan desk at the Research and Analysis Wing, India's external intelligence agency.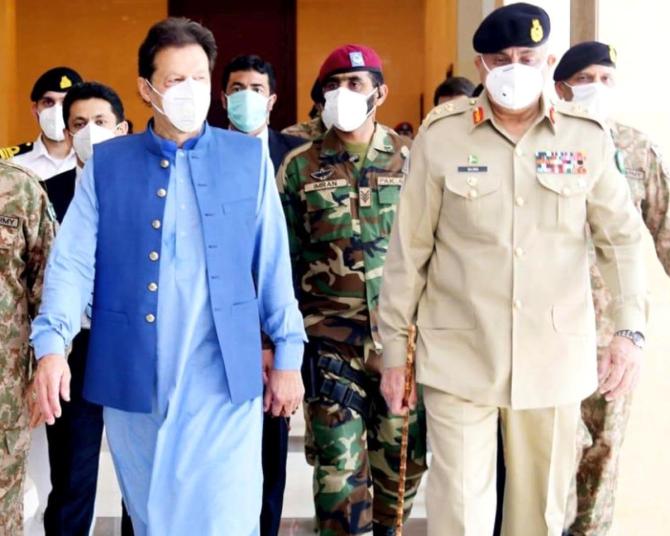 Lieutenant General Azhar Saleh Abbasi, chief of logistics staff at the Pakistan army's General Headquarters (GHQ) in Rawalpindi, retired on April 1.
An officer belonging to the armoured corps, General Abbasi was commissioned in the 74th Pakistan military academy long course in September 1986.
He served as General Officer Commanding, 9 Division, Kohat when it was re-located to Wana, South Waziristan during anti-militancy operations Zarb e Azb and Radd ul Fasad.
He also did a long stint as vice chief of general staff (A) at GHQ before being promoted as lieutenant general and proceeding to command the Pakistan army's strike corps, I Corps, Mangla (April 2017- October 2018).
Major General Saqib Mehmood Malik, Punjab Regiment, has been promoted as lieutenant general and posted as chief of logistics staff.
He previously served as director general Pakistan Rangers, Punjab, and force commander, Northern Areas.
Of Pakistan's 27 lieutenant generals now, 16 will be infantry officers (6 frontier force, 5 Punjab, 3 Baloch, 1 Sind, 1 Azad Kashmir), 3 armoured corps, 6 artillery, 1 each from air defence and engineers.
A larger reshuffle of lieutenant generals, expected for a while, if only to accommodate Pakistan army chief General Qamar Javed Bajwa's current favourite, Lieutenant General Faiz Hamid, director-general, Inter Services Intelligence agency, in a corps command, has still not taken place.
Recently, there were reports of lobbying within the Pakistan army for the ISI DG's post.
The name of recently promoted Lieutenant General Asif Ghafoor, previously a high profile director general in the Inter Services Public Relations and currently inspector general, communications and information technology, was mentioned in this context, possibly causing consternation in his peer group of recently promoted three star generals.
The ISPR issued a clarification that all posts at three star level normally have a two year tenure.
By that yardstick, the ISI post will be due for a reshuffle only in June.
The next set of retirements of three lieutenant generals will take place on October 18, 2021.
Feature Presentation: Aslam Hunani/Rediff.com