India is in the midst of its biggest crisis since Independence.
It is a national emergency and begs to be dealt with.
Politics can wait. Lives need to be saved.
We need to vaccinate India at a pace faster than any country in the world, asserts Ramesh Menon.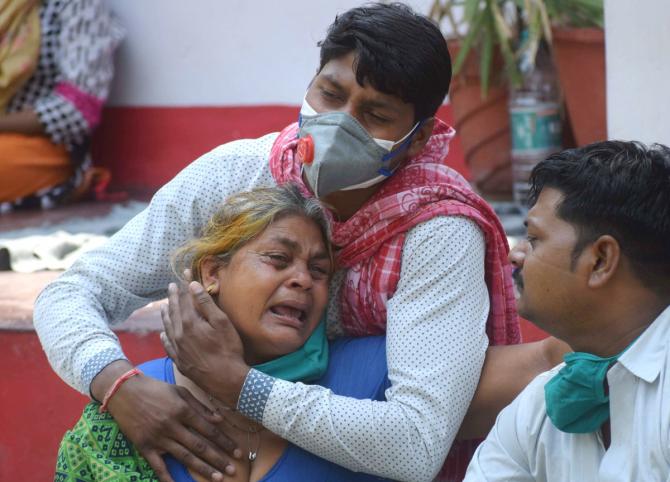 AN image of India carefully cultivated over the years of a country with tremendous potential has been destroyed by an uncaring government as the covid-19 pandemic tears through killing over 240,000 people as there is no healthcare system that can rescue them.
That India with all its intellect and grit could not control this is now history. The world has seen it.
Over 400,000 Indians are being infected every day. More than 4,000 are dying. More than 43 per cent of all cases in the world are now from India.
It is only the ruling dispensation that still pretends it is in control.
This was more than evident when Health Minister Harsh Vardhan kept repeatedly saying that there is no shortage of beds and oxygen and there was nothing to worry about as the government was handling the crisis.
How could he have said that?
Patients were lying on footpaths outside hospitals as there were no beds.
Many waited in ambulances outside for long hours till their oxygen ran out and they gasped for life.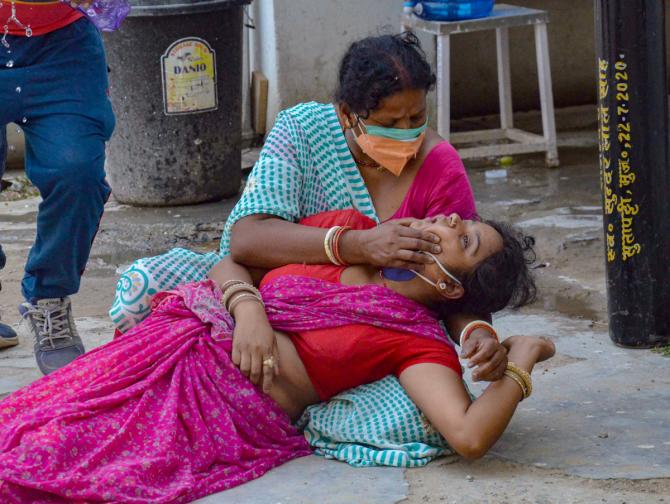 Multiple patients were sharing one oxygen cylinder lying on the road with the sky as the roof.
Thousands were hanging on to life not knowing how long they had to see the end.
Even Intensive Care Units ran out of medicines and oxygen.
Many hospitals put up notices that they had stopped admissions as they did not have oxygen or beds.
The graveyards were full.
New cremation grounds were created as existing ones had no space.
In numerous cities, the number of dead at the cremation grounds and the number of dead that the government gave out did not match.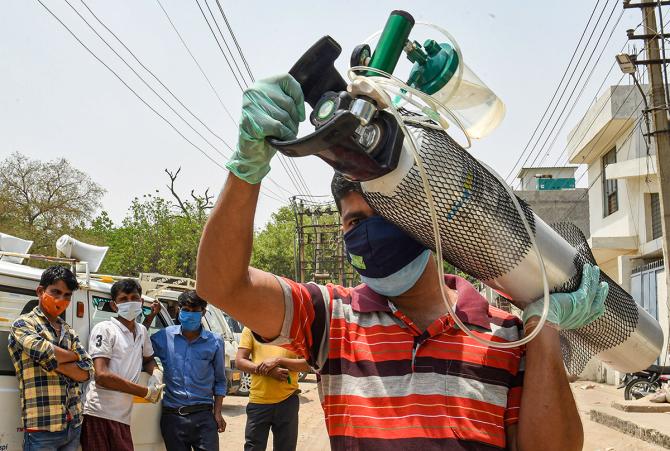 Those who complained of lack of beds or oxygen on social media were booked by the police in Uttar Pradesh, Haryana, and Maharashtra.
The Supreme Court had to step in to warn that if the police did that it would amount to contempt of court.
The most frightening scenario in the world is in India.
So, does the government have a plan? It did not seem so when Prime Minister Narendra Modi addressed the nation on television.
He spent his time talking about how India has in the last year tackled the pandemic. Sounded like self-congratulation.
India had one year to plan. But, it kept living from day to day hoping the pandemic would go away.
Do not forget we were told to clang plates and bells and light diyas to ward off the virus when it began.
It could have strictly implemented the Covid protocol.
It could have postponed elections and religious congregations where it is impossible for social distancing and will emerge as super spreaders.
It could have built oxygen plants.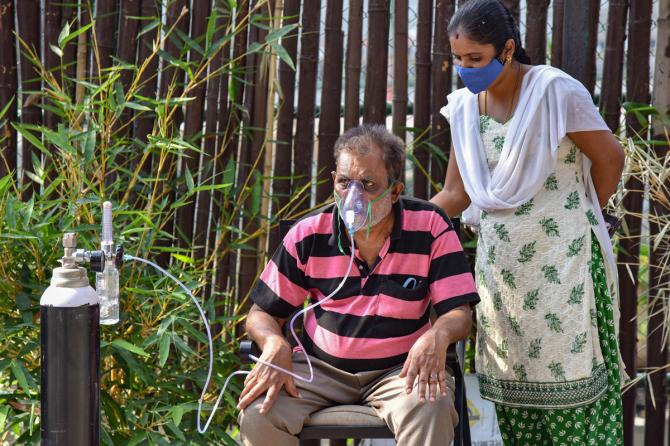 It could have invested like other countries in developing vaccines and ramping up production.
But, it was only on April 19 this year that the government opened up its coffers to offer Rs 3,000 crore (Rs 30 billion) to the Serum Institute of India and Rs 1,500 crore (Rs 15 billion) to Bharat Biotech to help ramp up manufacturing capacities. The vaccine manufacturers have been asking for it for months now.
It was policy paralysis at its best.
How could politicians not see how election rallies where social distancing and masking were thrown to the winds would not end up as super spreaders?
West Bengal is now exploding with over 20,000 cases a day.
It is the same tragedy playing out in all other states that went to the polls.
Could the elections have been postponed considering that the country was going through a health emergency? Not one leader advocated that idea. In their lexicon, nothing is bigger than power.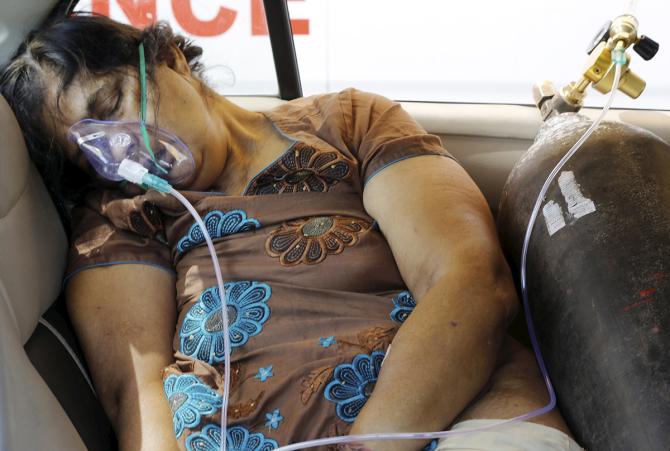 Uttarakhand is seeing one of the biggest spikes in Covid cases after the Kumbh Mela is over.
There were more than six million people who visited the Kumbh Mela. How could the virus not spread?
Could the greatest religious congregation on earth have been postponed so that lakhs of people would not have been affected by a virus that the world is yet to understand fully?
There was no attempt to stop it or even enforce Covid protocol.
It was only after some seers started testing positive and some of them dying, that a plea was made to make the Shahi Snan in the Ganges symbolic.
It was political goals that were important; not the lives of people.
It is pointless to even put down how many lives have been infected or lost in the last year as the figure changes every few seconds.
It is unfathomable how we did not learn any lessons from the first wave that swamped India.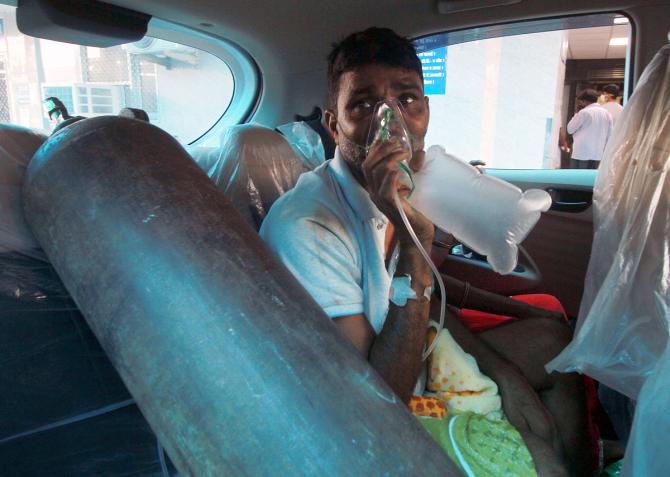 The powers in New Delhi were frantically busy with other priorities and had little time for handling the obvious health emergency that one of the largest populations of the world was confronting.
The government's concentration was winning the Bihar elections. Once that was done, it was toppling the Kamal Nath government in Madhya Pradesh.
After installing a BJP government there, the focus was on toppling the Rajasthan government.
Then, there were other priorities like laying the foundation of the Ram Mandir in Ayodhya.
Then, getting the okay from Parliament for the spanking new Parliament and the new offices around it including a new residence for the prime minister.
That it would cost the exchequer over Rs 20,000 crores (Rs 200 billion) did not matter.
Then, pushing through numerous legislations during the pandemic that was unrelated to it like the farm laws and numerous other bills which were pushed through without a debate. The government was working overtime on numerous issues.
It was a busy year as, after the Bihar elections, there was preparation to get into the battlegrounds of five other states.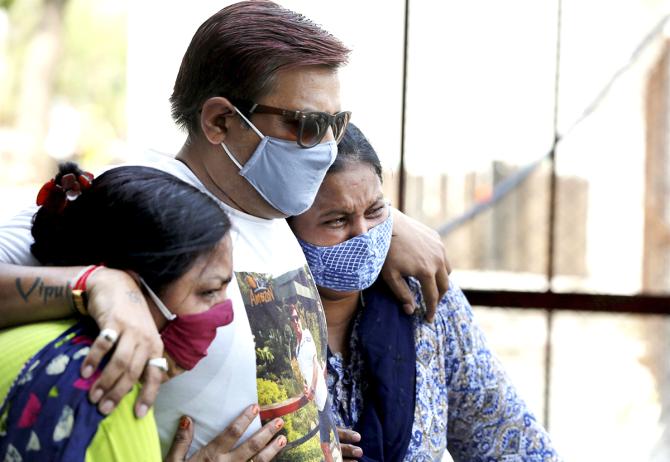 The Modi government could easily have brought in Constitutional changes to postpone elections to all these states. Could not these elections be postponed as there was a serious health emergency threatening India?
But no political leader talked about it. The race to power was more important.
Now that the election is over in these states, information is trickling in of how they all were superspreaders as all the states have seen an explosion in cases.
The Election Commission looked the other way when all the Covid protocols were ignored at election meetings and rallies.
Thousands of people thronged as if this was the last election that they would ever participate in.
It is only after the Madras high court made stringent comments on how the Election Commission had not done what it should have and should be booked for murder, did it think it ideal to ban celebratory election rallies after the results are declared.
It was too little, too late.
By then, thousands had contracted the virus and had spread it all over the country.
Though many expressed fear that the Kumbh Mela which attracts millions would be a super spreader, Chief Minister Tirath Singh Rawat of Uttarakhand said that the virus cannot affect those who had faith. He very soon contracted the virus.
When some seers were rushed to hospital as they were seriously infected, many inmates of various akhadas started returning home but the Kumbh Mela went on with lakhs participating.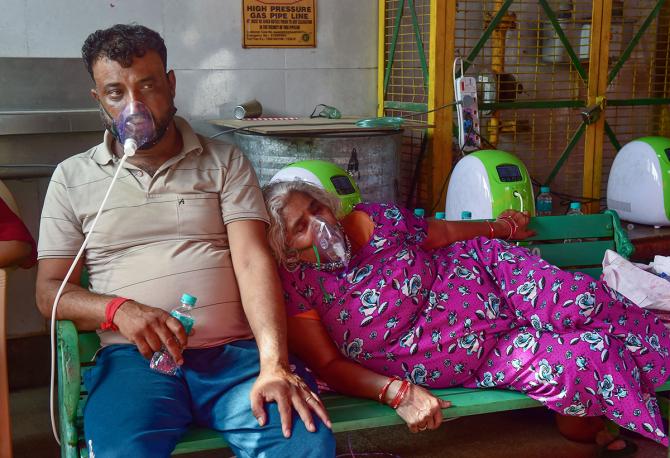 The Madhya Pradesh government asked all its district collectors to trace those who had returned from the Kumbh Mela and quarantine them.
An exercise to do so in Vidhisha district found that out of 61 devotees who had returned, 60 tested positive!
One can fathom how many thousands will now be infected and how many millions would suffer as it spreads.
The election rallies and the Kumbh Mela during the pandemic stunned the world.
In India, it stunned nobody as these things happen all the time.
To add to the grist, panchayat elections were held in Uttar Pradesh. Teachers were put on duty.
With over 750 teachers who attended now dead due to Covid, the teachers are furious and have dared the administration to take action against them for not attending to designated duties for the counting of votes.
Is it normal to let these things happen where the entire health infrastructure of the country is severely strained? Getting a hospital bed was almost impossible in so many cities in India.
Hospitals had put up notices saying that admissions had been stopped as there was no oxygen available.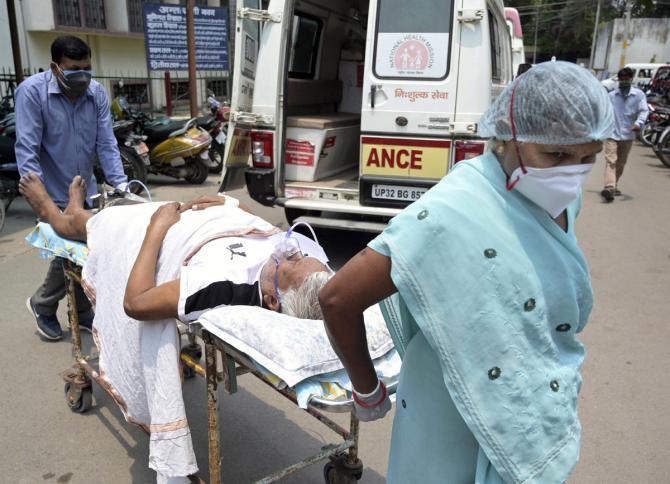 Life-saving anti-viral medicines and oxygen were available only in the black market at vulgar prices.
Oxygen cylinders were being sold for over Rs 50,000.
Private nurses were charging more than Rs 10,000 a day.
Drugs like a vial of Remdesivir were being sold for prices ranging from Rs 8,000 to Rs 100,000 depending on how desperate you were.
A factory produced fake Remdesivir was unearthed in Uttarakhand selling vials for Rs 5,000.
Humanity had flown out of India, it seemed. How else can one explain that criminals were arrested after they were selling fire extinguishers at Rs 5,000 each to illiterate and desperate patients telling them that it was oxygen.
Hospitals, pharmacies, nurses, conmen, health providers were all with their hand in the till making a fast buck. Lives that were tapering off before them did not matter.
Hospitals were charging heavily for beds and many were even accepting bribes from those willing to pay.
One of my relatives coughed up Rs 55,000 to get a bed in a Mumbai hospital.
A friend of mine in Ahmedabad was asked by a hospital that she could get admission only if she had Rs 1 million to spare.
Another relative of mine was admitted into a Noida hospital after they made it clear that they had no oxygen.
The family of a leading retired bureaucrat who was highly connected could not find a bed and when his family did, it was too late.
A colleague who was positive had to go out and beg for an oxygen cylinder for her mother and managed to get one for Rs 40,000. She thought she was lucky as many others she knew had paid more.
Five-star hotels offered rooms for patients who needed isolation and a bed for prices as high as Rs 15,000 a day. It was a free for all.
Playing out in the theatre of India was its worst actors making a fast buck while millions were gasping for life.
It was clear: India's biggest problem is the lack of character everywhere.
Even wood was unavailable at crematoriums unless you coughed up a vulgar sum.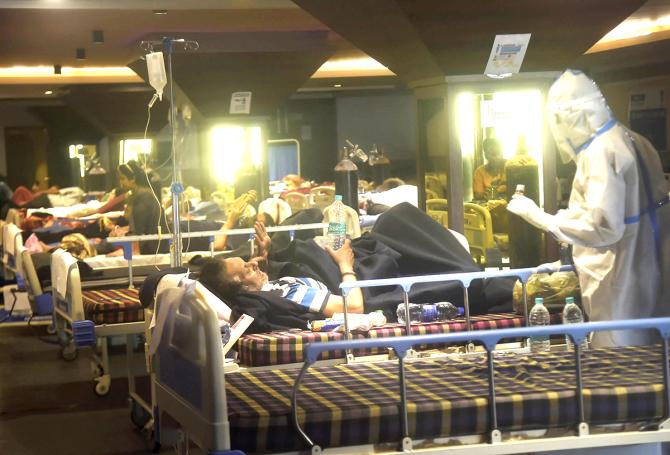 Ultimately, people realised that it is best to help themselves. Gated communities started setting aside empty flats as make-shift hospital rooms with a bed and an oxygen cylinder and nurses.
Data suppression and tweaking went on to hide the real picture, but piling bodies at crematoriums and long waiting lists to cremate or bury the dead, told a different story in the city after city.
Open grounds and parks were the new crematoriums. Those who died at home did not make it to the statistics of Covid deaths.
Let us not forget that Health Minister Harsh Vardhan had triumphantly declared in early March that India has in the endgame of the pandemic.
He was not the only one.
Modi did it too at the World Economic Forum in Davos boasting that India had defeated the virus, had done better than most countries and how it was not going to give vaccines to the rest of the world.
Today, we all know that grandstanding does not help in the long run. It does not help to announce your arrival before you have arrived.
India gifted and sold more than 66 million doses of Indian-made vaccines to nearly 94 countries when there was an urgent need of it back home. All in the name of vaccine diplomacy.
India did not think it crucial to draw out a strategic plan on how it would rapidly vaccinate its population.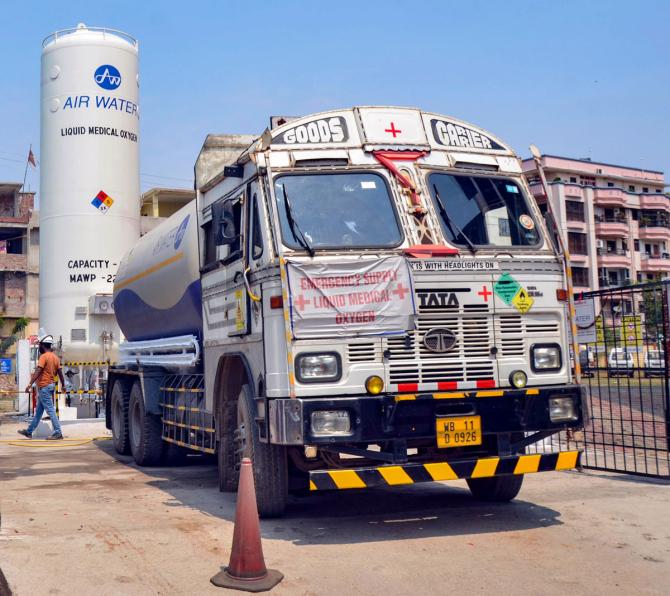 Ever since the vaccination campaign was opened, it was painfully slow and disorganised. Numerous vaccination centres put up signs that they had no vaccine.
We are now witnessing how even those who want to take the jab cannot as vaccines are in short supply, thanks to India's much-touted vaccine diplomacy and policy paralysis.
Drumbeating the idea that India was the pharmacy of the world and would provide the world with vaccines now seems so hollow.
In early March when many states were grappling with increasing cases and deaths, election rallies were held in five states where assembly polls were scheduled.
Top BJP leaders led by Modi aggressively campaigned in all five states addressing audiences unmasked. What was the message they were sending?
This was when over 1,00,000 new cases were being detected every single day.
Standard Operating Procedures were blatantly violated.
No masking.
No social distancing.
This apart, international cricket games were permitted with over 130,000 fans watching in the newly named Narendra Modi stadium in Ahmedabad.
To top it all, the Kumbh Mela in Haridwar could easily have been postponed given the health emergency in India.
But, no, it just had to happen to allow over 8 million people to attend and take a dip in the Ganges as part of a ritual.
News is now trickling in of how thousands who attended have tested positive. Two among them were the former king and queen of Nepal.
Though there was enough data from the National Centre for Disease Control showing that the virus was spreading fast, the centre did nothing. States were also sending missives about shortages. Again, nothing was done.
It is only now that the government has opened up the PM Cares Fund to buy a lakh portable oxygen concentrators and oxygen plants.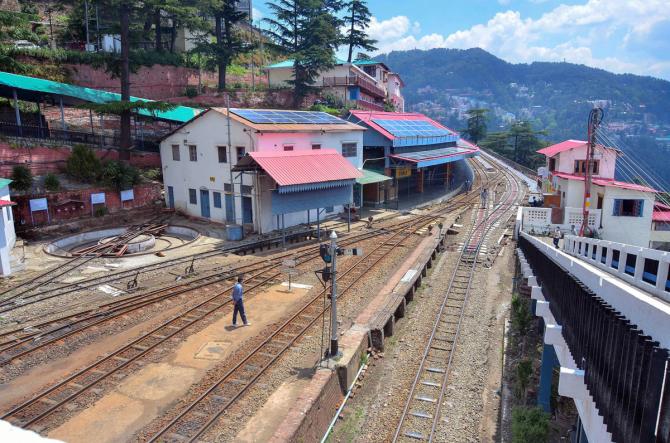 Kerala had the perspective nearly a year ago to see that there would be an oxygen crisis as cases increase and so had already worked on setting up oxygen plants. It now has surplus oxygen that is being sent to other states.
The Centre could easily have copied the healthcare systems from Kerala to replicate in other states. But acknowledging that a non-BJP run state can do well, hurts.
India is in the midst of its biggest crisis since Independence. It is a national emergency and begs to be dealt with. Politics can wait. Lives need to be saved.
It is no time to nurse egos. We need to vaccinate India at a pace faster than any country in the world.
There is already a report by a technical advisory committee that has warned that the third wave may strike the young in Karnataka as they would not be vaccinated.
Almost every house today has a story to tell about how the pandemic has devastated them.
When the next election comes around, ask political parties if they would repair India's rickety healthcare system before they ask you for your vote.
Ramesh Menon is an author, an award-winning journalist, editor of The Leaflet, an educator, and documentary filmmaker.
Feature Presentation: Rajesh Alva/Rediff.com