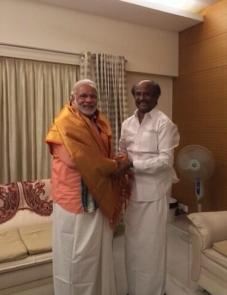 There is a political vacuum emerging in Tamil Nadu, but can the Superstar, the state's biggest phenomenon since the late MGR, take advantage of it?
Does he have what it takes to enter politics, or is he merely ensuring headlines ahead of his film's release, asks N Sathiya Moorthy.
It was waiting to happen. Rajnikanth-watchers cannot be blamed if they were expecting something like this from the 'Superstar' ever since his upcoming film, Lingaa, was launched.
Now that the film is closer to release date -- which is yet to be fixed but could be his birthday, December 12 -- Rajni has spoken his mind on one of his, and their, pet themes, once more.
Answering requests and appeals from fellow film personalities for him to enter politics at the launch of the audio-cassette of Lingaa in Chennai over the weekend, the Superstar only had this to say. Yes, he was not 'afraid' of politics, but was still a 'little hesitant'.
"Everybody wants me to enter politics. I'm aware of its depth and danger. I'm not afraid, but just a little hesitant," Rajni said. And in his true philosophical style, he added: "It's not in my hands. If god wills, I will serve the people."
To the ardent Rajni fan, it was akin to the famous one-liner from the actor's film Arunachalam whose protagonist would often repeat, "Aandavan solluraan, Arunachalam seiyaraan" (God ordains, Arunachalam executes).
But even they are a 'little hesitant' to jump to any conclusion that Rajni would enter politics the morning of the morrow. Well past their prime, they all know their 'Thalaivar' (leader) well enough by now.
For, the legion of Rajnikanth fans in India and overseas, and also hundreds of political leaders and analysts, have discerned a pattern in Rajni mouthing such lines, both on-screen and off-screen.
In the early days of Rajni's experimentation with politically-loaded and contemporaneous lines, his famous one-liners were cryptic, yet did not say much.
But fans wanted to believe in the messenger, not the message, like in that oft-repeated line from Rajni's Basha: "Naan oru thadavai sonna, nooru thadavai sonna maathiri" (If I say once, it's like my saying it for a hundred times). The message continues, but the messenger has remained in his traditional comfort zone of not wanting to enter direct politics.
Almost since the first post-Independence elections of 1952, Tamil Nadu had recorded at least 10 per cent from among the 'undecided, swing' voters looking for change.
Everyone from the Dravida Munnetra Kazhagam (1957-67), its breakaway All India Anna DMK (1967-84), late thespian 'Sivaji' Ganesan (1989), the late G K Moopanar's now-defunct Tamil Maanila Congress, the Pattali Makkal Katchi and Marumalarchi DMK (1986) and actor-politician Vijakanth's Desiya Murpokku DK (2006 and 2009) have all benefitted from this for starters.
But their lack of staying power, and the patience to build on the initial advantage, have ensured that none of them posed a serious challenge, and ensured that the DMK and the AIADMK retained the status quo.
If and when Rajni were to enter direct politics, he is mostly likely to float a political party of his own. Even while broadly indicating his sympathy for particular party, through statements and personal appearances with party leaders on specific occasions and circumstances, he is believed to be wary of joining one or the other political party, both regional and national.
The question is, where would Rajni's votes come from?
If he were to not align with the BJP and if Narendra Modi too were not to fulfil the varied and vague expectations of those who had voted for him in 2014, his votes could come from them.
The BJP may then have to be satisfied with its traditional sub-two per cent vote-share, upped to about seven per cent in a total of 17.5 per cent that the party-led alliance in the state obtained in summer this year.
There is another 20 per cent vote-share that is also 'floating'. They had alternated between the DMK and the AIADMK in the post-MGR era, and settled for Jayalalithaa's leadership in the parliamentary polls this year.
Their support gave the AIADMK a high 45 per cent vote-share in 2014, the party's first-ever electoral outing without any major ally since its inception in 1972.
Yet, those 20 per cent voters do not necessarily belong there, they also want change, but they are also the ones, despite their socio-economic background, who would want a stable government and a clear-headed leader.
Unlike in the past, the DMK too has effectively failed to capitalise on the political complications arising out of a Bangalore court convicting and sentencing Jaya to a prison term in September this year.
For Rajni, a swing in his favour could give a very attractive start-up of possibly a very high 30 per cent vote-share. That is a dream figure to build an electoral victory upon -- and is achievable, too.
But for him to aspire to contest and win the 2016 assembly elections on his own steam, he will have to surmount the developments in Jayalalithaa's pending appeal before the Karnataka high court, its ultimate course in the Supreme Court -- and their timings.
At a personal level, the ageing Superstar – he will turn 64 next month -- has to consider if his present state of health would allow strenuous politics and election campaigns -- and even running a government if elected to power.
He cannot start off on something and leave it halfway through, either because of health – or because of the late realisation that he was not cut out for the compromises that politics and elections entail.
There is one last electoral factor that he cannot overlook. In the 1996 elections, the only time he came out so very openly and against then Chief Minister Jayalalithaa, saying that even 'god cannot save Tamil Nadu' if she were to return to power.
The AIADMK lost very badly, and Jaya her Bargur seat in that election.
In 1998, Rajni, shooting straight to a news conference in Chennai at the conclusion of an overseas trip and escorted by then ruling DMK second-line leaders, sought to distance the party from the 'Coimbatore serial blasts' in which 59 persons lost their lives.
That election still produced mixed results (unlike what is claimed by critics of the DMK), but Rajni fans were not wholly with him.
This got repeated subsequently, when out of spite for the PMK, whose contribution to the box-office bombing of his Baba was visible, Rajnikanth allowed the impression to gain ground that he may back the AIADMK.
Neither at that time, nor now in 2014, when he received the BJP's prime ministerial candidate Modi in his Poes Garden home at the peak of the poll season, did his perceived endorsement bring in those 'extra votes' that is being casually credited to him.
The message was clear: where Rajni reflected the mood of the public – his fans included -- they responded favourably. Where he did not, they chose their own way.
Yet, with the AIADMK yet to come to grips with the Jaya case verdict in its entirety, and the rival DMK having lost its sheen and plagued with the 2-G scam cases that may produce a verdict by election time in 2016, a political vacuum may still emerge.
And the Congress, the traditional 'replacement' for the Dravidian polity, is in tatters -- its four per cent stand-alone vote share sure to get reduced further with former Union minister G K Vasan deciding to float a party of his own.
Also, despite all the tall claims and hopes, the BJP remains a non-starter in the state. The rest of varied lot have lost their steam.
There may thus be an electoral vacuum waiting to be exploited. Whether Rajni has the will, commitment and the campaign appeal remain to be proved. So too his staying capacity and hard work, in case a political party floated by him fails to make the grade in 2016.
What after that would be a question the over-cautious Rajni would already be pondering over, though the political-hopefuls among his fans and sympathisers would be expecting him to strategise for the present, leaving the future to itself -- just as Rajni's god-centric personal philosophy has often ordained.
N Sathiya Moorthy, veteran journalist and political analyst, is director, Observer Research Foundation, Chennai Chapter.
Also Read: 'Rajni is a clever businessman, not a politician'