India cannot afford to adopt any coercive measures against the military even if it disapproves the military takeover, notes Dr Rajaram Panda.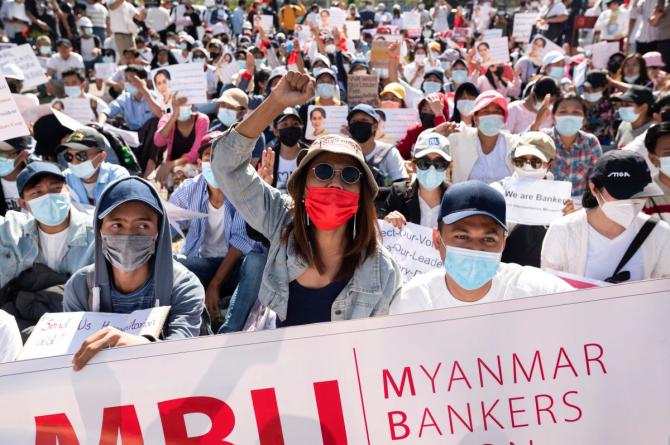 The military coup and the shocking detection of State Counsellor Aung San Suu Kyi and declaration of a state of emergency coup in Myanmar on February 1 have sent ripples through the international community.
Repressive measures have increased and military is unlikely to relinquish power back to the civilian authorities anytime soon.
There have been outpouring of concerns and condemnation from the international community that democracy is under threat and human rights violations could increase.
The focus of the analysis in this essay is whether the centrality of the ASEAN has come under threat and if ASEAN can play any role in reversing the situation in Myanmar.
It shall also touch open what possible options can India have to deal with Myanmar, seen as the gateway to its Act East policy.
Relevance of ASEAN
ASEAN is concerned that the act of the military could be counter-productive and undermine Myanmar's institution and unless political power is transferred back to the legitimately election representatives, Myanmar could risk back to its pariah status and face sanctions again.
Even earlier, ASEAN was criticised when it failed to effectively address the civilian government's handling of the Rohingya crisis in Myanmar.
National League for Democracy leader Aung San Suu Kyi also lost some of her popularity and legitimacy in the international community when her party sided with the military in defending the manner the Rohingya issue was handled.
That time when world opinion termed Myanmar's action against the Rohingya as ethnic cleansing and genocide, the ASEAN was criticised for its failure to effectively address Myanmar's Rohingya crisis.
ASEAN needs to intervene soon as the situation is turning grave after the Tatmadaw, as the Myanmar military is called, not only put Suu Kyi under house arrest first, but charged under am obscure law and detained till February 15 on allegation that she was in possession of illegally imported walkie-talkies and breached import and export laws.
Ousted President Win Myint was also charged for violating coronavirus protocol.
Regretfully, while the reactions from many countries in the world was one of condemnation on the developments in Myanmar, the responses from member States of the ASEAN was varied, suggesting a divided ASEAN response.
The truism is that ASEAN cannot sit in the fence and watch. That should not be an option.
Unfortunately, Singapore, Malaysia and the Philippines stand divided in their response to the coup.
This lack of a unified front could negatively impact the organisation's centrality.
It is time to revisit if the organisation can still stick to its principle of non-interference.
When the military junta seized power, Singapore, Indonesia and Malaysia expressed concerns and called for restraint and a peaceful resolution of the matter.
But the Philippines initially said it would 'watch and see' before taking a position as it saw the development as Myanmar's internal matter.
Cambodia dismissed the coup as an internal matter and that it has to be resolved by the people of Myanmar themselves.
Vietnam, Laos and Brunei refrained from issuing any formal statement, though Brunei as the current chair of the organisation, called for a dialogue among parties, reconciliation and a 'return to normalcy'.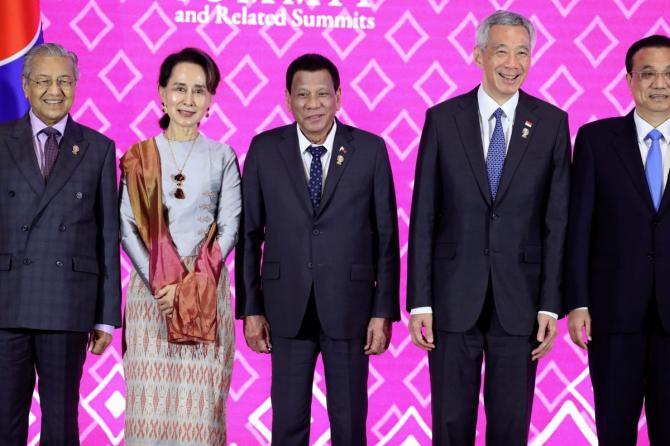 It is unfortunate that ASEAN member States took varying national stances on the situation in Myanmar, raising questions on ASEAN's centrality.
It would be interesting to note that Thai Prime Minister Prayut Chan-o-cha, a key player in the 2014 military coup in Thailand, voiced for a 'collective stand' that ASEAN should take on the issue.
The irony is that ASEAN member nations interpret their own way whenever a development such as in Myanmar now or in Thailand in the past occurs and respond in their own ways, thereby diluting provisions enshrined in the Charter and thus undermining the centrality of the organisation.
Does it mean that ASEAN's decision-by-consensus model and doctrine of non-intervention as seen by watchers of ASEAN affairs as hindrances to securing ASEAN's centrality?
The fact that ASEAN lacks any punitive sanction-based compliance mechanism leads to the organisation's inability to hold its member states accountable for their failure to adhere to the organisation's democracy principles and hinders from taking a common position whenever a development such as in Myanmar takes place.
The issue of human rights is thus a far cry in this narrative.
Myanmar today is different than what it was in 1988 when Ne Win who led the nation in the path of autarky and isolationism, culminating in the "8888 Uprising" and its bloody putdown in August 1988.
This time around, General Min Aung Hlaing who seized power is unlikely to afford such luxury as the country could come under severe sanctions from western countries.
Now is a good opportunity for the ASEAN to build an international image of itself as a 'good global citizen'.
ASEAN is unlikely to choose any coercive measures as the regional body has long insisted its principle of non-interference as essential to maintain ASEAN's "centrality" among regional institutions.
So, censuring Myanmar with a unified voice is out of the question.
Even when Myanmar joined the regional body in 1997, the group relied on a policy of 'constructive engagement' to persuade then ruling military junta to be more accommodating of its citizens' aspirations and seek a compromise with Suu Kyi.
The people in Myanmar had to wait for another 13 years more to taste democracy when the junta agreed to hold a multi-party election that resulted in a military-civilian power-sharing agreement.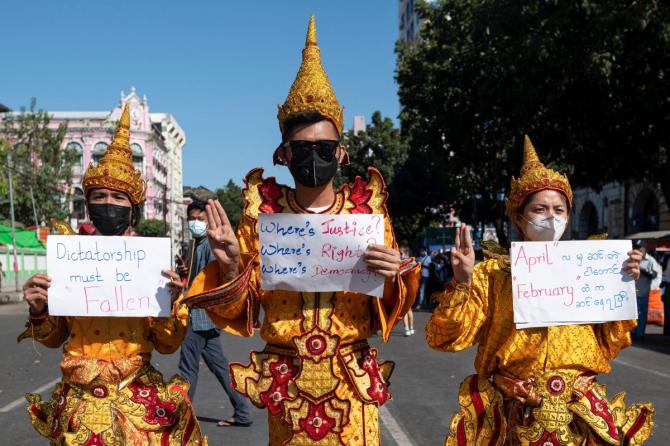 Options for India
India does have its own strategic interests in maintaining cordial relations with Myanmar as the country is critical for India to execute its Act East Policy.
There is also strategic competition with China in cultivating Myanmar.
Even in the past during the rule by military junta, India continued to engage and the same shall definitely continue with even with a change in regime.
India's best choice seems to be to continue engaging with the military and persuade the junta to see the merits of democracy and comply with the peoples' aspirations.
India cannot afford to adopt any coercive measures against the military even if it disapproves the military takeover.
India's choices are therefore limited.
Dr Rajaram Panda is a former Senior Fellow, IDSA, New Delhi, and former ICCR Chair Professor at Reitaku University, Japan.
Feature Presentation: Aslam Hunani/Rediff.com