Raghuram Rajan's exit reminds Syed Firdaus Ashraf of Kafka's The Trial.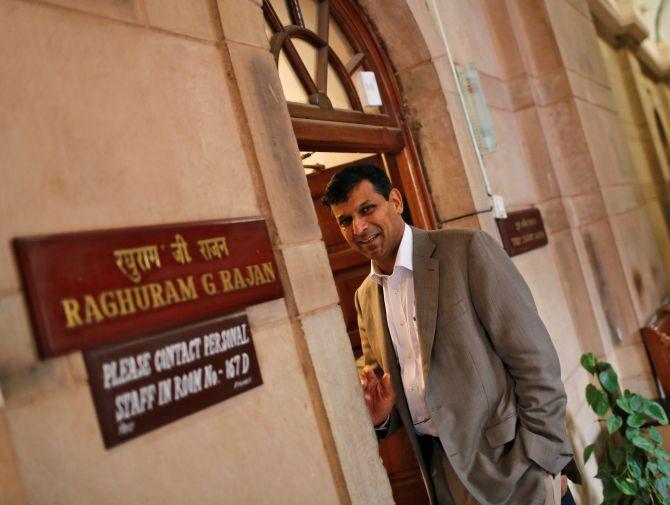 Amidst the brouhaha over Udta Punjab, producer Anurag Kashyap's tweet left me intrigued: 'I always wondered what it felt like to live in North Korea... Ab to plane pakadney ki bhi zaroorat nahin (Now there's no need to catch a plane).'
Kashyap was venting his anger against Censor Board chief Pahlaj Nihalani's ordering 89 'cuts' in Udta Punjab.
So angry was Kashyap that he further tweeted: 'Joseph Ka Mukadama was a Hindi play adaptation of which famous Czech novel? We are back there.'
Anurag was referring to Franz Kafka's novel The Trial. I had forgotten what the novel was about; I last read it when I was a journalism student 23 years ago.
Over the weekend, Reserve Bank of India Governor Raghuram Rajan declared he would leave the central bank after his term ended on September 3. That provoked me to read The Trial again.
For readers of this column unfamiliar with Kafka, a quick ready reckoner. One of the finest writers of the last century, Kafka's novels were banned both in Nazi Germany and in Eastern Europe, later ruled by the Communists.
Kafka wrote Der Prozess in German between 1914 and 1915, the novel we know as The Trial.
The Trial is about Josef K, who is arrested on his 30th birthday while he is eating breakfast at home. Josef K does not know why he has been arrested or what the charges against him are.
Neither the reader nor Josef K knows why he has been arrested. The reader starts wondering what is going on, but Kafka provides no answers.
It is only in the final chapter of The Trial that you understand Josef K's fight against the system and the futility of individual resistance.
You discover that it was Josef K's duty to obey his tormentors and not express his free opinion. He simply had to obey orders without question.
Like Josef K, Anurag Kashyap refused to budge against the system, and so did Raghuram Rajan who expressed his opinions openly.
When the Narendra Modi government was busy applauding itself over the economy's growth figures, Dr Rajan likened the Indian economy to the 'one-eyed man being king in the land of the blind,' a statement which gave Commerce Minister Nirmala Sitharaman apparent apoplexy.
Several other instances reveal Dr Rajan's independent mind.
In January, lashing out against promoters of defaulting companies who continued living their lavish lives despite owing billions of rupees to India's banks, the RBI governor said, 'No one wants to go after the rich and well-connected wrong-doer, which means they get away with even more. If we are to have strong sustainable growth, this culture of impunity should stop.'
Another time, going after the political class, which very few public figures who work with the government would do, Dr Rajan said, 'Politicians today vow "Never again!" But they will naturally focus only on dealing with a few scapegoats, not just because the system is harder to change, but also because if politicians traced the fault lines, they would find a few running through themselves.'
Dr Rajan was frank and unafraid of being disliked by the government and politicians. 'The governorship of the central bank,' he said once, 'is not meant to win one vote or Facebook "likes". I hope to do the right thing, no matter what the criticism, even while looking to learn from the criticism.'
After Bharatiya Janata Party MP Subramanian Swamy launched his attacks against Dr Rajan -- including bizarrely criticising him for being 'not mentally fully Indian,' -- it was disappointing to see the RBI governor receive near-zero support from the government, despite being acclaimed in India and worldwide for stabilsing the Indian economy in turbulent times.
I wondered why.
When I read The Trial, I understood.
'They're talking about things of which they don't have the slightest understanding, anyway,' Kafka wrote. 'It's only because of their stupidity that they are able to be so sure of themselves.'
No wonder we have Pahlaj Nihalani -- you can check his movie CV here -- as chief of the Central Board of Film Certification, retired cricketer Chetan Chauhan -- more known for his stubborn batting than a natty fashion sense in his playing days -- as chairperson of the National Institute of Fashion Technology, and Gajendra Chauhan -- who has by his own admission done 'adult films' -- as chairman of the Film and Television Institute of India.
And guess what Josef K's profession in The Trial was? He was a banker.