Prominent journalists have been giving the HRD minister a hall pass, asking her about politics and TRP-generating issues rather than focusing on her visions for the country's education sector, observes Devanik Saha.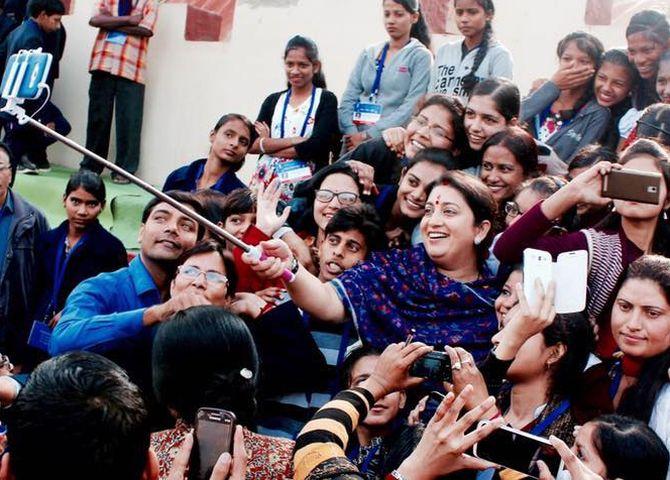 Smriti Irani's appointment as the human resource development minister in 2014 came as a shocker to many. Apart from the usual gossip and conspiracy theories, a common reason which many cited to express their displeasure at the appointment, was her lack of qualifications as she was a Class 12 pass and didn't have any further educational degrees.
Even Madhu Kishwar, a staunch supporter of Narendra Modi, wasn't happy with the choice, which she made clear in an interview to ABP News, questioning her educational and academic credentials.
Having worked in the education sector, though I strongly feel that a ministry as important as education should always be given to someone academically qualified and experienced enough to understand the nuances of education, but given her personality and the euphoria of Modi sarkar, I felt that maybe it is worth giving her a chance to prove her mettle.
The past two years, however, have left me highly disappointed as she has not been able to live up to the expectations of many people working in the education space.
But we will come to that later.
More importantly, it is our mainstream media and prominent journalists who have failed us and given her a free pass on education. Having seen most of her interviews in the recent past, mostly with Rajdeep Sardesai and Barkha Dutt, it is evident that apart from the usual political and controversial questions which provide fodder for increasing TRPs, not a single interview has focused on asking questions about her visions for the country's education sector.
How do you see the country's education going forward? Why are the toilets claimed to be built under the Swachch Vidyalaya Mission not working/have any water? Why is the quality of education deteriorating and students shifting to private schools despite so much spending? Why is the discontent among college students growing day by day?
Though some questions related to appointments in universities were asked by Rajdeep, it only pertained to those which gained media attention due to the controversial nature of those appointments being linked to the Rashtriya Swayamsevak Sangh somehow.
On Wednesday, she wrote a long post on Facebook -- brilliant English and sentence structures, I must say -- criticising her detractors in a sarcastic way, which was an apparent response to the Twitterati trolling her for the 'Dear' incident, wherein she admonished a Bihar minister for using the word 'Dear' to address her.
Her post, to a certain extent, was a repeat of her overly dramatic speech in the Lok Sabha few months back, with dubious claims which do not mean much. In order to justify her unnecessary battle on Twitter, she detailed her achievements, with every sentence starting with 'first time ever', an obsession made fashionable by this government starting from Prime Minister Narendra Modi.
On the top of the list was the claim of building 4.17 lakh toilets in one year, which I had busted through my nationwide investigation (external link) last year. Leave alone the schools in the rural hinterland, there are schools right in the heart of Delhi managed by the BJP-led Municipal Corporation of Delhi where girls still defecate in the open as the toilets are dysfunctional and have no water.
Her claim of putting up National Council of Educational Research and Training books online for the first time ever was also not true, as busted by many of my friends who had used online versions before.
But rest assured that the next time any journalist interviews her, not a single question will be asked on those claims, and rather the sole discussion will either focus on the Uttar Pradesh elections as the Bharatiya Janata Party is even contemplating to declare her as its chief ministerial candidate.
Though she addressed a one-hour press conference on her ministry's achievements, many questions were asked by journalists mostly on one-off issues. But she wasn't grilled as she is usually on political matters in other interviews. Furthermore, a YouTube search will tell you that the press conference video just got 119 views whereas the Barkha-Smriti interview got more than 3 lakh views! Therefore, the need for a prime-time interview with a prominent journalist -- which would ensure that it would reach more people and allow the public at large to learn more about India's education vision and plans -- becomes imperative.
The past couple of weeks have seen intense protests by the Delhi University Teacher Union over a UGC amendment that will put jobs of 5,000 ad hoc teachers at risk, many of who are working since several years. The results of final year students have been held up due to the delay in evaluation.
Did we see any journalist questioning her on the protests despite the fact that many of them are Delhi University alumni themselves? Did we see any reporter running after Smriti Irani to ask her views on the teachers' protests?
Post the completion of two years of the BJP government, and given the importance of education in India, one would have expected a detailed one-on-one grilling interview on the claims of work done in two years and the future plans and vision for the education sector. But alas, there was none and Barkha and Smriti carried on with their long-drawn personal battle in the guise of an interview.
However, Anand Ranganathan, contributing editor, Newslaundry, came down scathingly on the media for failing to evaluate the HRD minister's person. He analysed her performance in-depth and his final verdict was 'Ms Irani has been decent on mission, poor on vision. She needs to make way for someone who would be great on both'.
Ranganathan also raised few questions which should have been asked of Smriti Irani:
>> What would education look like in India, in 2030? What are the policies, and the institutions needed?
>> What are the institutions that would most certainly fail to get us to where we'd like to see ourselves in 2030?
While endless arguments are made on social media everyday that the media has failed us by showing biased and fake news, clearly, the mainstream media has failed us when it comes to education.