Administrative systems in Tamil Nadu are institutionalised.
So bureaucratic controls remain.
But who will leverage these: Sasikala? Or Panneerselvam, asks Aditi Phadnis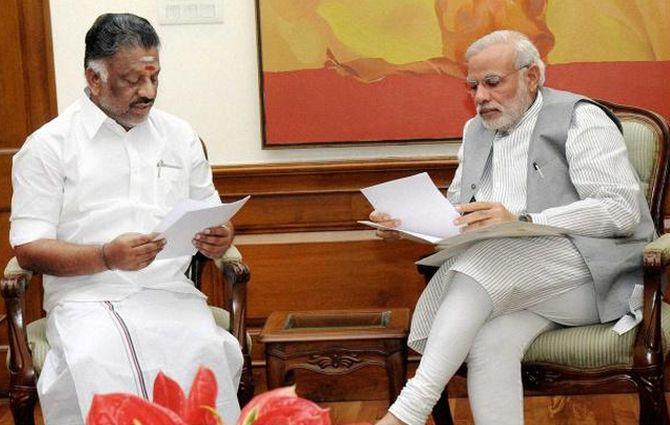 Now that J Jayalalithaa is dead and the All India Anna Dravida Munnetra Kazhagam (AIADMK) government still has four-and-a-half years to go, what will change in the administration and politics in Tamil Nadu?
Here are some hypotheses.
Decisions will be taken more quickly now whether they are right or wrong.
Jayalalithaa's illness forced the government to put several decisions on the back burner.
One such was the 17-km Chennai Port-Maduravoyal elevated expressway project. This was a dream project of the Karunanidhi government.
But it was stalled for several years because the AIADMK blocked it, ostensibly on the grounds that piers, constructed on the Cooum river instead of the bank could cause flooding in the adjoining areas.
In October last year, Karunanidhi charged that the real reason for stalling the project was to help the Adani group, which had taken over the Kattupalli port in nearby Ennore and the expressway would threaten its business plans.
But the state government under O Panneerselvam (OPS) wrote to the Union ministry of road transport and highways saying it was ready to provide state support to the project.
This is the first stage of commitment to the expressway.
It also signals a new relationship between the Centre and Tamil Nadu.
Under Jayalalithaa, the state considered itself an autonomous republic.
But will this open-mindedness endure?
With Sasikala on the brink of being named heir to Jayalalithaa's political (and financial) empire, will the party, especially the seniors in the party like veteran politician C Ponnaiyan, accept Sasikala's suzerainty now that Jayalalithaa is not around to protect her?
Won't OPS and the others assert themselves as time goes by? Worse should be expected.
Jayalalithaa ran a tight ship when it came to information collection. Her intelligence on what her ministers were doing helped to keep them in line.
It is no surprise that a key intelligence official was asked to quit in 2012 when she conducted a purge and asked Sasikala's relatives to get out of Poes Garden and never return.
Jayalalithaa was heading both party and government. Now, the newly liberated ministers will be -- largely -- free to do as they like.
So rent-seeking will go up exponentially and replace the famed single window system.
It remains to be seen how Sasikala, who is said to be chief accountant general of the AIADMK, conducts herself.
On the other hand, administrative systems in Tamil Nadu are pretty institutionalised. So bureaucratic controls will continue to exist.
But who will leverage these: Sasikala as party chief? Or OPS as chief minister?
And what about the 'collegium' headed by retired IAS officer Sheela Balakrishnan that was advising Jayalalithaa (and Sasikala) during the period of her illness? Will that be disbanded? Or will it become stronger?
There are other questions related to the social backing for the AIADMK.
The party got its largest haul of seats from the Coimbatore-Namakkal-Salem area, dominated by another intermediate caste, the Gounders.
K A Sengottaiyan, six-term assembly member and minister thrice, rules in Gobichettipalayam and prides himself on being a diehard AIADMK loyalist, having stood by MGR's (M G Ramachandran) side from the time he split the Dravida Munnetra Kazhagam (DMK) and formed the AIADMK.
There are murmurs that the Gounders are unhappy with Sasikala's elevation. What's more, with OPS and Sasikala, both Thevars, dominating the AIADMK leadership, other caste groups are bound to voice resistance.
The way Jayalalithaa used to extinguish potential rivals was to rotate ministerships constantly. Will OPS follow the same strategy?
More importantly, will those he sacks from ministerships quietly go away? Or hunker down to fight?
Tamil Nadu has not had two centres of power in recent times.
Are we looking at prolonged political and administrative uncertainty in the state that will drive investors away?
The cherry on the cake will be the DMK's efforts to destabilise the OPS government -- not today, not tomorrow but soon, because four-and-a-half years is just too long.
The DMK knows it would be a bad political move to try and engineer defections so soon after Jayalalithaa's death: The people will not accept it and it will make the DMK look greedy. But the party is not going to sit back and twiddle its thumbs either.
An extended spell of administrative uncertainty combined with increased rent-seeking will inevitably lead to a flight of capital. Already, because of electricity and other problems, investors are opting to put expansion of existing facilities in Tamil Nadu on hold and instead considering relocation to nearby Andhra Pradesh, where Sri City is fast becoming a new commercial hub.
It may all turn out for the good, and these could just be Cassandra prophecies.
But hope for the best, plan for the worst, and prepare to be surprised in Tamil Nadu.
IMAGE: Tamil Nadu Chief Minister O Panneerselvam with Prime Minister Narendra Modi in New Delhi, December 19, 2016.