Even as the BJP dithers over what it needs to do, the Congress has stolen a lead by projecting its chief ministerial candidate, Priyanka Vadra nee Gandhi, says Nazarwala, the man who called the 2007 and 2012 UP assembly elections right.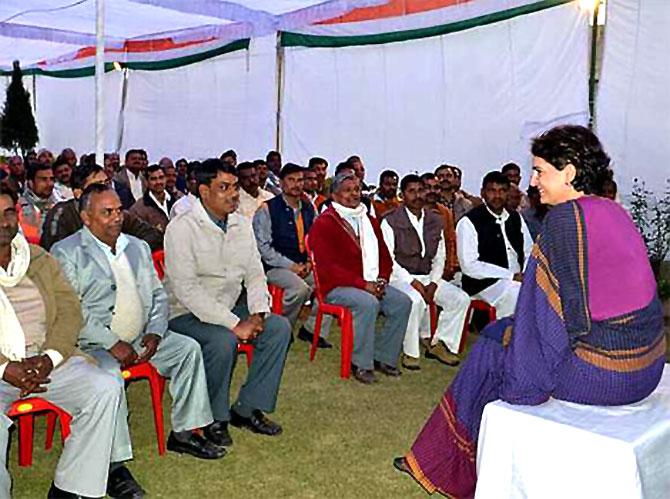 Anti-incumbency has set in in UP.
The Mulayam-Mayawati duo's jugalbandi in power, which has completed a silver jubilee, seems to be heading for a surprise.

The current anti-incumbency in Uttar Pradesh is against both leaders and will crystallise once an alternative emerges.

As things are, the Bharatiya Janata Party and Congress are competing for third place in UP.

The Congress' desperation to win the 2017 UP assembly elections is obvious.
Having sunk to a nadir, they have only one way to go and that is up.

Congress poll strategist Prashant Kishor, or 'PK,' tasked with reviving the Congress' fortunes in UP, has spotted a niche and is accordingly positioning the Congress as the much-needed alternative in the state.

And what is this niche he is banking on? The hitherto ignored concept of 'Stree Shakti'!

How does this sound as a headline? 'Gutsy women opposing/fighting despicable, entrenched, goondas and ghooskhor netas all over crime-prone UP'
PK has tapped into the -- till now neglected -- sizeable segment of 'Stree Shakti' by fielding/funding ambitious women who can take on Mulayam's goons.

Even as BJP egos dither over what they need to do, the Congress has stolen a lead by projecting its chief ministerial candidate -- Priyanka Vadra nee Gandhi, the recharged driving force of the party.

With this daring, innovative initiative, PK hopes to revive the dying Congress in the state in 2017.

The BJP's blunder in anointing Keshav Prasad Maurya, a toughie, to lead its brigade in the UP battle may prove counter-productive.

Bihar Chief Minister Nitish Kumar's Mahagathbandhan in UP wants to put up a winning candidate.
Unanimity and unity are lacking in this loose federation of caste Caesars going under the names of Apna Dal, Lok Dal, Peace Party, Mahan Dal, JD-U, the All-India Nationalist Congress Party, etc.

The demand by Lok Dal opportunist Ajit Singh to project his ambitious and brilliant son Jayant as the chief ministerial nominee has been turned down by Nitish Kumar.

Priyanka's pulling power is certainly greater than the lesser known Jayant.

Priyanka has the Nehru pedigree and persona. She is a photogenic charmer on TV, clever at exploiting the nostalgia value of sentimental, Congress-starved, UPites.

Priyanka is the Congress face of Indira Gandhi reincarnated. She has inherited all of her popular grandmother's political wiles and guiles.

Husband Robert Vadra's 'Haryana land-grab scam' has not tarnished Priyanka's image.
UP is tolerant of, even indulgent, towards the Nehrus' omissions and commissions.

Remember the Jeep Scandal from yore? Or Rajiv Gandhi's Bofors ignominy?

Rahul Gandhi is providing entertainment ever since he has re-emerged from his sabbatical.

Yet, he has willy-nilly kept the near-defunct Congress in the media glare. And, that is no mean achievement.

Rahul-bashing is a popular pastime, be it on social media, or at the village chaupal. His channe pe charcha, aping Modi's sessions over tea, draws sniggers from bored yokels.

PK's covert and overt operations have been launched from the city of the Sangam, Allahabad.

Congress funds are being lavishly spent on PK's boys and girls traversing all over UP. Their 'field work' includes spreading lies -- all favouring the Congress.

It is a daring risk that PK is taking, to make the Congress project Priyanka as the future chief minister of UP. This he has done, of course, with blessings from Nitish Kumar and his Mahagathbandhan.

Veteran Congress acolytes of the Nehru clan like Parvez Akhtar Ansari and others will chime in, in Priyanka's favour, no doubt.

Mark my words. Priyanka Vadra will be the leader of the Mahagathbandhan, which will project her as its chief ministerial candidate for UP.

To success or doom only time will tell!