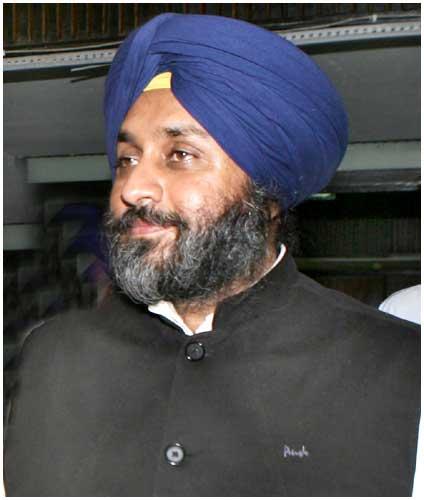 The lobby of Taj Mahal Hotel, at Mansingh Road in New Delhi, has turned into a sea of colour. Scores of turbaned Sikhs, young and old, most of them in crisp khadi and some in loose kurta and pajama, are seated on the chairs and sofas. Many have moved over to the adjoining coffee shop.
The hotel's in business. Politicians from Punjab, I note. And then the realisation strikes that I am responsible for it. So that our lunch begins on time, Punjab's powerful deputy chief minister and the Shiromani Akali Dal's president, Sukhbir Singh Badal, has moved all his public engagements to the hotel.
Half expecting a thank-you note from the general manager, I walk to House of Ming, the Chinese restaurant, where I have booked a table, writes Bhupesh Bhandari.
Ten minutes beyond the appointed time, there is no sign of Badal. Would you like to have lunch with him downstairs where a conference on food processing (what else?) has just got over, I am asked. Okay, I cancel the table and walk down the stairs. There, I see Badal at a table, lunching with half-a-dozen others.
My heart sinks. Don't worry, I am told, "Badal sa'ab will soon join you upstairs." For another lunch? But then, Badal had told me the Punjabi ethos a year back in Chandigarh: "Dub ke khao, te dub ke kaam karo" (Eat hard, work hard). There is hope. Back to House of Ming it is.
Badal walks in soon, dressed in his trademark short-sleeved white kurta (with a collar) and pajama and navy-blue turban. His kurta looks immensely comfortable. "This is made by Namdhari Tailors in Dabwali [in Sirsa, Haryana]. They have been making it for us for generations now," Badal searches for the tag under the collar.
"Because it's loose, one ends up eating too much. What's your size? I will have a few sent to you." "XL," I reply. "That [measure] doesn't work there," he says. "Anyway, I think my size will fit you." The waiter comes to take our order. Badal asks for two scoops of ice cream with lichees. How about some soup? "I had to give up one vice; I let that be soup," he says. I go for steamed fish and boiled rice.
We are meeting in Delhi because Badal spends his weekends here, where his wife, Harsimrat Kaur Badal, member of Parliament from Bathinda, lives along with their three children: two daughters and a son. Their older daughter has stood first in the country in psychology in Class XII. "The brains have come from me," Badal says matter-of-factly (his wife is in Hyderabad today, out of earshot).
Saturday is spent in political and official meetings and Sunday is dedicated to the family; this includes a film in the evening, not at a personal theatre at home but at a multiplex. Badal has some serious business interests in agriculture, transport and hotels. He owns two of the toniest hotels around Delhi: The Trident and Oberoi in Gurgaon.
How did the collaboration with the Oberoi family happen? "Mohan Singh Oberoi [the founder of the group] and my father [Parkash Singh Badal, Punjab's chief minister] were friends," he says. But his public life leaves him with little time for business. And the impending general elections are, understandably, taking up a lot of his time.
In the coming general elections, Badal prophesises that the Congress will get less than 100 seats and the National Democratic Alliance, of which the Shiromani Akali Dal is a part, will form the next government with the support of various regional leaders. Under Badal, the Shiromani Akali Dal has widened its ambit from being just a party of the Sikhs.
"We have 11 Hindu MLAs and also a Muslim MLA in Punjab," Badal says with evident pride. And he is now ready to take his party to other states. He plans to field candidates in the Delhi elections scheduled later in the year, and also in Uttarakhand and Uttar Pradesh later. "The Sikh population in some constituencies there is over 30,000," he says.
His prediction for the Congress is gloomier than any survey has indicated so far. Won't the food Bill and direct benefit transfers help the party get votes, just like the national rural employment guarantee scheme helped it in 2009?
"The United Progressive Alliance didn't win in 2009 because of the jobs scheme; it won because of Prime Minister Manmohan Singh," Badal says. What he leaves unsaid is that Singh's magic will not work this time because his reputation is in tatters. "People don't vote on the basis of this scheme or that scheme. They want to know the development work that has happened in their neighbourhood."
This is where, he thinks, Narendra Modi's chances are bright. "People think he has created a Dubai or a Singapore in Gujarat, and if he is made the prime minister of the country, he will do the same to their area." But have you travelled to Gujarat to see if he has really done that, I ask him.
"I have visited Gandhinagar a few times and he has really transformed it," he replies. But, he adds quickly, the rural road network in Punjab is better than in Gujarat. Should Manmohan Singh have resigned a couple of years ago and kept his legacy intact? "Yes," says Badal, "He is an honest man but hasn't got a free hand."
As Badal digs into sweet vanilla ice cream, I decide it's time to raise some controversies. Why was your visit to Canada cancelled? Badal says it happened because the Canadian government refused to provide him security cover.
"It was against protocol. When their chief ministers come here, we provide them with full cover. Why should it be denied to us? That's why I cancelled my visit." What about Rahul Gandhi's claim, made in public, that seven out of 10 youths in Punjab are addicted to drugs? "The yuvraj [princeling] got it wrong," Badal says derisively. "There was a report which said that out of every 10 drug addicts in the state, seven were youths. That doesn't mean 70 per cent of the youths are addicts."
What about the resurgence of militancy in Punjab? "Pakistan has been playing host to some of these men for many years. So it wants them to create trouble," he says. It is making them sing for their supper.
I have more in mind. Why did Manpreet Singh Badal, his cousin and the former finance minister of Punjab, storm out of the party? "He was going against the party line all the time. You can stretch rubber to a limit; after that, it snaps."
Last year, you were sanguine about Indo-Pakistan trade and its benefits to Punjab; nothing has moved. Badal indicates it's a central conspiracy against the state. "You can ship 1,500 items to Pakistan from Mumbai [in United Progressive Alliance-ruled Maharashtra] but only 35 from Wagah [in national Democratic Allaince-ruled Punjab]. Today, goods produced in Punjab reach Karachi via Mumbai, whereas it's cheaper to reach them by road through Wagah," he says.
After an hour and a half, Badal decides to call it a day. His friend doesn't let me pay the bill. That leaves me a tad worried. Badal has been accused by the Punjab Opposition of giving Rs 2 crore out of the state's not-so-full treasury to Lawrence School, Sanawar (near Kasauli in Himachal Pradesh), where he studied, and buying expensive bulletproof Land Cruisers for himself. I don't want "buying a Business Standard journalist lunch" added to that list.