What connection does Qaumi Tarana -- Pakistan's national anthem, which millions of Indians heard at the Eden Gardens on Saturday -- have to Bombay?
Syed Firdaus Ashraf/traces the links.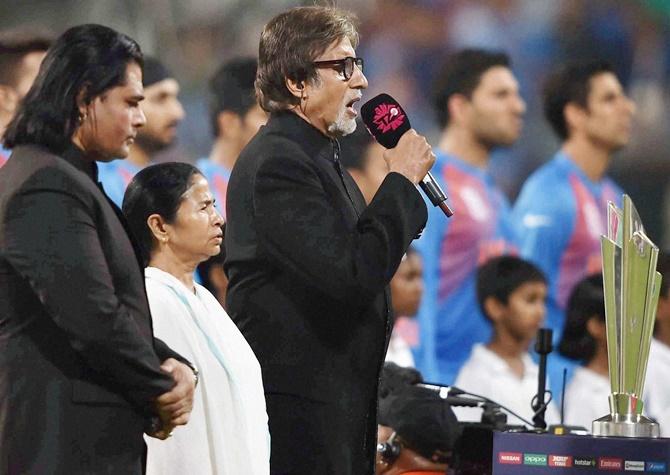 IMAGE: Pakistani singer Shafqat Amanat Ali, left, with West Bengal Chief Minister Mamata Banerjee and Bollywood superstar Amitabh Bachchan at Eden Gardens on March 19, 2016, ahead of the India-Pakistan T20 World Cup match. Photograph: PTI Photos.
When singer Shafqat Amanat Ali goofed up while singing Pakistan's national anthem before the India-Pakistan game at the Eden Gardens on Saturday, he was much mocked on social media.
Apologising for the slip-up, Shafqat said, 'I see that many of you, my friends and countrymen who I hold in the greatest possible regard, believe that I owe you all an apology. I admit that there were a few audio and technical glitches that may have sounded like lyrical errors and I will surely apologise for not being able to win your praises this time, but I assure you that I had by no means forgotten our beloved Qaumi Tarana...'
'If I had, neither of the people who walked up to me that day would have said that they "loved" the performance.'
'I will still apologise though, as I do not believe that apologising changes me as an artiste or a person, but I will say that I am deeply hurt by the little faith that my fellow Pakistanis have in me after all these years of living and breathing the spirit of my country into my music.'
For those who don't know who Shafqat is, he has sung memorable Bollywood songs like Mitwa in Kabhi Alvida Na Kehna and Yeh Hausla in Dor.
As I was reading up about Qaumi Tarana, I realised Bombay (Mumbai) has a deep connection with Pakistan's national anthem.
When Pakistan was formed on August 14, 1947, the new nation had no national anthem.
The legendary Urdu poet Mohammed Iqbal (Allama Iqbal), the spiritual parent of Pakistan, had composed a national song for India, Saare Jahan Se Accha Hindustan Hamara, but nothing for the Pakistani nation.
Though Iqbal re-wrote Saare Jahan Se Accha to give a Muslim touch as Tarana-e-Milli (anthem of the community), the song did not become Pakistan's national anthem. It went thus:
Chin O Arab hamaraa Hindustan Hamara
Muslim hain hum, watan hai saara jahan hamara
(Central Asia and Arab lands are ours and so is India
We are Muslims and the whole world is our homeland).
A country has to have a national anthem of its own, isn't it?
The infant nation would face an embarrassing situation when foreign dignitaries arrived in Pakistan -- while their national anthems would be played, there would be none from the Pakistani side.
To save Pakistan embarrassment a 'national anthem committee' was formed on an urgent basis.
The committee requested a composer in Bombay, Ahmed Ghulam Ali Chagla, to compose a national anthem. Chagla composed the music, but there were no lyrics to accompany the 'national anthem.'
For seven years, the Pakistan national anthem had no lyrics, only a tune, no words.
Finally, in 1954, a competition was organised and Urdu poet Hafeez Jalandhri's Persianised Urdu lyrics were selected for the Pakistan national anthem and it was played to Chagla's music.
Unfortunately, Chagla had died a year earlier, without getting to hear the anthem's lyrics.
Hafeez Jalandhri also wrote the famous lines, Abhi Toh Main Jawan Hoon, immortalised in many Bollywood lyrics and dialogues.
Malika Pukhraj made the song famous by lending her voice to Abhi Toh Main Jawan Hoon, and it was used in different Bollywood films at different times.
In the 1951 movie Afsana, the song Abhi Toh Main Jawan Hoon was inspired from the original Hafeez Jalandhari song and so was Alisha Chinoy's number for the film Killer with the same words.
Even a movie was made with the title, Abhi Toh Main Jawan Hoon.
The controversy over Pakistan's national anthem has another twist. Urdu poet Jagannath Azad claimed he wrote Pakistan's first national anthem:
Ae sarzameene paak
Zarray teray haen aaj sitaaron se taabnaak
Roshan hai kehkashaan se kaheen aaj teri khaak
Ae sarzameene paak.
(Oh land of Pakistan, the stars themselves illuminate each particle of yours, rainbows brighten your very dust).
Azad insisted that Mohammad Ali Jinnah, the founder of Pakistan, asked him to write the national anthem which he did, but after Jinnah's death no one in Pakistan was willing to acknowledge that a Hindu had written the national anthem of a Muslim State! (You can read more here (external link).)
On my visit to Pakistan in 1998, when I visited Jinnah's tomb, I asked who built the tomb.
To my surprise, I discovered a citizen of Bombay had created Jinnah's tomb (Mazar-e-Quaid). Architect Yahya Merchant built the tomb 22 years after Jinnah passed away on September 11, 1948.
The place where Jinnah was buried had only been covered with a tent and it was on Jinnah's sister Fatima Jinnah's insistence that the Bombay architect was called on to complete Jinnah's mausoleum. (You can read more here (external link).)
Merchant made a copy of the structure in Bhendi Bazar, south Mumbai. Raudat Tahera is the mausoleum of the late Syedna Tahar Saifuddin, the spiritual leader of the Bohri Muslims.