'Without doubt, General Bajwa has deliberately snubbed India.'
'But why did he do that?'
'The Male leadership is simply fed up with Indian interference,' says Ambassador M K Bhadrakumar.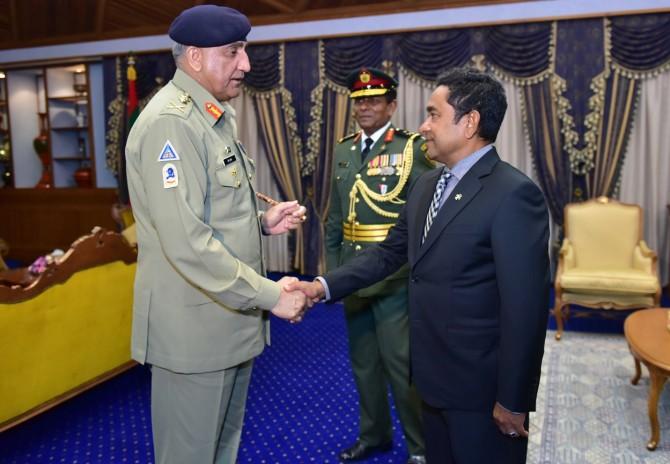 IMAGE: Pakistan's army chief General Qamar Javed Bajwa, left, with Maldives President Abdulla Yameen Abdul Gayoom in Male, April 1, 2018. Photograph: Kind courtesy The Maldives President's Office
The Maldives is back in the headlines.
This time around, it is not about the democracy deficit or the rule of law.
Two new topics are exciting the Indians -- Pakistan army chief General Qamar Javed Bajwa's recent visit to Male and the systematic downsizing of that country's relations with India. The Indian media estimates that China is instigating all this.
To my mind, General Bajwa does not take orders from the Chinese. Equally, China could not care less whether the Maldives uses two Indian helicopters or should make do with just one; whether the Maldives attended the Milan naval exercise in the Andamans or our defence expo in Chennai.
The Maldivian government needs no prompting from a third country.
The Male leadership is simply fed up with Indian interference.
Why should it not be upset?
Does Male not know that dissident leader Mohammed Nasheed was lionised by Delhi?
Did it not keep track of the week-long visit to Delhi by the chief justice of the Maldives supreme court prior to his famous judgment triggering the tsunami in Maldivian politics?
Would Male not have known about Nasheed's activities from Indian soil?
The point is, you get what you deserve.
When we are being perceived as an uncouth neighbor lacking in common civility, the door gets slammed on our face.
Is that surprising?
The Modi government's policy toward the Maldives was characterised by the same crude 'muscularity' that was apparent in our Nepal policies.
In both countries, we are paying a very heavy price for our rude interference in their internal affairs. These wounds will take time to heal.
We are making a good effort to make up with the new government in Nepal led by the 'anti-India, pro-China' PM Oli.
A similar approach is needed toward the Maldives.
Try to understand why Male is so paranoid. The country is heading for an election in September.
Given India's record, Male feels worried like hell that we might orchestrate a 'regime change' as in Sri Lanka in January 2015 (according to ousted leader Mahinda Rajapaksa).
Now, without doubt, General Bajwa has deliberately snubbed India. But why did he do that?
Simply put, if India could give military assistance to Afghanistan (which has an open 2,430-kilometre disputed border and a troubled relationship with Pakistan), surely, the bit cooperation between Rawalpindi and Male has a precedent?
There is nothing like absolute security in today's world.
Washington cannot dictate anymore to the countries of Latin America their foreign and security policies; Russia accepts that NATO has partnership agreements with Central Asian States; Washington knows that Iran and Russia are chummy with Cuba and Nicaragua; Saudi Arabia has no choice but to accept Turkey's military base in Qatar or Qatar's warm ties with Iran.
Welcome to the 21st century.
A new government will be formed in Male after the election. That should give us the opportunity to make a fresh start.
Meanwhile, rein in any hare-brained ideas of gerrymandering the election result.
Let the political elite in Maldives negotiate their trade-offs and power-sharing.
Ideally, the ministry of external affairs should put Nasheed on the 'black list' so that he doesn't pop up every now and then and gets himself photographed whispering in a conspiratorial way to Defence Minister Nirmala Sitharaman. Sitharaman too should know better.
Nasheed is a maverick, a loose cannon.
As president in November 2011, he timed the opening of the Chinese embassy in Male on the same day when PM Manmohan Singh arrived on an official visit to attend the SAARC summit.
That's Nasheed for you.
To my mind, our think-tankers and media analysts who pontificate on the Maldives should be assigned to a South Asian capital on sabbatical to simply understand how bloody seriously these small countries take every word we speak and every move we make here in Delhi.
They should realise that their irresponsible writings significantly contributed to this crisis in confidence between Delhi and Male.
Take pity. It is, after all, a country of just 400,000 people.