'It is not difficult for a Pakistan army chief assisted by the deep state to manipulate a situation. Pulwama, Uri and Pathankot, all come to mind,' cautions Lieutenant General Syed Ata Hasnain (retd).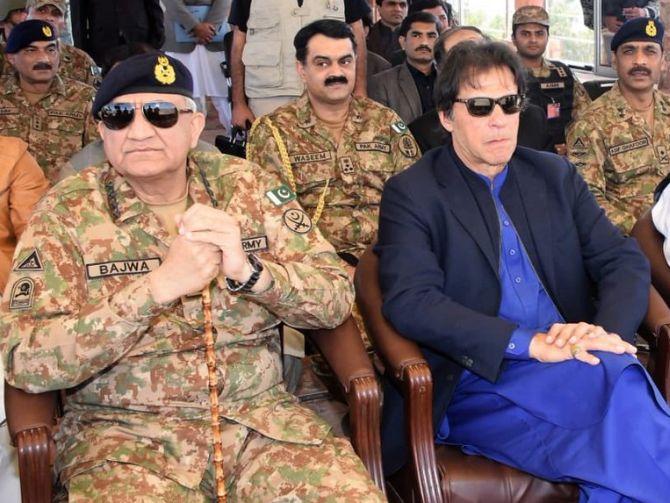 To casual observers it appears that General Qamar Bajwa, Pakistan's army chief has got away by the skin of his teeth, with a reprieve from the Pakistan supreme court which has granted him a six month extension as against three years which an impugned earlier government notification had granted.
However, news coming out from Pakistan sources seem to indicate that this is a sham and three years more in the appointment are almost guaranteed to the general.
First, a few facts to get the context right.
There is nothing left to hide about the fact that without General Bajwa's active support and virtual intervention Prime Minister Imran Khan may have never occupied the high office he sits in today.
The title 'appointed PM' rather than 'elected PM' hasn't really been coined in India; it has come out of Pakistan itself.
The Pakistan army having run out of options after its fallout with the Pakistan People's Party and former PM Nawaz Sharif's Pakistan Muslim League had backed the third option; Imran Khan's Pakistan Tehreek e Insaf.
Circumstances so developed or were made to develop over the last many months that Pakistan's national security became an increasingly important issue giving the already highly politicised Pakistan army the desired boost in public image.
Although an extension for General Bajwa's tenure was anyway expected from Imran Khan, if nothing at least as an act of gratitude, he actually used the ploy of emergent conditions to grant the general a full three year extension; that is as much a period as his original tenure.
Procedural lethargy on the part of the government, probably arising out of excessive self-confidence, led to the supreme court considering it a suo moto public interest case although the original petition contesting the extension had been withdrawn.
Besides observing the procedural flaws such as the notification being issued without presidential approval, the supreme court also raised the issue of application of mind with an entire hierarchy of Pakistan army officers available to replace General Bajwa.
That's how the Imran Khan government and the army chief were left in a piquant position with just the working hours of November 28, 2019 available to justify the extension.
It led to the government and the army chief in a huddle the preceding night; finally a six month reprieve resulted.
Now, to go beyond the visible.
It is reported that General Bajwa's extension was being seriously contested by a group of corps commanders who in a recent conference voiced their objection.
A three year extension in the military translates into at least three eligible batches losing out on consideration for the top slot.
Of course, it has happened before with General Pervez Musharraf whose occupation of the slot led to the 1966-1969 batches being robbed of this privilege until the elevation of General Ashfaq Parvez Kayani (1970) and again the 1973-75 batches until General Raheel Sharif's (1976) promotion.
However, with increasing politicisation, ambitions have also kept pace.
It is suspected that the petition to the supreme court was triggered by a group of corps commanders, the same ones who professed total loyalty to General Bajwa since all were anyway his choice.
In an earlier assessment I had conjectured that the power struggle within the Pakistan army having intensified gave both Imran Khan and General Bajwa little choice other than being ruthless.
Was the reported execution of Brigadier Raja Rizwan, Pakistan's defence attache in Berlin, on charges of spying linked in any way to a possible message that any issue regarding loyalty could meet the same fate?
Whispers in the ears of the supreme court judges and a few threatening moves by the infamous Rawalpindi-based 111 Infantry brigade would be sufficient to indicate what was desired by General Bajwa and PM Khan; the latter's survival in office has anyway been assessed to be linked to the extension gained by the former.
Of course, the supreme court too has had a history of confrontation.
The famous standoff between Musharraf (in his civilian avatar) and then chief justice Iftikhar Chaudhry immediately comes to mind.
Although the current chief justice, Asif Khosa, is no pushover, there are always limits to maintaining uprightness and resistance under intimidation.
The judges had shown enough spunk by stating that the regional security environment was an unconvincing excuse for extension as individual role is minimal when the Pakistan armed forces rally to maintain security.
All this diluted on November 28 and in all probability the government agreed to maintain the supreme court's honour by displaying willingness to accept a six month extension with conditions thrown in.
The story does not end there.
We find Sheikh Rashid, the Pakistan railways minister and a known loudmouth, going on record to state that the six months given by the supreme court in effect merits a three year extension.
He justified it with a stream of praise regarding General Bajwa's achievements.
The Kartarpur corridor, sealing of the Afghanistan border, stabilisation of FATA and maintenance of relationships in West Asia were all cited with the icing being a statement that China's President Xi Jinping had personally mentioned to Rashid that he had never seen as efficient an army chief as General Bajwa.
He also said that the Pakistan Muslim League (Nawaz) was on board regarding the extension and would support it in the legislature.
Rashid's public statement may or may not embarrass the Imran Khan government, but the supreme court has surely given the executive enough leeway to do what it wishes.
The court has asked the Imran Khan government to guarantee that a constitutional amendment would be finalised and approved through the national assembly in the next six months, adding important points including specification of tenure of appointment and extension of the army chief for three years, retirement of a four star general and clarity over pension and privileges that an army chief and a four star general would get.
The court order clearly stated 'General Bajwa as COAS shall be subject to the said legislation and shall continue for a period of six months from November 28, where after the new legislation shall determine his tenure and other terms and conditions of service.'
After the brouhaha, that is as conciliatory as it can get.
The new legislation can also include a provision for extension up to or more than three years contingent upon laid down conditions, one of which is bound to be national security.
That should alert India's security managers and keen observers because Pakistan's national security revolves around perceived threats from India.
If credibility for justification is an issue at all, it is not difficult for a Pakistani army chief assisted by the deep state to manipulate a situation. Pulwama, Uri and Pathankot, all come to mind.
However, deep cleavages within the Pakistan army too appear to have emerged which can of course be papered by projection of threats, but can equally be used to turn tables.
A social media contact wished to know why I am so obsessed with following affairs in Pakistan.
After reading this piece a justification may no longer be needed for him.
---
Lieutenant General Syed Ata Hasnain (retd), former General Officer Commanding 15 Corps and 21 Corps, is one of India's leading strategic thinkers. He is a frequent contributor to Rediff.com