'It will make good sense for military men on that side of the table to be confronted by our own,' says Vice Admiral Premvir Das (retd).
India's engagement with Pakistan in the last 18 months or rather, the lack of it has, ironically, achieved just the opposite result to what its protagonists may have desired. Internationally, it has succeeded in linking us back to that country, a linkage that governments starting with Prime Minister Narasimha Rao had striven hard to remove. At the same, a rather astounding assertion by the BJP president that crackers would be burst in Pakistan if his party lost in Bihar has brought, for the first time, that country into our own domestic politics.
In this environment of seemingly contradictory positions coming to the fore, one might be forgiven for not being able to comprehend the direction in which we are heading and to what purpose. There is now a rather contrasting scenario in which for us, Pakistan does not exist while for the world the two countries are inextricably linked.
At the very outset, the ground realities must be clearly understood. It is not possible that Pakistan, its political leadership, the army, the ISI, militant groups, other segments of society, et al, can ever retract from its claims on Kashmir.
Similarly, it is not possible that Indians, of any hue, would ever accept that Pakistan is not sponsoring terrorism in India. So, any expectation that either side can or will exit from these basic stands lies in the realm of fantasy. There must be fresh thinking and a modified -- if not new -- approach and, as the larger country, the onus lies on us.
In our bilateral interfaces so far, whatever be their level, the military has not been a player. The assigned role is just one -- be ready for war. In the last few decades this has expanded somewhat to counter Pak-sponsored terrorism in Jammu and Kashmir, but the tasking remains the same -- be prepared to defeat this adversary in military conflict.
There are a few interactions, largely cosmetic, that take place such as the weekly telephone contacts between the Directors General of Military Operations, and, at lower levels, occasional 'flag meetings,' but institutional engagement between the two militaries is non-existent.
The two foreign secretaries have met from time to time as have the national security advisers, but while those functionaries of the other side have had uniformed representation in their teams at a pretty high level, ours have not.
This is quite remarkable considering that, unlike Pakistan -- with whom we fought four wars, winning all and, therefore, should be more confident -- with China, a country with whom we fought a war and lost, such dialogues are now institutionalised and considered quite in order.
While it is true that in the first 50 years of our independence, diplomacy was seen as the exclusive preserve of the external affairs ministry, compulsions of the last 20 years have witnessed increasing inclusion of issues such as economic growth, environment, counterterrorism and sharing of intelligence, climate change, et al.
This same period has seen increasing exploitation of the navy as an adjunct of diplomacy and maritime security is now a term which has found permanent place in foreign policy jargon.
Our warships routinely deploy in the South and East China Seas, carry out joint exercises with several navies away from our shores, visit ports to show the flag, all in support of diplomacy. The navy hosts MILAN gatherings of ships from several navies and, in 2008, conducted the first meeting of navy chiefs of many countries in a gathering termed IONS, which has gathered strength.
At this same time, our diplomacy has proactively contributed to the deliberations of the Indian Ocean Rim Association (IORA) and IONS and IORA are operating in sync. All this has given muscle to our international interfaces but, for some reason, interactions with Pakistan have kept the military element out of play. This strategy merits review.
While the role played by the Pakistan army in that country's policies towards India has wide currency in our country, what is not fully visible is the importance that the Indian Army plays in our own decision making in regard to that country. It is not a part of the formal bilateral process but its advice cannot be easily disregarded.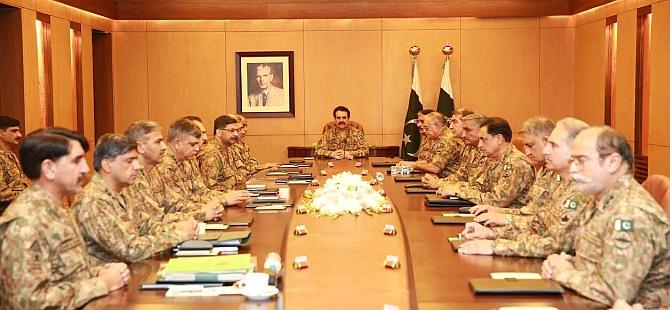 For example, the political goal may be to demilitarise Siachen but it will be next to impossible for any government to ignore the army's warning of what might happen if Pakistan occupies some or all of the vacated positions with resultant spill-over effects on the India-China border. No army acquiescence of a proposal can come without conditions which will not be easy to meet, since they will require a positive response from the other side.
Second, no meaningful reduction in deployments on the Line of Control or in the Valley is possible without the army pointing out that border incursions and increased militancy will most likely increase. It is, therefore, desirable that it be brought inside the tent. It will also make good sense for military men on that side of the table to be confronted by our own.
Also, even though both sides are well aware of the military pluses and minuses of the other, straightforward and frank conversation will carry some weight. More such benefits can be cited and they outweigh any negatives that are more imaginary than real.
In sum, the time has come to involve the military in the determination and pursuit of foreign policy to give it greater credibility and content.
Let us look at what can be done. To start with, no solutions can be reached if Kashmir and terrorism continue to be the 'untouchables.' Both sides can tacitly agree that they will pursue these lines for domestic consumption in their own countries, but across the table these will not be the irreducible minimum.
Next, no progress in any negotiations is possible unless the government and the political Opposition are together on board and the onus of making this happen is on the Treasury benches.
Third, make your military a part of the process and not just an onlooker. Confine the discussions to issues achievable and not complex -- formal delimitation of territorial rights at Kori Creek and consequently, the maritime boundary.
Talk nuclear weapon management, extradition treaties, trade and economic issues, positions on climate change, easing of visa regulations and anything else.
Discuss issues affecting the Indian Ocean region.
Once this begins to happen, in whatever small way, one or two complex matters can be brought to the table.
And this can be done even as political leaders keep their domestic audiences satisfied that they will not 'compromise' on the 'core' issues.
It might be argued that more time, effort and brain power have been devoted to the India-Pakistan relationship than to any other and this is just a reiteration, in part, of what has been debated in the past. Yet, bringing the military into the discourse can be useful.
But the present position is one of being 'neither here nor there.' Blowing hot and cold, some might call it 'carrot and stick' are strategies used in earlier times and not with any great success -- witness the deteriorated India-Nepal relations within months of a hugely successful prime ministerial visit. It is for India to take the initiative even if crackers are burst following the results in Bihar.
IMAGES: TOP: Chief of the Army Staff General Dalbir Singh. BOTTOM: Pakistan army chief General Raheel Sharif presides over a meeting of his top generals.
---
Vice Admiral Premvir Das (retd) is a former Director General, Defence Planning Staff. He has served in the National Security Advisory Board.