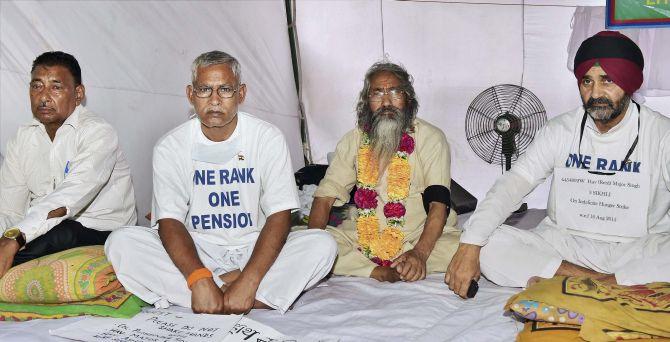 'It is important to make a clear distinction between the officers and jawans. The officers retire at 54 and with two extensions can go up to 58 years before they go home. A jawan on the other hand retires at 38. Therefore, to portray a picture that all army men retire young is wrong,' says Sudhir Bisht.
My heart is with the soldiers and I think the National Democratic Alliance is doing itself a great disservice by delaying the implementation of One Rank, One Pension.
OROP has been cleared by Parliament and it is now just a matter of its implementation.
However, there are many segments of employees across various departments who feel that if OROP is implemented for army veterans, they will be left out, leading them to nurse a genuine grudge.
The basic premise for vociferous OROP demands rests on the following:
1. Army personnel retire very young and this leaves them with very few employment opportunities.
2. Army men are paid to die for the country. They are primarily responsible for ensuring that we live peacefully. Hence anything the country can do for them is only less, not more.
3. OROP's implementation has been promised for over a decade now. It would be shameful if the Centre dragged its feet indefinitely over the issue.
While speaking to various people within a two kilometre radius of the ongoing OROP protest site in New Delhi, I came across points of view of some citizens that are in stark contrast to those in favour of the veterans' demands.
The idea here is not to oppose OROP, but to provide a contrarian view.
"It is important to make a clear distinction between the officers and jawans," a retired accounts officer from the office of the Controller of Defence Accounts said. "The officers retire at 54 and with two extensions can go up to 58 years before they go home. A jawan on the other hand retires at 38. Therefore, to portray a picture that all army men retire young is wrong."
"An officer gets many opportunities to enhance his learning and skills while he is at work. Every officer is entitled to two years of fully paid leave to pursue an MBA or a MTech even a PhD degree. Most officers who retire are in the early 50s are easily absorbed in industry," the babu said.
"Many telecom companies, academic organisations and private petroleum companies are more than willing to give employment opportunities to a retired officer. The scope for jawans is far smaller. The case of OROP for jawans is thus much more justified. Not so much for officers," the babu felt.
"It is a fallacy that the pensions of army men aren't revised upwards periodically," an officer from one of the ministries told me. "Retired personnel do get the benefit of revision in salaries/scales from time to time and to say that a retired major general gets a pension less than a young retired colonel is hardly surprising. This happens everywhere, all the time."
"A retired CRPF (Central Reserve Police Force commandant who is 75 years of age will always get a lower pension than an assistant commandant who is 60 years of age. A retired deputy secretary who is 80 gets 20 per cent less pension than the under secretary who is just 60 and has just retired," he added.
"The logic for OROP for people retiring at different times doesn't make any sense."
A young paramilitary officer stationed in the vicinity of Jantar Mantar told me, "The Indian Army does a great job for its citizens. So does the CRPF, BSF (Border Security Force) and the ITBP (Indo-Tibetan Border Police."
"The officers of these paramilitary services compulsorily retire at 57 if they don't get the DIG (deputy inspector general of police) grade. How is it that only army officers can be given the OROP benefit?" he asked.
"When these retired army officers joined their respective jobs, they entered into a contract. The contract didn't say that they will get OROP. To force it upon the government is an act of negotiation, just as any union or association would pursue with its employers. This makes OROP a subject of negotiation and not a matter of right, as is being portrayed," a young executive at a multinational bank said.
"Army officers say that due to poor salaries and due to non-implementation of OROP, young men are no longer joining the Indian armed forces. This is far from the truth," another young executive argued. "The recruitment centres for jawans draw huge crowds. And as far as the shortage of officers in the Indian Army, I suspect that this is created deliberately."
"The SSB (Services Selection Board) rejects very capable and determined young men from joining the army as officers," this young man alleged. "But almost all the sons of retired army officers are selected, which is fine. But a different yardstick is applied to the candidates who come from the families of civilians."
A retired civilian officer from the Border Roads Organisation said, "If OROP is implemented for army officers, the paramilitary forces too shall demand the same. And why not? It is well known that a high number of General Reserved Engineering Force and Border Roads Organisation workers die due to frost bite or cold while working in high altitude road projects, many more than the number of soldiers who die during border skirmishes. Why should GREF civilians not demand OROP? Why should the fire services not demand OROP?"
"I want the retired army officers to allow the government to implement OROP," another retired officer said, "but they shouldn't insist on any cut-off date as this will lead to further delay. They should accept what the government is willing to offer for now."
The most telling comment came from a civil servant who had joined the government five years ago.
"The ex-officers should realise that government servants who joined service after 2004 are no longer entitled to a guaranteed minimum pension by the central government. In the light of this, any formula given by the GoI should be welcome as the days of guaranteed pension are over," he said. "Your pension depends upon your fund managers' acumen and success."
While I fervently believe that the NDA government will implement the OROP expeditiously, I also hope that the agitating soldiers will not take a rigid stand in terms of the date of implementation.
The veterans are the nation's pride and it is a matter of shame that they have to agitate on the streets, but I hope that both sides meet one another half way and resolve the issue quickly.
Sudhir Bisht is a published author and a freelance columnist.
IMAGE: Army veterans at the OROP protests at Jantar Mantar, New Delhi. Photograph: PTI Photo