How did Mumbai tightly control the case-spread deaths while Delhi so obviously did not?
And what do the answers imply regarding preparedness for the third wave, asks Omkar Goswami.

The population of Mumbai under 24 wards of the BrihanMumbai Municipal Corporation is around 12.9 million. That of the National Capital Territory of Delhi is about 17.7 million.
This article examines how these two huge metropolises have dealt with the second wave of COVID-19 from February 9 till May 9, 2021. Charts A and B below plot the daily data on the number of confirmed cases and Covid-related deaths.
As is apparent, though the Covid wave was significant in both metropolises, Mumbai had a considerably lower number of reported cases of positivity -- peaking at 11,206 cases on April 4, 2021.
In contrast, Delhi's caseload and, hence, the peak, was way higher: 28,395 cases on April 20, 2021, followed by a second spike of 27,047 cases on April 30, 2021, before starting to reduce.
Similarly, the highest number of certified Covid-related deaths in Mumbai was 90 on May 1, 2021. This was appreciably lower than the average number of mortalities as well as peak death in Delhi -- which was 448 on May 3, 2021.
How did Mumbai tightly control the case-spread deaths while Delhi so obviously did not? And what do the answers imply regarding preparedness for the third wave, which will follow as surely as night follows day?
Those who have lived in both Mumbai and Delhi universally recognise a fundamental difference between the two cities.
Mumbaikars are more professional and disciplined in everything that they do.
I am not referring to only the corporate types. Consider the bais, the ladies who arrive each day to clean homes in Mumbai. They arrive on time, irrespective of whether you are at home or not; do all the housework in a methodical manner; and then leave for the next home. A bai services five to seven homes per day; and does each of them well.
Or take the traffic police. In Delhi, they do nothing other than occasionally catching two-wheelers for jumping a light or not wearing a helmet. Go to Mumbai and see how they coordinate with each other to regularise the enormous flow of commuter traffic between Nariman Point in the south right up to Borivali and Mulund in the north.
For all its infrastructural frailties, Mumbai works. Because Mumbaikars work.
Professional work culture is antithetical to Delhi. In Mumbai, people don't break lines getting on to a bus. In Delhi everyone wants to jump ahead of others.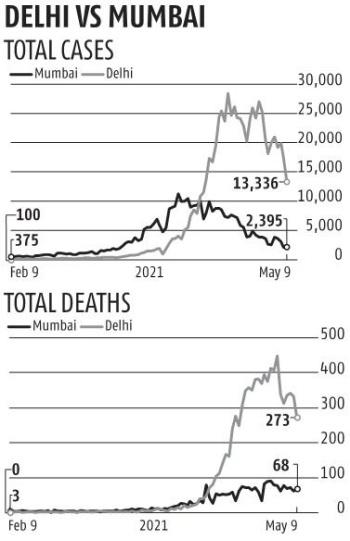 Delhi is about using contacts to get ahead; about dropping names of 'important' people; about 'fixing' things for one's personal benefit; and about not delivering what was promised by the given date. Delhi is about lawlessness and individual jugaad.
What did Mumbai do? Let me share the facts that have emerged through an excellent article authored by Sucheta Dalal in Moneylife (external link) and an interview with Iqbal Singh Chahal, commissioner, BMC, in the Indian Express (external link).
Chahal had the full and unstinted support of his chief minister, Uddhav Thackeray. He didn't have to waste energy in figuring out what his boss might think. Instead, he focused on eliminating panic; decentralising war rooms to slash response times; and building infrastructure.
According to Dalal, the Covid test results were being shared with patients usually by the evening of the test. That caused enormous panic, as Covid-positive patients desperately scurried for hospital beds. Chahal did something controversial. He ordered each testing laboratory not to share the results directly with patients, and instead send these to the BMC.
Before that, he had set up 24 war rooms, one for each ward in the city. Each was a control centre with 30 telephone lines, 10 telephone operators, 10 doctors, medical support staff, and 10 ambulances. These worked 24x7. Each also had 10 dashboards giving updated information on the availability of hospital beds within a ward -- or 240 such dashboards for Mumbai.
By 6 am of the following day, the positive test results were routed from the BMC to the wards. By 8 am, each ward started delivering results to patients as doctors and medical staff began to reach homes.
The BMC hired 900 doctors and 600 nursing students. Eight hundred SUVs were requisitioned and re-modelled as ambulances. The BMC created a centralised dashboard of 172 hospitals and Covid facilities.
' When someone required hospitalisation, the ward doctors connected with the hospital dashboard to obtain a bed and transfer the patient. Those with mild cases were advised home-quarantine.
Penultimately, Chahal tied up with IIT-Bombay to create a dashboard of the city's 47 crematoriums. This allotted appropriate cremation slots and prevented over-crowding.
Finally, Chahal is preparing for the third wave. He has ensured enough Covid-ready beds in the city with an adequate supply of oxygen. Indeed, he has created an emergency stockpile of oxygen across six places in the city, and is going full speed ahead to set up additional oxygen plants.
Now, that's preparation, management, and execution in a professional city.
Compared to this, Delhi has done nothing worthy of note. Neither planning for more beds; nor stockpiling oxygen; nor having a computerised system in place to create method out of madness.
Instead, what Delhi has excelled in is having its chief minister wail every day about insufficient oxygen. For a man who once protested by lying underneath a vehicle, should one expect anything more?
Omkar Goswami is chairman, CERG Advisory Private Limited.