The US president was probably unaware that the son of a manual labourer had to abandon studies as his school closed down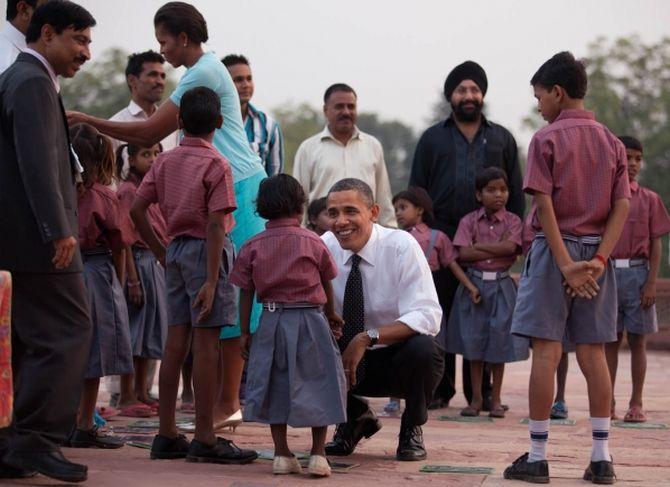 Obama and First Lady Michelle greet children while touring Humayun's tomb back in 2010. As the president interacts with a girl, Vishal (left) looks on. Photograph: Chuck Kennedy/White House
A big smile was the longest answer 16-year-old Vishal, the son of a manual labourer, gave to the rapid-fire questions from countless television journalists on Tuesday afternoon. His elation was understandable -- US President Barack Obama reached out to him four years after meeting him for the first time at Humayun's Tomb, shook his hands, motivated him to pursue higher education and cited him as an example of young talent who can achieve anything in a vibrant democracy. Words don't flow easily in such cases, but to Vishal's credit, he did manage to voice his dream of joining the Indian Army.
This is just the sort of thing that should ideally make all Indians proud; after all, the world's most powerful man acknowledged the tremendous progress India has made in giving equal opportunity to everybody -- if a certain tea-seller can become the prime minister, a labourer's son can also join the army, provided he dares to dream. That's just the kind of stuff Bollywood dream sequences are made of. Sadly, the reality is something else.

Just two days before Vishal was feted by Obama, a Press Trust of India report quoted his father, Ramdas Ahirwar, as saying that he would want to return the souvenir he had received from the US president during his last visit in 2010. Ahirwar was working as a stone-cutter at Tughlaqabad Fort when Obama felicitated him and his sons Narendra, 26, and Vishal, 16 on September 7, 2010, at a function organised at Humayun's Tomb. While Narendra was working as a teacher at a school set up on the campus of the fort, Vishal was a student there -- a fact that impressed Obama.

But while citing Vishal as a symbol of hope on Tuesday, Obama was obviously unaware of what had happened to him in the interim. The school where Vishal studied was closed down in 2011, rendering Narendra jobless and forcing Vishal to abandon his studies.

Vishal is not alone. Hundreds of thousands of poor children across India either give up studies midway or are victims of poor-quality education. According to the Annual Status of Education Report published by the Pratham Education Foundation earlier this month, while the enrolment level is as high as 96.7 per cent of children registered in schools during 2014, there are many dropouts in the middle and the quality of education is still abysmally poor. For example, every second Std V student in rural India can't read a Class III textbook.

At some levels, the quality is going down, evident from the fact that compared to 2009, when over 60 per cent of children in Class VIII could read simple sentences in English, in 2014, it was only 47 per cent.

In many ways, this inability to learn is also linked to the problem of malnourishment. Nearly half of India's small children are malnourished: one of the highest rates of underweight children in the world, higher than even most countries in sub-Saharan Africa.
More than one-third of the world's 150 million malnourished children under the age of five live in India. Unicef data show that about 47 per cent of Indian children below five are underweight; the corresponding figure for sub-Saharan Africa is 24 per cent. Also, in India, a third of the children have low birthweight; in sub-Saharan Africa, it's only one-sixth. That's because of the poor health and nourishment of the mother.
Unicef says malnutrition in early childhood has serious, long-term consequences because it impedes motor, sensory, cognitive, social and emotional development. Malnourished children are less likely to perform well in school and more likely to grow into malnourished adults, at greater risk of disease and early death. Around one-third of all adult women are underweight. Inadequate care of women and girls, especially during pregnancy, results in low-birthweight babies. Nearly 30 per cent of all newborns have low birthweight, making them vulnerable to further malnutrition and disease.

That's the reality. It may be a good photo op to showcase children like Vishal in high-voltage events but it's also time to move away from the arc lights and focus on the darkness around it. If Vishal had to abandon studies, it shows why India still has a long distance to cover in this area. Does anybody remember that one of India's key Millennium Development Goals was to halve malnutrition by 2015?
Image: Vishal, now at 16, with US First Lady Michelle Obama attending the US president's town hall speech at Siri Fort.
ALSO READ: