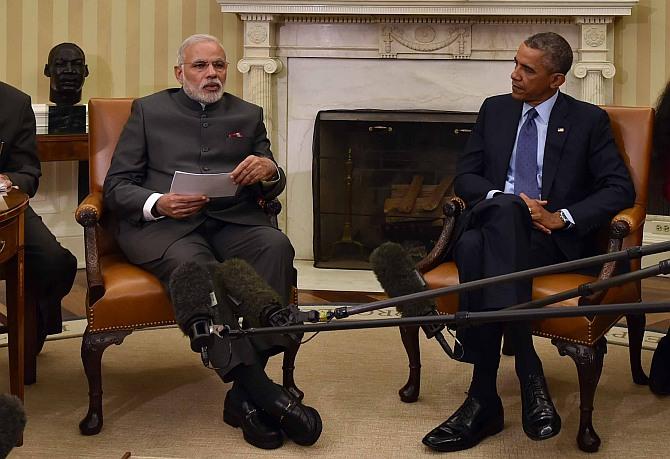 For a rising country like China with its sights set on global and regional power, any coming together of the US and India is the worst case scenario, says Srikanth Kondapalli.
India and China have always jockeyed for influence in Washington, sometimes against each other. So when President Barack Obama visits New Delhi next week, Beijing is all eyes and ears on what transpires in New Delhi.
Already, the first official meeting between Prime Minister Narendra Modi and President Obama last year led to 'great convergence' between the two countries and resulted in an 'Act East' policy and strengthening democracy -- the two red herrings for Beijing.
Of course, the Modi-Obama talks will be heavy on issues concerning the bilateral agenda -- civil nuclear technology and commerce, defence sales, climate change, economic, trade and investment issues.
But Beijing is wary equally of what is going to be said next week and what subtle signals emerge between the US and India on regional and global issues. For many of these signals, ironically China proved to be one of the triggers.
Firstly, while teaching a lesson to India in 1962, China drove a non-aligned India to seek defence supplies from the United States. Fortunately, for China the 'estranged democracies' of India and the US remained so for decades.
Secondly, by arming Pakistan and building 'all-weather' relations with Islamabad in the aftermath of the 1962 border clashes, Beijing again drove New Delhi into signing a treaty with the then Soviet Union in 1971.
Thirdly, Beijing conveyed to the world that it is politically correct to align with the United States to counter perceived adversaries. Deng Xiaoping's visit to the United States in early 1979 was path-breaking.
Deng made three significant, long-term and stable arrangements with the United States for the eventual rise of China, drew red lines on the Taiwan issue and, significantly, to help disintegrate the then Soviet Union which was perceived as their common enemy.
Fourthly, China's leadership made a truck with the United States in successfully passing the United Nations Security Council resolution 1172 in 1998 demanding that India give up its nuclear capability.
Fifthly, under the Obama administration itself, Beijing pushed through the November 2009 joint declaration to look after South Asian security issues. New Delhi was naturally riled with this US-China understanding.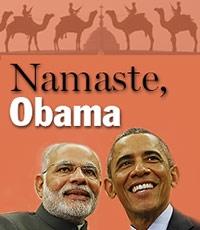 Beijing conveyed to India from the above events that it is perfectly fine to view emerging international configurations from a national security prism and significantly adopt tactical perspectives.
Yet, China is concerned with the emerging equations between New Delhi and Washington. The worst fear in Beijing is if the US and India are exploring any measures to counter China, much like the US and China efforts to disintegrate the Soviet Union two decades ago.
For a rising country like China with its sights set on global and regional power, any coming together of the US and India is the worst case scenario. It stems from the fear of military containment of China, although then prime minister Manmohan Singh assured then Chinese president Hu Jintao that India has no desire to contain China.
Ideologically, with rising middle-class aspirations to share political power, increasing 'mass incidents' across the country against growing inequalities and the opaque political system, China is concerned about the growing interest of the new leadership in India in supporting democracy not only at the South Asian levels, but also at the global levels.
Economically, with the relative decline in the economic growth rates of 6 to 7 per cent and growing woes of the 'new normal economy,' rising labour and environmental costs, mounting local debts, shrinking exports and 'ghost cities', some Chinese are wary about the US and Japanese signals towards India with possible loss of sheen in China's economy.
While China's leaders like President Xi Jinping and Premier Li Keqiang, during their visits to India recently, have promised to set up manufacturing zones in India, such progress has been tardy at best.
Defence sector wise, it is not lost on Beijing that most of the $10 billion (about Rs 62,000 crore/Rs 620 billion) worth equipment that India purchased from the US so far has been deployed, or are being planned to be deployed, on the India-China border. Besides, the US and India have been staging naval maneuvers in the Indo-Pacific region.
All in all, Beijing's fears about President Obama's visit to New Delhi reflect to mirror imaging with worst case scenarios imagined and howsoever problematic these are in these times of inter-dependencies and globalisation.
Top Image: Prime Minister Narendra Modi with US President Barack Obama at the White House on October 1, 2014. Photograph: Paresh Gandhi/Rediff.com
Bottom Image: Chinese President Xi Jinping with Barack Obama as the American president inspects an honour guard at the Great Hall of the People in Beijing, November 12, 2014. Photograph: Petar Kujundzic/Reuters
Srikanth Kondapalli is Professor in Chinese Studies at Jawaharlal Nehru University.