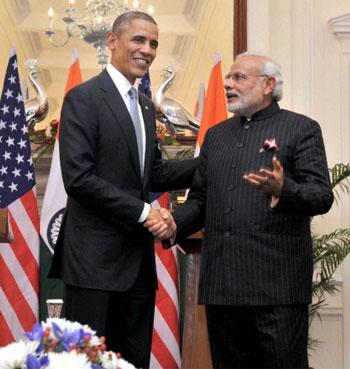 'Rarely do you come across a leader of a free world who meets another leader of a free world and serves him tea in a suit that chants his name. Over and over again,' says Chandrima Pal.
The moniker of the Greatest Showman belonged to Subhash Ghai for the longest time. He earned it.
In recent times, the filmmaker's grasp over his idiom seems to have slipped. Worse, he seems to have become irrelevant. Incoherent to a whole new generation of film buffs.
But there is someone who seems to have borrowed liberally from his book of entertainment. With plenty of discreet nods to the one whose legacy could well be destroyed if certain purported reports of Netaji Subhas Chandra Bose are published -- Jawaharlal Nehru.
The Greek scholars had established the important correlation between leadership and power dressing. Dressing for the part, to command respect, to express empathy and solidarity with a cause, people or idea, are virtues of a true leader.
Nehru was known for his sharp suits, the iconic Nehru jacket, the very stylised churidar teamed with shoes and the cap. The jacket, especially, became a style statement for the power elite for decades.
Cut to the present. Narendra Modi has trademarked his take on the kurta -- the Jade Blue boys in Ahmedabad call it a tribute to one's roots. His hair is always neatly parted, and we suspect with generous dollops of grooming products -- notice how in the windiest conditions not a strand is out of place. His beard -- neatly trimmed, along the determined jaw lines.
Nehru was known for his occasional flourishes -- the Kashmiri shawls draped casually over one shoulder, a style perpetuated by his grandsons. But Modi topped it with the blazing red number on the first day of President Barack Obama's visit.
The colour and the drape -- flowing like the dupattas in Sanjay Leela Bhansali films (who incidentally has been conferred the Padma Shri award for what we suspect has been a tremendous contribution to the traditional crafts of the state) stole the spotlight from a curiously disinterested Michelle Obama (who we think was missing some feminine company in the presence of a bunch of alpha males and a genial old Bengali man popping what curiously looked like Kanthil).
But then, with the speed and efficiency of a well-oiled backstage team of a fashion show, Modi's second change left all of us gasping.
That striped suit.
It is not without precedence.
Hindu priests wear the name of the Lord on shawls and kurtas. Modi was just following tradition. Even ousted Egyptian dictator Hosni Mubarak wore it some time.
And this is also where he differs from Nehru's severity and channels his inner Subhash Ghai -- the man who always makes an appearance in his own films.
It takes guts to wear your name on your person. Stars tattoo the names of their loves on their body. Initials on dainty pendants are a prerogative of the teens. But very rarely do you come across a leader of a free world who meets another leader of a free world and serves him tea in a suit that chants his name. Over and over again.
If that was the piece de resistance, the turban during the Republic Day parade was the dessert. A dazzling peacock in a sea of grey under a bleak, leaky Delhi sky. Yes, the turban put to shame the Delhi sun that day, which decided to remain out of sight for good measure.
Red returned later at the President's tea party, with a more subdued PM sporting a red jacket this time.
There comes a time in every man's life, when he discovers the allure of the colour red. That time, as they say, is when he lives out every bit of his wildest dreams.
As they say in films as in real life.... "Picture abhi baki hai mere dost..."
Top image: Prime Minister Narendra Modi and US President Barack Obama at Hyderabad House in New Delhi, January 25, 2015. Photograph: PTI Photo.