'The onus is now on China to explain to the world why it feels Pakistan should accompany India on the question of NSG membership!!'
'China's not so covert help for Pakistan's nuclear weapons and ballistic missile programmes will stand exposed,' says Ambassador G Parthasarathy.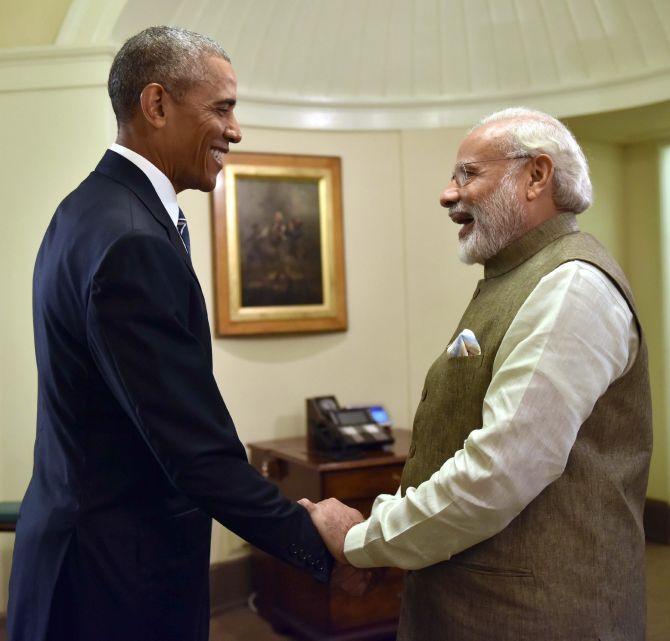 IMAGE: Prime Minister Narendra Modi with US President Barack Obama in the Oval Office, June 7, 2016.
Modi thanked Obama for extending support to India's membership in the Missile Technology Control Regime and the Nuclear Suppliers Group. Photograph: PTI Photo
When Prime Minister Indira Gandhi carried out what she called a 'peaceful nuclear explosion' in May 1974, the reaction of the world was swift and decisive.
Very few countries took our protestations of the 'explosion' being 'peaceful,' seriously. Pakistan, which had decided in January 1972, immediately after the Bangladesh conflict, to make nuclear weapons to counter Indian conventional military superiority, accelerated its efforts to go nuclear.
China's Chairman Mao Xedong assured Pakistan Prime Minister Zulfiqar Ali Bhutto in 1976 of full-fledged Chinese assistance to fulfill his nuclear ambitions. Chinese assistance to Pakistan's nuclear weapons programme has continued relentlessly over the past four decades.
The designs of Pakistani nuclear weapons have been provided by China along with assistance to strengthen Pakistan's capabilities for the production of weapons grade uranium and plutonium.
India's 1974 nuclear test also had other implications. There was a significant economic cost India had to pay for its 'peaceful nuclear explosion.'
The United States unilaterally cut off supply of enriched uranium fuel for the 420 MW Tarapur Nuclear Power Plant. More importantly, a Nuclear Suppliers Group, which today has 48 members, was formed to end all nuclear supplies and cooperation with countries like India, which had not signed the nuclear Nonproliferation Treaty and accepted International Atomic Energy Agency safeguards on all its nuclear establishments.
India was the country that was hard hit most strongly by the NSG's formation. It lost access to imported uranium ore even for its nuclear power plants and research reactors.
The NSG's stringent sanctions seriously impeded the development of India's nuclear power programme and even its nuclear research. It was only after the May 1998 nuclear tests and the failure of Western sanctions imposed on India that the George W Bush administration moved decisively to end sanctions.
In July 2006, the United States Congress amended US law to accommodate nuclear trade with India. In 2008 the Bush administration approached the NSG to get all its members to end sanctions. After prolonged negotiations, extending over two rounds, the NSG finally ended sanctions on September 6, 2008.
India, in turn, agreed to detailed provisions to separate its civilian and military programmes, to work for the conclusion of a comprehensive fissile material control treaty, to work for export controls on missile and nuclear technologies and observe its moratorium on testing nuclear weapons.
But India still remained to be accepted as a member of groups like the Missile Technology Control Regime (MTCR) and the Nuclear Suppliers Group.
But for President Bush's personal intervention with world leaders like China's then President Hu Jintao, the NSG would not have ended sanctions imposed on India.
Major industrial powers like Russia, Japan, the UK, Germany, Canada and France supported the American effort. It was this process that has led to India getting cooperation from countries across the world including the US, Russia, France and Canada to develop its nuclear power programme, together with supplies of uranium ore to run its growing number of nuclear power reactors.
Despite these developments, India is still not a member of the NSG. And the opposition to its membership of the NSG comes from China, encouraged and provoked by its 'all weather friend' Pakistan.
India has the support of all major powers including the US, Russia, France, Germany, Canada and Japan to being admitted as a member of the NSG. But China is leading the charge against it being made a member unless Pakistan is treated similarly.
China knows fully well that given Pakistan's clandestine supply of nuclear weapons technology and designs to Iran, Libya and North Korea it stands very little chance of being admitted to the NSG and treated on par with India for the present.
These issues are set to figure prominently at the NSG's meeting in Seoul on Friday, June 24. Quite obviously, Foreign Secretary S Jaishankar's June 16-17 visit to Beijing was to explore the possibility of getting China to end its objections to India's membership of the NSG, by hinting that India would have no objections to Pakistan being accorded NSG membership.
This puts the onus on Pakistan to meet the stringent conditions set by the NSG. There are a number of NSG conditions that Pakistan will be unable to agree to. The most important condition is to sign a Fissile Material Control Treaty and end the production of all fissile material for use in nuclear weapons.
Even if Pakistan agrees to this, it would have to end distrust of its propensity to pass on nuclear weapons technology to Islamic countries and North Korea, as it has done in the past.
It is in this context that one has to understand why External Affairs Minister Sushma Swaraj asserted that she did not think that China was opposed to India joining the NSG and that India was not opposed to Pakistan's membership of the NSG.
The onus is now on China to explain to the world why it feels Pakistan should accompany India on the question of NSG membership!! China's not so covert help for Pakistan's nuclear weapons and ballistic missile programmes will stand exposed.
India would, after all, have no objection to meeting the NSG's conditions to become a member. It would be for China to explain to the world why it supports the nuclear ambitions of its 'all weather friend' and ally, Pakistan.
These issues will not necessarily be sorted out at the NSG's Seoul meeting, but Beijing will learn that it will have to pay the price of having its credibility eroded if it continues to equate Pakistan with India on issues like nuclear proliferation.
G Parthasarathy, a former high commissioner to Pakistan, is one of India's most outspoken commentators on foreign affairs and security issues.