'Barriers have come across roads marking the end of Noida, the start of Gurgaon, the hard borders allowing no passage -- at least by day,' observes Kishore Singh.
Illustration: Uttam Ghosh/Rediff.com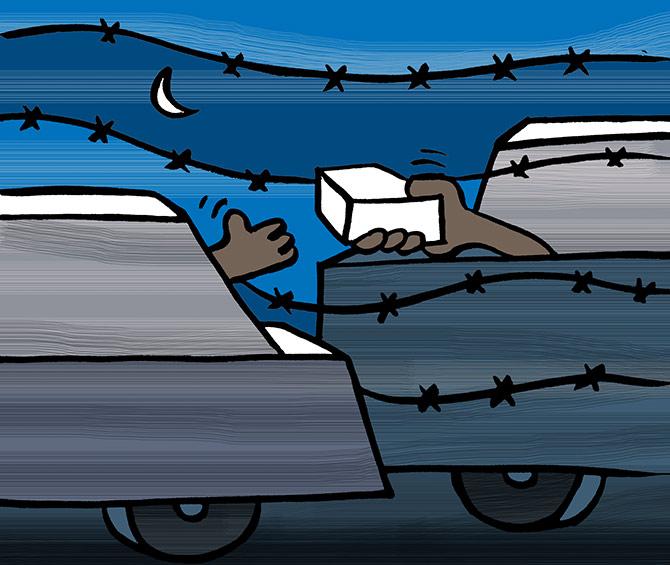 Seventy-two days ago, at the end of an inconclusive meeting in New Delhi, I left for home -- a 20-minute ride across the Yamuna -- in Noida.
There were no checks or barriers or visible boundaries to imply territorial exclusion.
This was still days ahead of Modi's exploratory, one-day lockdown, though already a sense of uneasiness had set in.
Offices were voluntarily shutting down; work from home still had a novel ring to it that no one took seriously.
My daughter, who worked unenviably further in Gurgaon, had set up temporary office in our bar room a week earlier.
Eighty days later, it seems more permanently an office than a bar, making the act of pouring oneself a drink in the evening delightfully subversive.
One night, the children sneaked across the UP-Delhi border to meet with family and have dinner with them, and the following evening my wife and I managed ditto to celebrate Eid with friends in the capital.
At night the borders are more porous, but in the day the constabulary of Uttar Pradesh and Haryana treat the residents of Delhi as criminals with but one intent -- to infect the good citizenry of their respective states.
For the first time it was brought home to our family that though we think of ourselves as Dilliwallahs, the city to which we still pay our state taxes, has entirely disowned us.
And the suburb in UP where we live thinks of us as bothersome migrants.
As for the national capital region, its seamless expanse has been exposed as a chimera.
Other than one shared meal in a friend's house across the border, I have not been to or seen Delhi in nearly three months.
Barriers have come across roads marking the end of Noida, the start of Gurgaon, the hard borders allowing no passage -- at least by day.
Fed up of staying home in Delhi for so long, our driver has taken to arriving for 'work' in Noida, passing by the authorities at the crack of dawn -- a pointless exercise because there is nowhere we can go.
So he dusts and cleans and washes the car with unparalleled zeal, waits in the driver's seat for a while before calling it a day and returning home across the border once more.
We are now aware of that border in more ways than one, using it as a meeting point for the exchange of essential goods.
When we could not get the medicines for my mother in Noida, my brother in Delhi ferried them to the border, where they were collected by my son.
Other things have followed -- coffee, because the stores in Noida ran out; books, some foodstuff and general non-essentials.
Our fish supplier brought us a haul of surmai and rohu that we carted home under the nose of uniformed officials who have probably deemed such intra-border trade inoffensive, so, our old Delhi takeaway owner agreed to ply us with mutton at the barrier provided we would deliver his consignment of chicken from his wholesale supplier.
The driver finally had a purpose, the exchange went off without a hitch, and we have the satisfaction of knowing that somewhere there will be people in Delhi enjoying their tikka, or biryani, thanks to a little sleight-of-hand by us Noidawallahs.
Feature Production: Rajesh Alva/Rediff.com