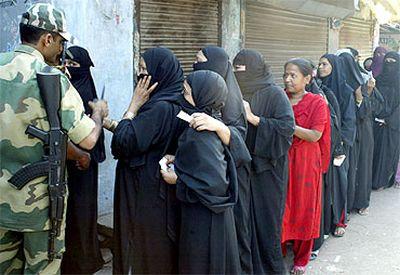 'It was Dr B R Ambedkar's foresight which saved us from some marauding state political leaders who could have indirectly disfranchised large sections of our population as we see some attempts even now,' notes V Balachandran, former Special Secretary, Cabinet Secretariat.
On April 12, the Shiv Sena provoked everybody including its political partner, the Bharatiya Janata Party, by demanding that Muslims should be 'disfranchised' to end what is called 'vote-bank politics.'
Shiv Sena Member of Parliament Sanjay Raut, in a signed article in Saamna, the Shiv Sena newspaper, said that both secular and Hindutva forces had played upon the insecurity of the Muslim community just to win elections.
Surprisingly, the tone of the article as reported by a national daily was conciliatory and sympathetic to Muslims: 'Muslims will not be on the path of development if their numerical strength continues to be misused by political parties. Muslims have no future in this country if there is going to be petty politics over their voting power... The mask of secularists will come off if Muslims are disfranchised... Muslims should take the initiative in this matter...'
Apart from presenting convoluted logic, Sanjay Raut also targeted the BJP with whom the Sena has a daily battle in Maharashtra over power sharing:
'Every political party wants to provoke the Muslim community for its political benefit. Hindutva leaders are playing with national security if they think division of Muslim votes will bring them huge electoral success.'
Raut told a leading English daily that he felt 'awfully sorry' while writing this piece. 'However surgery is often needed to restore one's health.'
He also said that exploiting Muslims for winning elections would threaten India's territorial integrity and security. He also turned his wrath on the All India Majlis-e-Ittihadul-Muslimeen and its leader Asaduddin Owaisi, an MP, calling them 'poisonous snakes.'
During the campaign for the mid-term election from the Bandra East constituency in northwest Mumbai, Owaisi had dared Shiv Sena supremo Uddhav Thackeray to address a public meeting in Hyderabad.
Such extremist demands on excluding some sections of our population are being heard repeatedly from West Bengal and in our seven North Eastern states too on a bogey that all Muslims in that area are illegal Bangladesh immigrants.
This has caused severe strains in inter-community relationships ending in bloody riots. On March 5, 2015, an alleged rapist was taken out of a prison by a mob of 7,000, 8,000 in Dimapur, Nagaland, and lynched.
This was a shocking case of mob fury and rendering of medieval public justice when the furious mob stripped the unfortunate prisoner naked, paraded him through the streets and beat him to death.
To justify the mob fury some local sections alleged that he was an illegal Muslim immigrant from Bangladesh. Later it turned out that his father had served in the Indian Military Engineering Service while his brothers had also worked in the Indian Army.
In India, the police and law and order are with the states as laid down in our Constitution. Very often, state leaders are moved by parochial political or electoral considerations. This influences police action too. However, our general elections to Parliament and President's selection are carried out by the Election Commission which is an independent Constitutional authority.
It is only when we hear such outbursts or witness such mob incidents that we remember how lucky we are to have our present system of elections in which very little power is conferred on our state leaders.
This is totally unlike even in the USA where elections, including Presidential elections, are held under state laws. Our Constitutional debates on June 15, 1949 indicated that the original proposal before the Drafting Committee was to have a 'separate election commission for each province under the guidance of the governor and the local government.'
It would have been disastrous for us, a country with considerable internal migration, had we adopted a system like in United States which entirely depends upon different state laws for voter registration and for considering voter eligibility.
What would have happened to us if the ballot papers differed from state to state or in some cases even from county to county as in the United States? Or for that matter if voting methods (ballot paper with manual marking, optical scan system where paper is used, lever machines, punch card machines or touch screen systems) had differed from state to state?
Or if we had blindly followed our own 'Objectives Resolution' of December 13, 1946 which stated that the states and territories 'shall possess and retain the status of autonomous units, together with residuary powers and exercise all powers and functions of government and administration?'
It was the foresight of Dr B R Ambedkar, chairman of the Drafting Committee which saved all of us from that terrible situation. Let me quote his speech on June 15, 1949 giving reasons why he changed the original draft:
'But, this change has become necessary because today we find that in some of the provinces of India, the population is a mixture. There are what may be called original inhabitants, so to say, the native people of a particular province. Along with them, there are other people residing there, who are either racially, linguistically or culturally different from the dominant people who are the occupants of that particular province. It has been brought to the notice both of the Drafting Committee as well as of the Central Government that in these provinces the executive government is instructing or managing things in such a manner that those people who do not belong to them either racially, culturally or linguistically, are being excluded from being brought on the electoral rolls.'
What he stated in 1949 still holds good even in 2015.
Thus it was Dr Ambedkar's foresight which saved us from some of our marauding state political leaders who could have indirectly disfranchised large sections of our population as we see some attempts even now.
It is because of him that we have such smooth elections. By now our democracy has experienced 16 general elections. It took nearly four months for the first general election (October 1951 to February 1952) to be completed for an electorate of 173,212,343.
They chose 489 seats in the Lok Sabha from 401 constituencies in 26 states. In those days 314 constituencies had one seat each, 86 with 2 seats and one in West Bengal had 3 seats.
We had 9 Part 'A' states, 7 Part 'B' states and 10 part 'C' states.
In 2014 (the 16th general election) we had a massive electorate of 814,500,000, the biggest in the world, who chose incumbents for 543 seats in the Lower House in just over a month (April 7 to May 12).
In the present bleak scenario where attempts are being made to divide our population on religious grounds through 'ghar wapasi' and 'anti-conversion programmes,' let us rejoice that demands from Sanjay Raut and others would only be cries in the wilderness, not affecting our elections.
But it would certainly affect our law and order situation, placing further burden on our already overburdened police.
In a recent Shiv Sena agitation against popular columnist Shobhaa De, the Cuffe Parade police in Mumbai had to deploy more than 100 policemen for preventing disturbances.
Such diversion of policemen would affect our security, making us most vulnerable against terrorism. Such outbursts would also make our minority community members more insecure and vulnerable, giving rise to fanatical thoughts as we saw in the case of Fahad Shaikh from Kalyan near Mumbai who had joined the dreaded Islamic State terrorists, telling his family that he would not like to return home as his community is discriminated and persecuted.
V Balachandran is a former Special Secretary, Cabinet Secretariat, and a member of the High Level Committee appointed by the Maharashtra government to enquire into the police action during the 26/11 Mumbai terrorist attacks.