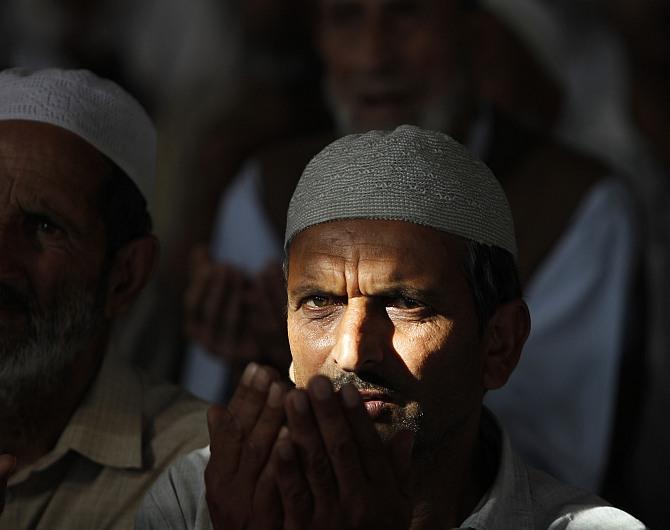 The test for Prime Minister Narendra Modi would be to convince not just friends in the media with crisp sound bytes but the very people most affected by the politics of hate through concerted action, says Shehzad Poonawala.
In a recent interview to a news agency, Prime Minister Narendra Modi once again expressed, in what seemed like an upgraded version of his choreographed and predictable rebuke to party hot-heads, his government's "alleged" commitment to Sabka Saath, Sabka Vikas by stating that "constitutional guarantees of religious freedom and non-discrimination were non-negotiable" and that some of the provocative comments made by members of his own government, party and ideological parivar were "totally uncalled for."
But when the baggage of history is this heavy, as is the case with the Bharatiya Janata Party and the 2002 riots which took place in Gujarat under Modi's watch as chief minister, mere words, no matter how eloquent they sound, can never be a substitute for tangible action that ought to be taken whenever instances of blatant communalism surface.
This is an axiom, whose self-evident truth was put to the test just 45 odd kilometres from the national capital in Atali village of Haryana. Even as the chilling details of horrific violence in Atali come to the fore, Modi's empty slogan serves as little more than a homily here.
Driven out in the hundreds from their homes, after a dispute over the construction of a mosque resulted in a brutal attack with axes, country-made pistols, petrol bombs and swords by a mob of 2000 on May 25, about 200-300 terrified Muslims continue to take shelter inside a police station compound, too afraid to return to their village.
The perpetrators of the violence, several of whom have been identified, continue to roam freely. The BJP-run Haryana government has done precious little in terms of giving any assurance of protection from further attacks or relief to the affected Muslim families. The central government has remained conspicuously inactive so far.
Questions remain as to why local police officers deployed at the disputed site pulled back just minutes before the gruesome attack began. Were there instructions to give the rioters a free hand? Why was the Gujarat experience allowed to repeat itself in Haryana, a state that has been relatively unaffected by the communal cauldron even during the Babri Masjid demolition? Why were polarising figures like Sadhvi Prachi and Owaisi allowed to visit the tension-prone area instead of Chief Minister Manohar Lal Khattar? Why has nothing been done to restore the loss of confidence, through relief and justice, between the sparring communities, Jats and Muslims?
A quick post-mortem of the current violence indicates a pattern that has been perfected by the right-wing during the Muzaffarnagar riots of 2013. Pick up a local issue and distort the facts with propaganda, create a sense of victimisation and insecurity among the majority, especially on issues like 'love jihad', peddle rumours through an active network of the Sangh Parivar on the ground, escalate it just before an election (in this case the panchayat elections due in August) and polarise communities for electoral gains.
In the last one year under Modi, of the nearly one dozen prominent instances of communal violence that have occurred across India, nearly eight of them have taken place in BJP-ruled states like Haryana, Madhya Pradesh, Gujarat and Delhi (in Delhi the central government is responsible for law and order). Clearly, there is a sense of emboldenment that such elements feel in some states that encourages them to unleash vials of communal poison into our pluralistic body politic.
While talking to the Atali riot survivors, the most important demand they expect to be fulfilled is that of justice. A free and fair probe that brings the guilty to book for their actions of destroying lives and livelihoods and to ascertain complicity if any at the level of the executive in allowing these riots to take place. Modi's Sabka Saath, Sabka Vikas slogan would be little more than empty rhetoric if it fails to ensure this.
Withdrawing cases against the guilty as part of some settlement deal to go back to their homes is unacceptable. To deny the victims their right to construct a mosque and worship, especially in this case, after a court had adjudicated in favour of the mosque land being a Muslim property and the SDM allowing its construction, would be a violation of their basic fundamental right to religious freedom guaranteed by the Constitution.
Modi believes that in the first year of his government "achche din" have arrived. A spate of church attacks, communal rhetoric on controversial issues like love jihad and ghar-wapsi by members of the ruling alliance, saffronisation of education and blatant cases of discrimination in housing and employment in BJP-ruled Mumbai seem to suggest quite a different story.
The test for Modi would be to convince not just friends in the media with crisp sound bytes but the very people most affected by the politics of hate through concerted action.
The survivors of Atali violence hope for just that.
Image used for representational purposes only. Photograph: Danish Ismail/Reuters.