Other countries need not be worried by Trump putting America first, says B S Raghavan.
'That is what the imperative duty is of everyone heading his country's government: To put his own country first, and make it great.'
'That is what Narendra Modi, Xi Jinping, Theresa May, Angela Merkel, Shinzo Abe and all the democratically elected heads of governments, with the interest of their people at heart, are doing.'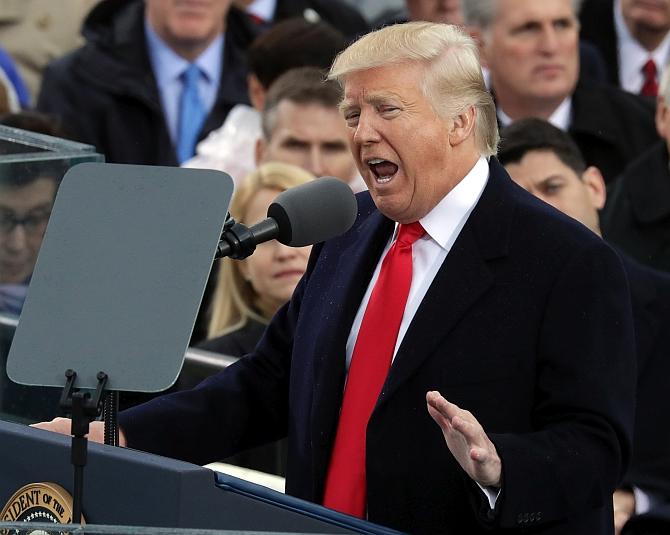 If US President Donald John Trump's inaugural address, delivered from the steps of the Capitol in Washington, DC, to fellow Americans while reaching out, for the first time perhaps in such an address, to 'the people of the world', had come from anyone else, say, from Franklin Delano Roosevelt or Theodore Roosevelt, John F Kennedy or Ronald Reagan, it would have earned hallelujahs as a remarkably rousing speech.
His ringing words to 'make America strong again... wealthy again... proud again... safe again...' capped by his signature slogan, 'And, yes, together, we will make America great again' would have put Americans on top of the world.
His guarantee of action on a wide front to 'bring back our jobs... our borders... our wealth... our dreams' and 'build new roads and highways and bridges and airports and tunnels and railways' and get people off welfare and back to work rebuilding the country 'with American hands and American labour…' would have resonated with every single American, coast to coast.
His hailing the day as one invested with 'special meaning,' that marked the transfer of power 'not merely... from one administration to another or from one party to another, but from Washington, DC and giving it back to you, the people,' making them 'the rulers of this nation again,' would have sent the spirits of the entire lot of Americans soaring sky high.
They would have lapped up every word of his denunciation of 'a small group in (the) nation's capital (reaping) the rewards of government while the people have born the cost' and his knock out punch: 'Washington flourished, but the people did not share in its wealth. Politicians prospered, but the jobs left and the factories closed. The establishment protected itself, but not the citizens of our country.'
'Their victories have not been your victories. Their triumphs have not been your triumphs and, while they celebrated in our nation's capital, there was little to celebrate for struggling families all across our land.'
Unfortunately, though, in view of the baggage of odium that Donald Trump carries, all his lofty pronouncements might well be harshly judged as hollow bombast.
The start of his presidency is mired in a miasma of malodorous forebodings, some even doubting his mental stability.
Many take him to be dubious and untrustworthy, with a lot of explaining to do in regard to conflicts of interest, business deals, tax returns and allegations touching upon his personal character and the company he keeps.
He, on his part, has certainly revelled in driving up the wall normally sedate, politically correct elitist establishmentarian liberals with his provocative, and occasionally crude and unthinking, statements.
They are further upset to see him bent on inducting into the higher echelons of the government persons who, they feel, are trouble makers and ignoramuses, unsuited to the positions assigned to them.
The least that can be said of him is that he comes through as quirky and quixotic and that will undoubtedly make for an interesting, if not exciting, first term, unlike any in living memory.
Inevitably, given the open society that the US is, his assumption of office has sparked off protests.
In fact, the number of protesters converging on Washington on Inauguration Day is said to be almost the same as those attending the oath taking ceremony.
With all this, I was struck by a few things when I watched the inauguration. The first was Trump's forceful and fluent delivery with pregnant pauses in between significant passages to let the effect sink in.
To a life-long student of the art and science of effective communication like me, it all looked impressively extemporaneous, for there was no tell-tale evidence of any teleprompter.
I was also deeply impressed by the presence with their spouses of all the living former Presidents, except the senior George Bush and Barbara Bush, both of whom were ill and in no position to travel.
The camera panned onto their faces when he was making a direct and blunt attack on what had gone before him and showed them to be keeping their cool, while pleasantly listening to him.
Trump too did not omit to acknowledge at the very beginning of his speech his gratitude to President Barack Obama and Michelle Obama for their gracious aid throughout the transition. He said they had been 'magnificent.'
Indian politicians of opposing parties would have boycotted the function in the first place, or, if they had deigned to attend, would have staged a noisy walkout at those kinds of critical statements.
It would come as an unbelievable surprise to them to be told that Barack Obama's immediate predecessor, the junior George Bush, who belonged to the Republican Party, had publicly undertaken not to come up with any comments on any of the policies and decisions of Obama's Democratic party administration throughout the eight years he was in office, and Obama too has pledged to do the same.
There is a message that I wish to send the Americans hoping that they would heed. It is when everyone is losing his head, that one should keep one's own.
Trump is now their President and is the living symbol of the US.
As Barack Obama said soon after Trump was declared elected, the American people would need to 'root for' Trump's success, for 'if he succeeds, America as a whole succeeds.'
They must keep an open mind and give Trump the time and the chance to prove himself.
They should judge him by the goals and objectives that he has set for the US, and not by his sometimes boisterous braggadocio during the campaign and thereafter.
After all, disruption of the status quo in order to strike out on a new path is quite a laudable goal, provided it contributes to the larger good of the nation.
Nor need other countries be worried by Trump putting America first.
That is what the imperative duty is of everyone heading his country's government: To put his own country first, and make it great.
That is what Narendra Modi, Xi Jinping, Theresa May, Angela Merkel, Shinzo Abe and all the rest of the democratically elected heads of governments, with the interest of their people at heart, are doing.
One can be sure that once in office, Trump will take a balanced, holistic view of any issue or course of action he would be dealing with.
Each President has his own style, and there is no need to be frightened in advance at the mere prospect of his style being different.
B S Raghavan, besides being a retired Indian Administrative Service Officer, was a US Congressional Fellow during Lyndon B Johnson's presidency, when Bill Clinton also was an aide on Capitol Hill, Washington DC.
He has had extensive diplomatic dealings having been the chairman of three UN committees, policy adviser to the UN (FAO) and leader of India's delegation to meetings of most international organisations.
IMAGE: President Donald J Trump delivers his inaugural address. Photograph: Chip Somodevilla/Getty Images