Laid to Rest: The controversy over Subhas Chandra Bose's death, a book by Bose's great nephew Ashis Ray, reveals how we've always known the truth, notes Karan Thapar.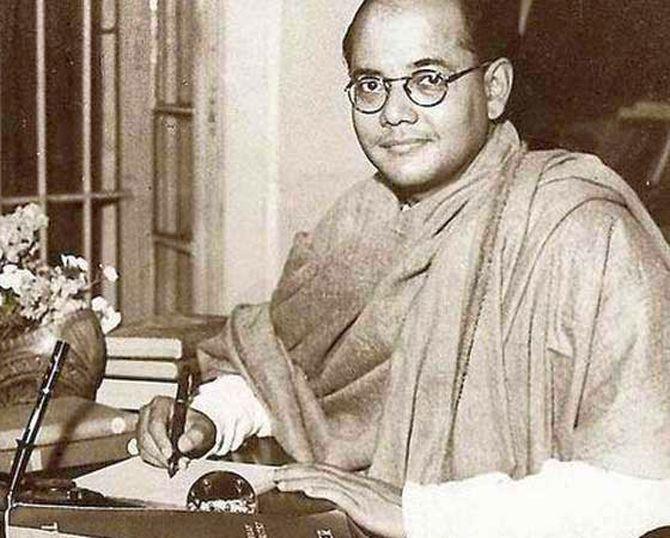 Photograph: PTI Photo
If there was a prize for the most pointless controversy, India would get it for sure although the United States would run us a close second.
The least explicable if not most baffling, is the refusal to accept Subhas Chandra Bose died in a plane crash on August 18, 1945.
That some actually maintain he spent years incarcerated in a Soviet Gulag camp or hiding in Manchuria or disguised as Gumnami Baba is simply unbelievable.
Yet some people do.
A book published by Bose's great nephew, the London-based journalist Ashis Ray, called Laid to Rest: The controversy over Subhas Chandra Bose's death, reveals how we've always known the truth.
Based on 30 years of meticulous research it proves that as early as September 15, 1945, that is, just four weeks after his death, the Japanese government confirmed this fact and how it happened.
As Ray puts it, in all 'a staggering 11 inquiries, official and unofficial, have been undertaken -- three by the Japanese, as many by the British, four by Indians and one by the Taiwanese -- (with) each and every one unambiguously arriving at the same conclusion'.
They tell the same story of how Bose died.
'Yet,' to quote Ray, 'New Delhi has pandered to a motley section of Indians who have irrationally been in denial and opposed the truth for political reasons or worse -- for financial benefit by perpetrating outright fraud'.
Part of the book's explanation pins the blame on Bose's followers.
'They haven't come to terms with him not emerging as the leader of free India and tend to assign this to illusory skullduggery against him,' the book says.
It also blames Bose's extended family who have 'found it impossible to accept the truth'.
Yet the truth is simple and straightforward.
Ray's research shows Bose was in Malaya when he heard the Japanese had offered to surrender.
That was on August 12, 1945.
He then returned to Singapore where he learnt the Japanese were prepared to give him shelter.
On August 16, he began the journey that was intended to take him to Tokyo.
In the first stage he got to Bangkok.
There he decided that although he would go to Tokyo to thank the Japanese government for all the assistance they had given him, he would, thereafter, proceed to Russia via Manchuria.
Unfortunately, things worked out differently.
On August 17, Bose left Bangkok reaching Saigon by midday.
That evening he took off for Taipei, but because darkness was falling the pilot made an unscheduled night-stop at Tourane on the Indo-China coast.
On the 18th -- the day he died -- Bose took off from Tourane for Tokyo via Taipei, where concerns arose about one of the plane's engines.
Although the engineers satisfied themselves, the problem was clearly not resolved.
Shortly after the plane left Taipei for Tokyo a loud explosion was heard.
The plane tilted to its left and one of its propellers fell off.
It crashed 100 metres beyond the runaway and caught fire.
Colonel Rahman, Bose's ADC, who was with him, has graphically described his injuries and the last message he left for the Indian people.
At least three others, who attended to Bose at the Nanmon military hospital where he was taken, have given an account of his last hours.
They are Captain Yoshimi, the medical officer in charge of the hospital, Dr Tsuruta, a Japanese doctor, and a Taiwanese nurse.
Ashis Ray comes to the following conclusion: 'There is overwhelming, irrefutable, hard documentary evidence to reconfirm that Subhas Bose unquestionably met with a plane crash at Taipei on 18th August 1945.'
He died hours later. Bose's daughter, Anita Pfaff, accepts this.
Is it just their fondness for conspiracy theories that prevents others from agreeing?
Anita Pfaff has suggested a DNA test be done on the remains which are said to be her father's at the Renkoji Temple in Tokyo.
It's an eminently sensible idea.
But the problem is what happens if they turn out not to be Bose's ashes?
Does that mean he didn't die in the air crash? And that he's still alive somewhere?
For those who don't want to accept, there will always be some reason not to believe.