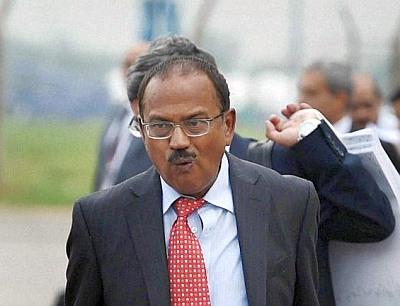 With India's political wheel turning full circle this year, National Security Advisor Ajit Doval will negotiate with China from an expanding diplomatic space, writes Ajai Shukla
Since 2003, in 17 rounds of talks, India and China have relied on quiet diplomacy between a top official from either side to resolve their thorny territorial dispute. Termed 'Special Representatives' or SRs, these negotiators -- who must enjoy the confidence of their national leaders -- are mandated to bypass the endless technical wrangling of diplomats, bureaucrats and soldiers.
On Monday, Prime Minister Narendra Modi announced that National Security Advisor Ajit Doval would "conduct boundary negotiations and strategic consultations with China".
Doval will be India's fifth SR; after Brajesh Mishra (2003-04); J N Dixit (2004-05); M K Narayanan (2005-10) and Shivshankar Menon (2010-14). For a decade, China's SR was the redoubtable Dai Bingguo, who has been lauded by Henry Kissinger and Zbigniew Brzezinsky. Dai retired last year, to be succeeded by Yang Jiechi.
Modi had first offered the job of SR to a former foreign secretary and respected Sinologist, Shyam Saran, who declined. The rank of principal secretary that Saran was offered was two ranks below his Chinese interlocutor, Yang Jiechi, who holds the rank of state councillor -- one rung above a minister.
Doval has accepted the challenge at his current rank of principal secretary. He will now negotiate with Yang Jiechi to decide ownership of some 1,30,000 square kilometres of territory that both countries claim. This is spread across three areas -- (a) The uninhabited western sector in Ladakh, where the dispute involves 38,000 sq km; (b) The small central sector in Uttarakhand, of only 2,000 sq km; and (c) The large and contentious eastern sector, which measures some 90,000 sq km, practically the whole of Arunachal Pradesh.
Sources close to the negotiations say New Delhi has been prepared to accept Beijing's claims in the western sector, provided China accepted India's claims in the eastern sector with the relatively inconsequential central sector resolved through minor give-and-take. Beijing, however, demands "substantive concessions" in the eastern sector -- specifically ceding to China ownership of the strategic Tawang district. This is unacceptable to New Delhi.
Notwithstanding this deadlock, previous SRs negotiated an 'Agreement on political parameters and guiding principles for the settlement of the China-India boundary question', which was signed during Premier Wen Jiabao's visit to India in April 2005.
Doval will have to translate this into a "framework agreement" for a final settlement, after which a new border will be delineated and demarcated.
The 'political parameters' of 2005 are viewed as a triumph in New Delhi because they include two points that favour India's case. These are (a) Article VI: "The boundary should be along well-defined and easily identifiable natural geographical features, to be mutually agreed upon between the two sides"; and (b) Article VII: "In reaching a boundary settlement, the two sides shall safeguard due interests of their settled populations in the border areas."
Indian diplomats see China's acceptance of the watershed principle as tacit acceptance of the McMahon Line, drawn along the watershed in 1914, which India claims is the border between Arunachal Pradesh and Tibet. The clause about protecting the settled populations is seen in New Delhi as Chinese acceptance that the populous Tawang area remains with India.