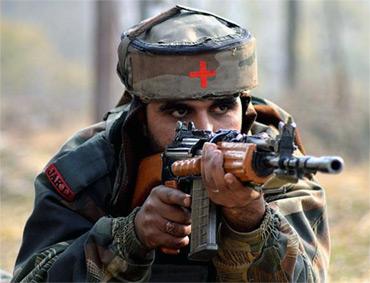 'A veiled secret of India's defence and strategic culture is the lack of a serious interest in them by the political class. The Indian National Defence University would fill this void,' feels Lieutenant General Anil Chait (retd).
Kerry Longhurst, senior Fellow at the Centre for Security Studies Warsaw, identifies three main components of strategic culture.
First, are the foundational elements, comprising of basic beliefs regarding the use of force, which give strategic culture, its core characteristics.
Then are security policy standpoints she elaborates to be 'contemporary, widely accepted interpretations' which form the basis and rationale for the long-standing policies and practices as applied to the environment.
The core ingredients of a strategic culture are therefore clear and cogent beliefs regarding the use of force, well considered and defined policy parameters and practices relating to security, that a nation adopts and applies in its internal and external affairs.
Even a cursory look into our past approach to security challenges would reveal either an absence, or varying degrees of weakness on all three aspects.
The need to base strategic decisions on rational considerations founded on firm principles has always been known and expounded. But the need for an institution where concepts and thought on all aspects of security and strategy would confluence, was only mooted in 1967 and reiterated later in 1980 by the Sethna Committee.
The Kargil Review Committee established by the Vajpayee government in 1999, recommended setting up of an institution to address the issue of deficiencies in India's security management system.
It was only in 2010 that the Cabinet approved a proposal to set up 'a World Class fully autonomous Indian National Defence University' with the objective of providing conceptual and factual fillip to overcome critical voids in the policy space.
Once developed, the Indian National Defence University would be a centre of excellence and innovation, for policy research, upon which pragmatic and rational strategy-related decisions can be based, in keeping with evolving requirements, as India moves to take its rightful place in the comity of nations.
To achieve its aims, the Indian National Defence University would lay out and develop a comprehensive educational system, where security managers and strategic leaders will understand each other's objective and compulsions, guided and illuminated by an all-encompassing strategic thought.
The Indian National Defence University will provide an overarching directional orientation and guidance to some newly created and existing training establishments, colleges and academies such as the National Defence College, College of Defence Management, the Defence Services Staff College and the National Defence Academy of the military to start with, besides others.
The Indian National Defence University's mandate extends to bring to the notice of doctoral and post doctoral researchers in strategic studies, deficiencies in India's security management; redesigning of structure and organisation, need for application of comprehensive national power, science and technology requirements for supporting the concepts, percepts and doctrines.
These are expected to assist in creation of skills required to support the military complex as also facilitate, the Make in India campaign in becoming a success.
To promote better understanding of issues relating to comprehensive nation's security and strengthening the defence apparatus of the nation, the Indian National Defence University would focus on the twin objectives of providing 'a well rounded education' and 'prepare for a calling' to meet the requirement espoused for universities in India.
Why a University? Would not an academy or institution serve the purpose?
The University Education Commission 1948, headed by Dr S Radhakrishnan, provided a seminal definition of a University being, 'a place for providing a student an opportunity for all-round well proportioned education for effective living and for citizenship, in addition to preparation for a calling... Unless an institutions aims at providing such all-round training it should continue as a technical institute and should not aspire to be a University.'
The Indian National Defence University proposes to fulfill all this and more.
Security-related issues have today come to be based upon and guided by the motives, perceptions and opinions of a small number of dominant thinkers within the leadership.
There is undoubtedly some depth of examination, but secrecy and urgency, both preclude wide consultation, which may enable a deeper evaluation of implications and impact of the decisions taken.
The Indian National Defence University would play a role not only as a referral point for requisite analysis, but also maintain an outreach with related departments of other universities and institutions.
Defence and strategic studies are already part of the curricula at many Indian Universities. Yet, only a miniscule number of academicians are ever consulted or involved in the decision or policy-making processes.
There is sadly no connection at all of the 'official side' with academicians from departments at several other universities.
Such a hegemony on the part of a few cocooned 'experts' has deprived the benefits to be accrued through the participation of a broader base of intellectuals and thinkers.
Free scholarly research, contributing to policy formulation and debate on security and strategy through synergy between academic research and government institution, on the other hand is likely to facilitate strategic thought and promote strategic purpose.
Joint-ness between civilians and military in the attendees, teachers and its governance structure, will contribute to such a mission.
What difference then can the Indian National Defence University be expected to make to improve comprehensive strategic awareness in the country?
Foremost is the impact on training of Services personnel. The various training institutions of the defence services would come under the Indian National Defence University's coordination and oversight progressively resulting in all aspects of training, its course content, the stages in career, when specific training capsules are to be administered, under a joint and integrated thought process.
Inclusion of police and paramilitary personnel will not only enable their capacity building to deal with hybrid threats, but also develop a coalesced and holistic thought process involving defence and security.
Second, research would focus on collation and examination of inputs requisite for policy formulation. Its faculty being inclusive of strategic thinkers, defence officials, bureaucrats and diplomats, the Indian National Defence University would provide the right intellectual platform to run through issues prior to formulating policy decisions.
This would go towards transforming the decision making process to a fact based, well thought out rational exercise rather than a 'hunch' based and often arbitrary process aimed to meet emerging short term requirements lacking any far sight on future implications.
The existing 'vision' deficit would thereby be overcome.
A little veiled secret of India's defence and strategic culture is the lack of a serious and abiding interest in them by the political class. The Indian National Defence University as an establishment would fill this void.
In essence, the Indian National Defence University aspires to be the academic crucible that would distil from multitude, ingredients of information concepts and theories, strategic initiatives and response solutions which are best for the nation.
If provided the freedom and leeway to take its envisaged growth path, the Indian National Defence University, INDU, has the prospect to become an enabler for a principled National Strategic Culture for India.
Lieutenant General Anil Chait retired as chief of the Integrated Defence Staff; he was also Central Army Commander.
Don't miss these articles by General Chait:
Image: A soldier battles terrorists during an attack on the army camp in Uri, Jammu and Kashmir, December 5, 2014. Photograph: Umar Ganie.