Narendra Modi seems to prefer that Hindu strongman image remain tucked in reserve, to only come when called; life's been more complicated, says Aditi Phadnis.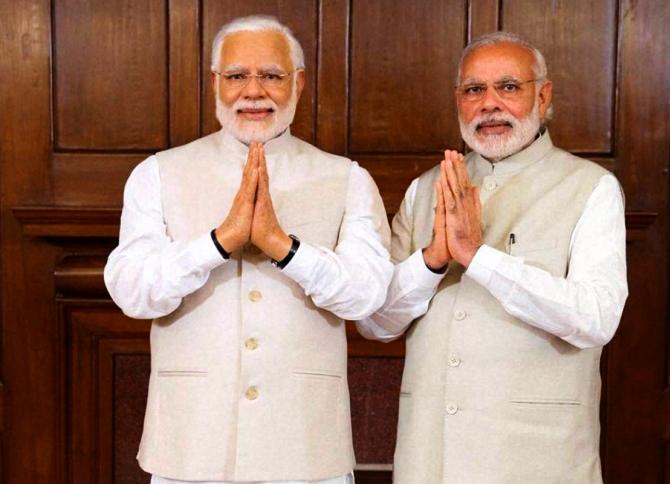 Does anyone know what happened to the NaMo mandir in Bhagwanpur village, Kaushambi, near Allahabad, where a deity with a strong Modi likeness was installed in 2014 during the general elections? And, people started coming and praying before it, addressing the statue as Swami Narendra Modi? Originally, by the way, it was a Shiva temple.
The practice of devotees offering daily prayers to the deity and also reciting a 'Modi chalisa', besides lighting a lamp (akhand jyoti), kept lit for 125 days to pray for Modi to become prime minister, began in 2014. The whole thing was stopped and shut down when Modi himself apparently stepped in.
He has since become prime minister but is yet to visit Ayodhya and the Ram Temple site, although he is called Hindu hriday samrat (that's how UP BJP MLA Sangeet Som referred to him at a public meeting in Muzaffarnagar.)
In Faizabad, the workshop created by the Vishva Hindu Parishad in 1989 with a corpus of Rs 2.75 crore collected during the rathyatra and "temple tourism" found sculptors working diligently to create a Ram Mandir.
The interest on the money collected multiplied. With Rs 7.5 crore in the kitty, most of it was spent on materials. In 2007, work in the workshop stopped, to be revived in 2012. Right now, it is on again but in 2014, again, just after Modi became prime minister, the 84-kosi parikrama that the VHP had organised attracted all of 15 people. No BJP member from the state offered to be arrested.
Cut to the March 2016 meeting of the party's national executive. It was the height of the Kanhaiya Kumar-nationalism debate and a member of some unknown Hindu group had announced a Rs 1 lakh bounty on Kumar's head.
"Will someone please ask this gentleman if he even has Rs 1 lakh in his savings account," Modi acerbically asked at the meet, letting them know he was well aware of such routes to political notoriety and what he thought of those opting for this.
This much has to be said -- in the two years since he became PM, Modi has never publicly endorsed any brand of Hindutva. His politics has been about development and nationalism.
You could argue that he should have taken the opportunity to apologise for the Gujarat riots of 2002 or had the 2007 Mecca Masjid bombing (in which several Muslims boys were arrested by a Congress government, but acquitted many years later because no evidence was found against them) re-investigated. Or asked that the 2008 Malegaon bomb blasts to be reinvestigated, as with the acquittal of Pragya Thakur and others charged with conspiring, effectively it is as if no one was responsible for these.
On the other hand, his party and affiliated organisations have been pushing the Hindu agenda where they have got a chance.
Cow protection, otherwise a non-issue, is now cause celebre. Emboldened by 'hamari sarkar', small Hindutva outfits have sprung up. Encroachment on public land to set up temples is now unchecked, and permission to Art of Living to hold a convention is the benchmark of the new permissiveness of the government to Hindu groups.
Minister of state for External Affairs V K Singh has sought the renaming of Akbar Road as Maharana Pratap Marg and Culture Minister Mahesh Sharma has said the Gita and Ramayana were ideal books because they taught moral values, while the Bible and Quran were purely religious books.
This suggests a deep identity crisis which demands repeated reassertion of Hindu identity.
Modi and some of his senior ministers are, on the other hand, emphasising on building roads, providing power and better railway lines, asserting that these have no religion.
Several leaders of the Bihar unit of the BJP, in hindsight, say it was party president Amit Shah's campaign statement that if the 'BJP loses Bihar, it will be Diwali in Pakistan' which cost them the election.
It was a salutary lesson and statements of this nature were not repeated in elections to the five legislative assemblies just gone by.
That's the tension. The Modi who stands before us would like us to forget how he was the one to insist Jaswant Singh be thrown out of the party for his book about Jinnah, and just carry on with the task of governing. But, everyone around him can't forget he is the Hindu hridaya samrat!