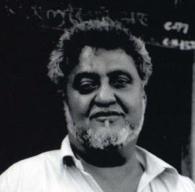 Sudheendra Kulkarni pays tribute to friend, poet and Dalit activist Namdeo Dhasal who passed into the ages on Wednesday.
I was woken up early in the morning by an sms beep on my mobile. Unusual for a message to arrive so early, I said to myself. It was from H L Dusadh, a tireless Dalit activist from Delhi and a friend of several years. "Dear sir! yeh message sms karte huye meri ankhon se jhar-jhar ansoo bah rahe hain. pata nahi yah jaan kar aap par kya gujregi. vishv kavi namdeo dhasal nahi rahe. cancer se aakrant dhasal saheb ne adhe ghante pahle, 4.30am, bombay hospital me antim saans li." (With tears in my eyes, I have to inform you that world poet Namdeo Dhasal is no more. He passed away at Bombay Hospital at 4.30 am).
Only a few weeks ago, Dusadh and I had called on Dhasal at the hospital, where he had been battling cancer for over three months. The news of his demise left me sad. A good human being has left this world. The world of Indian poetry has lost a revolutionary voice that roared for justice and human dignity, and against caste oppression in Hindu society.
And the Dalit movement in Maharashtra and India is today without an honest leader who had been boldly navigating through a terrain of dogma and confusion to explore new ideological intersections.
When I last met this greatest Dalit poet in Marathi, I was both sad and happy. Sad because hospital is not the place where you ever wish to see someone you admire and not the place where you ever expect to see someone who has all his life been a courageous combatant against social inequality and injustice. The founder of Dalit Panthers, he was himself a panther in his poetry and political activism -- hungry for a society without exploitation and injustice. Seeing a person like him, lying in the ICU, was distressing.
But I was also happy because, as soon as he saw me, a smile blossomed on Namdeoji's face, overcoming the pain of cancer treatment and the discomfiture of a nasal catheter. Just a week earlier, he was in a very critical condition. The doctors had given up hope. Yet, to the great relief of his near and dear ones, he recovered enough to welcome visitors with a friendly smile and even engage them in a conversation.
The first thing he asked me was: "How is Atalji?" It moved me deeply. He had great admiration and respect for former prime minister Atal Bihari Vajpayee. He remembered that when he was similarly hospitalised in Bombay Hospital in 1981, Atalji had visited him and wished him speedy recovery. "Atalji is a rare leader with a large and kind heart, a true poet-leader," he had told me in one of our meetings last year at his modest home in Andheri.
Although I was somewhat familiar with Namdeoji's poetry and journalistic writings -- in recent years, he had become a regular columnist at Saamna, a Marathi newspaper founded by the Shiv Sena -- it is only in the past few years that I had come to know him closely.
I first met him at a function in Mumbai organised by Dusadh, who is the founder of the Bahujan Diversity Mission. This broad platform of Dalit activists and organisations has been demanding that India's economic and business landscape must reflect our country's social diversity. In other words, the gross under-representation of Dalits, tribals and other backward classes in business, commerce and commerce-related professions must end, and these numerically large sections of our society must get their fair share in the nation's economic pie.
I supported this demand. Namdeoji, who spoke after me said something very significant. "For many years, we in the Dalit movement had been agitating over issues of emotive nature. But we did not pay enough attention to business and commerce. India's economic and social realities are now changing rapidly. Educated Dalit youth should not look only for government jobs. They should come forward, and prove their mettle by seizing the new opportunities being created by India's growing economy."
He went a step further and praised the establishment of the Dalit Indian Chamber of Commerce and Industry, a novel and farsighted initiative of Milind Kamble, a young Dalit entrepreneur, and Chandrabhan Prasad, a renowned Dalit thinker.
This is what had impressed me the most about Namdeoji, who was once described as the 'Poet of the Underground'. Unlike some Dalit intellectuals, he was non-doctrinaire in his thinking, and open to self-questioning. His deep veneration for Dr Babasaheb Ambedkar remained undiminished all through his life. Nevertheless, in private conversations with his friends and colleagues, he did not hide his disillusionment with the Ambedkarite movement in Maharashtra and the rest of India.
Last year, Namdeoji and his wife Mallika Amar Sheikh had invited me and my wife Kamaxi for lunch at their place. Since it was Diwali day, Malika had prepared a special festive meal. What amazed me was that the warm hospitality that we received had a typical Hindu touch.
I presented my book Music of the Spinning Wheel: Mahatma Gandhi's Manifesto for the Internet Age to Namdeoji. The book's theme intrigued him. He patiently listened to my explanation about the universality of Gandhi's message of truth and non-violence. I especially emphasised that there was a strong convergence in the advocacies of Gandhi and Ambedkar in matters of social justice. Namdeoji said, "I agree that Mahatma Gandhi was a great man. There is a need for the Ambedkarite movement to re-evaluate him." The significance of this remark will be better appreciated by those who know the bitter criticism that many Ambedkarites still reserve for the Mahatma.
Ill-health had chased Namdeoji, who founded the Dalit Panthers in 1972, for a good part of his 65 years. But he exhibited incredible will power to overcome many adversities in his life. And helping him in all his battles was his wife, who is the daughter of Amar Shaikh, a revolutionary poet who played a pivotal role in the Samyukta Maharashtra Movement in the late 1950s. Mallika is also a poet and writer in her own right.
More than his own health condition -- he had been suffering from myasthenia gravis for many years -- what had mellowed down this rebel in the latter part of his life was his anguished realisation that the Dalit movement in India had become directionless and leaderless. It had not only got splintered, but its various factions had been playing second fiddle to bigger national and regional parties.
The Communist movement had disillusioned him long ago. However, this painful development had a positive lesson for a non-dogmatic leader like him. He had concluded that the Dalit movement had to honestly introspect on its own shortcomings and explore new ideological directions. The posthumous publication of some of his writings might reveal his revisionist thought process.
When I met Namdeoji, for what was to be the last time, in Bombay Hospital, what made me especially happy was his indomitable hope in the future of the struggle for justice and equality. He said that the Dalit and non-Dalit sections of Indian society should work together even more closely to make a new breakthrough in the struggle. "When I come out of the hospital, this is what I wish to do," he said.
Alas, he could not come out of the hospital alive.
His last words, as he bade goodbye to me, were: Jai Bhim, Jai Bharat!
I saluted this gutsy but self-questioning poet with the same slogan. And I do so again today.
Here are a few lines from Namdeo Dhasal's poem Kamatipura. He lived in the early part of his life in Arab Galli in the vicinity of Kamatipura, the red-light area in old Mumbai's working class district. (Translated into English from Marathi by Dilip Chitre).
This is hell
This is a swirling vortex
This is an ugly agony
This is pain wearing a dancer's anklets

Shed your skin, shed your skin from its very roots
Skin yourself
Let these poisoned everlasting wombs become disembodied.
Let not this numbed ball of flesh sprout limbs
Taste this
Potassium cyanide!
As you die at the infinitesimal fraction of a second,
Write down the small 's' that's being forever lowered.

Here queue up they who want to taste
Poison's sweet or salt flavour
Death gathers here, as do words,
In just a minute, it will start pouring here.

O Kamatipura,
Tucking all seasons under your armpit
You squat in the mud here
I go beyond all the pleasures and pains of whoring and wait
For your lotus to bloom.
-- A lotus in the mud.
Sudheendra Kulkarni served as an aide to former Indian prime minister Atal Bihari Vajpayee between 1998 and 2004. He was also active in the BJP from 1996 to 2013, and worked closely with L K Advani. Kulkarni resigned from the BJP in January 2013. He welcomes comments at sudheenkulkarni@gmail.com.