Every February 28th, Zakia Jafri relives the agony of witnessing the brutal massacre of her husband, former Congress MP Ahsan Jafri, along with scores of other women and children.
Despite deteriorating health, her hope that those responsible will be brought to justice, remains strong, notes Najid Hussain.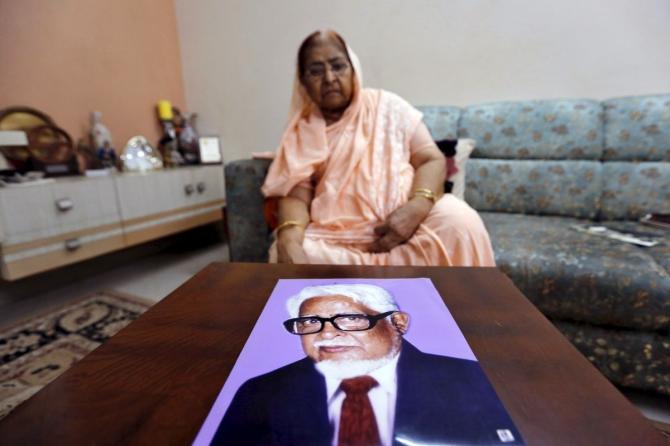 There are a few beliefs that traditionalists and progressives agree upon. 'Justice delayed is justice denied', however, is the exception. It has a universal agreement.
In the case of Zakia Jafri -- the widow of Ahsan Jafri -- who was brutally killed during the Gujarat Massacre of 2002 under Mr Modi's stewardship -- justice has not just been delayed, but very much denied!
To the Justices who did not like Zakia using the word 'collaboration' between the political class, bureaucracy, investigators and others during the Gujarat Massacre of 2002, the word 'denied' in this context may seem rather strong.
But given the facts of the Gujarat riots -- the planning, the execution, and the protection provided to the guilty officers -- what stands out is not only the active collaboration between politicians, the police, and the rioters, but repeated denials of justice to the victims.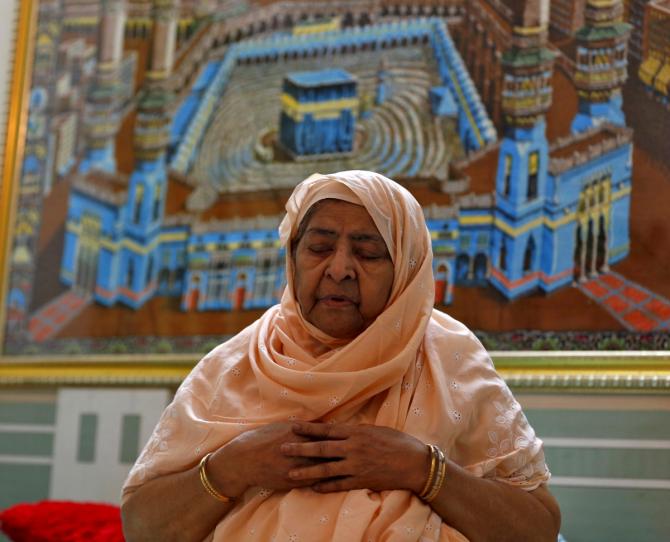 Here are some of those facts:
On the night of February 27th 2002 -- a day before the riots broke out -- Mr Modi is alleged to have asked the law enforcement authorities to allow the rioters to 'vent their anger'.
VHP leader Anil Patel on record confirmed the complicity of police officers during riots.
Despite Hindutva ground soldiers -- such as Jaydeep Patel and Babu Bajrangi -- confessing on the Tehelka tapes that Modi had given them 72 hours to attack and kill Muslims and destroy their homes and businesses, the SIT and other commissions of inquiry did not care to seriously interrogate them to get to the truth of Modi's involvement.
The Gujarat government is alleged to have paid for the SIT chief and former CBI director R K Raghavan's personal London trips. Raghavan was charged to probe the Gujarat riots and Modi's role in the riots.
R K Raghavan in his report gives a 'clean chit' to Modi ignoring the body of evidence on Mr Modi's involvement in the riots -- much of what was authenticated by the CBI itself.
Mr Modi fights for those who had helped carry out his order on the riots -- such as ex-DGP P C Pandey, Chudasama, Vanzara, Pandian -- and gives them plump posts in his administration.
Haren Pandya, who was a minister in the Modi cabinet in Gujarat and who later confessed to Modi's involvement in the riots, gets mysteriously killed.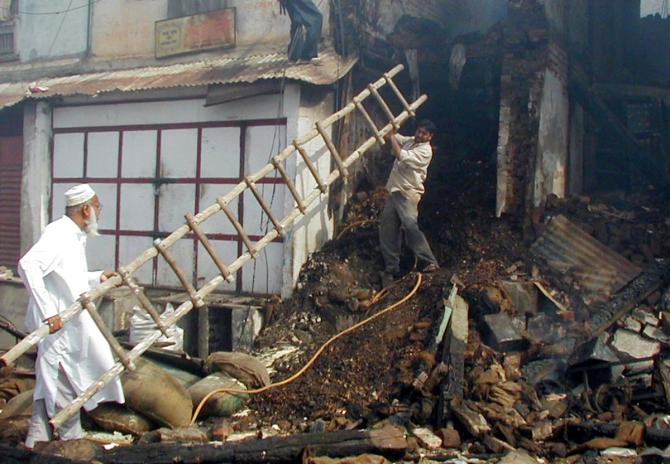 The objective of this essay, however, is neither to discuss nor dispute these facts which have and will continue to be discussed and disputed ad nauseum.
Rather, based on my personal interactions and caregiving, I want to zoom in to convey what Zakia Jafri has been through over these 20 years.
Every February 28th, Zakia Jafri relives the agony of witnessing the brutal massacre of her husband, former Congress MP Ahsan Jafri, along with scores of other women and children.
On that fateful day -- as rioters chanting Jai Shri Ram gathered around their society in Ahmedabad, waving swords, trishuls and torches -- frightened people from the neighbourhood came to her house seeking protection.
Her husband pleaded that she retreat upstairs to the bedroom and stay there until it was safe.
From upstairs, Zakia Jafri could not see what was going on downstairs in her house, but listened in terror to the unruly crowd outside shouting 'jalao (burn)', 'kaato (cut)', 'maaro (kill)', to the cries of women and children from inside, and heat from the walls of her bedroom.
She could only guess what was taking place and was fearful of what was to come.
The hateful dance of brutality, cries, fires and more hellish chaos continued for three hours.
After those hours which seemed like a lifetime, the police arrived.
As survivors were taken out of the still-smouldering building, Zakia saw, for the first time, the corpses burning inside her home. Mutilated body parts.
Little bodies of children floating in their water tank -- having been set afire may have jumped into the tank.
She saw one blue rubber slipper -- the one Jafri saheb always wore in his office -- lying outside. It was soaked with blood. The other was missing.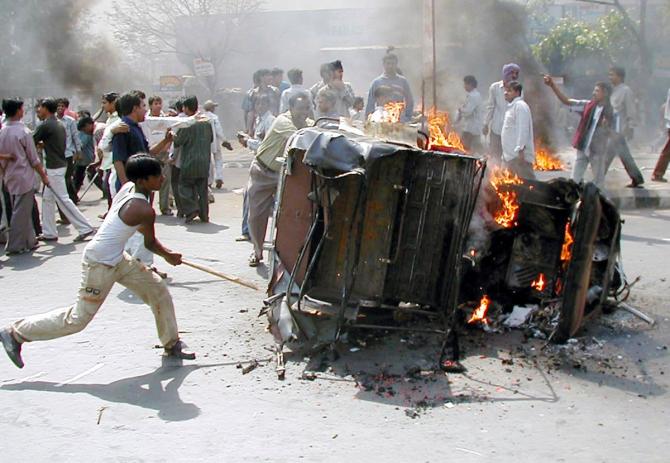 Twenty years have passed. Zakia's memory of that day does not fade.
The day when the world they built brick by brick, with a lifetime of hard work, full of aspirations, dreams and love was ruthlessly and deliberately destroyed before her own eyes.
The most important person in her world, to whom she had completely dedicated her life, loved, adored and revered, and like a loving wife, could not imagine a life without -- had been brutally killed.
She was shattered. Her deep shiny eyes, full of sparkle and love, went lifeless.
That life never returned. We have seen her grow older and frail day by day, even faster than we feared.
Despite deteriorating health, her hope that those responsible will be brought to justice, remains strong.
The Supreme Court re-opening the hearing on her petition challenging the clean chit given to Mr Modi by the SIT in 2012 gives her new hope.
Her concern is not just limited to her own interest. She knows there are thousands of other innocent people around the country -- Muslims, Hindus, Sikhs, Christians -- who have suffered and paid the ultimate price with the lives of their loved ones and denied justice.
Her fight, if successful, will go a long way to addressing and changing our political culture -- of engaging in murders with impunity and no consequences.
Perhaps, it may also lower the communal temperature in the country and prioritise a national kindness for fellow citizens.
Najid Hussain is a marine scientist, who works at the University of Delaware. He is the son-in-law of former Member of Parliament Ahsan Jafri, who was murdered by a mob in Ahmedabad during the 2002 riots.
Feature Presentation: Rajesh Alva/Rediff.com