Tamil Nadu's latest budget offers path-breaking initiatives and a major boost for social infrastructure, which other state governments are sure to follow in the coming years, predicts N Sathiya Moorthy.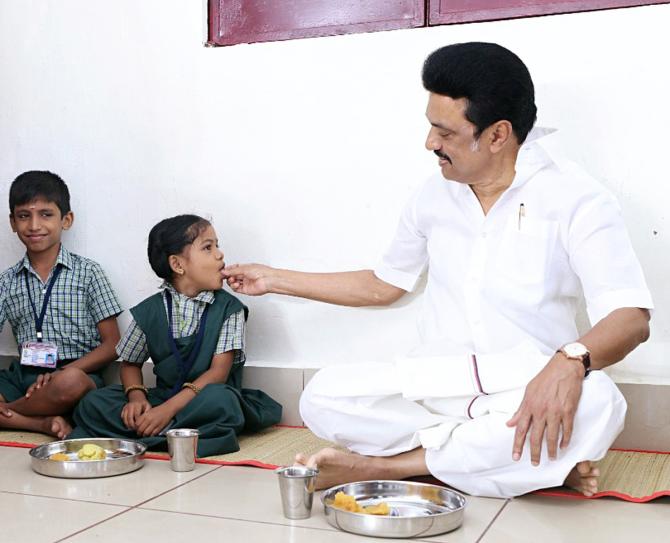 In yet another path-breaking initiative, which other state governments are sure to follow in the coming years, the Tamil Nadu budget for 2023-2024 has promised a monthly stipend for 1,000 civil service aspirants appearing for preliminaries, after studies showed a drop in IAS/IPS and allied services personnel from the state.
According to studies, only 27 from the state cleared the UPSC exams in a total of 685 in 2021, as against 119 in 2014.
The budget now promises Rs 7,500 each for 10 months for selected civil service aspirants along with a lump sum of Rs 25,000 for those who go on to prepare for the finals.
This will be apart from facilitating quality coaching through the public sector Tamil Nadu Skill Development Corporation.
Simultaneously, Finance Minister P T R Palanivel Thiaga Rajan also extended the pilot breakfast scheme for elementary school children, from classes one to five, to cover all 1.8 million of them in over 30,000 government-run schools across the state, following a substantial improvement in attendance in the tested schools and districts.
Social infrastructure continues to get a major boost in what Chief Minister M K Stalin hailed as the 'Dravidian model of inclusive growth', with the school education sector alone getting a lion's share of Rs 40,000 crores (Rs 400 billion).
To ensure parity among students and teachers (the latter in terms of salary structure, etc), schools run by the social welfare department and others, will be brought under the education ministry.
Scholarship payments for students will also be streamlined through a special online scheme.
The allocation for higher education has also been increased by Rs 1,300 crores (Rs 13 billion), to Rs 6,967 crore (Rs 69.67 billion).
Apart from this, the budget has earmarked Rs 2,877 crores (Rs 28.77 billion) for transforming 71 government Industrial Training Institutes into 'Centres of Excellence', and such other projects.
On the larger social sector front, the budget has announced the proposed inauguration of the monthly 'empowerment stipend' scheme of Rs 1,000 for 'eligible' woman-headed families, benefitting about one crore, on September 15, the birth anniversary of former chief minister and the ruling DMK's founder, C N Annadurai.
Indications are that such eligibility will be confined to below-poverty-line families though the DMK's manifesto for the 2021 assembly elections had sort of promised it for all woman-headed families -- but already been delayed by two years.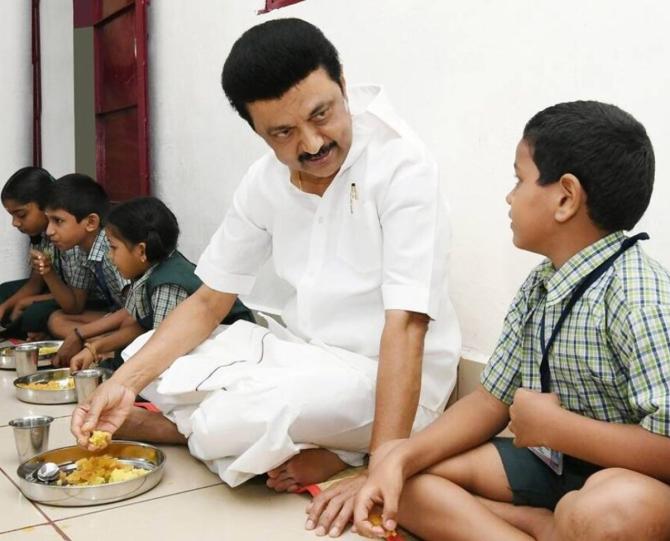 At the same time, Minister Thiagarajan took note of the significant increase in enrolment of female students in colleges.
'Compared to 2021-2022, 29 per cent more girls have entered colleges this year, which is an addition of 20,477 girl students,' he said.
The minister said it was a testimony to the success of the Moovalur Ramamirtham Ammaiyar Pudhumai Penn Scheme, under which every female student in college is being given Rs 1,000 per month as stipend.
It was not a part of the DMK's poll promise, however, though along with it, the government also withdrew the free-scooter scheme for them, after making city bus travel free to all women, in the first year's budget.
In the same vein, the minister has promised a start-up mission for women entrepreneurs and funds for entrepreneur-incubators, apart from a special scheme for encouraging SC-ST women to enter the start-up ecology.
The budget has increased the allocation for SC-ST entrepreneurship from Rs 30 crores (Rs 300 million) in yet another first-of-a-kind scheme in the country last year, to Rs 50 crores (Rs 500 million) now.
In between, the government also invested Rs 7.5 crores (Rs 75 million) as equity in five start-ups of SC-ST entrepreneurs in January this year.
If all these schemes are aimed at increasing the Dravidian commitment to education-based inclusiveness of left-out categories, comprising the poor, women and the socially backward sections, possibly with greater commitment and continuity than anywhere else in the country over the past 100-plus years, there has also been a noticeable fall-out, not of social inclusiveness but of other factors.
It pertains to a high number of 50,000 students in a total of 851,000 staying away from this year's state board plus-two examinations that commenced on March 13.
Factors like exam fear in the aftermath of the long Covid lock-down, which also led to the government announcing 'all-pass' in the qualifying 10th standard examinations in the immediate past years.
It was, however, heartening that the government system itself identified the situation on day one of the examinations, thanks possibly due to extensive computerisation of the exam processes.
School Education Minister Anbil Mahesh Poyyamozhi conducted a quick consultation with CEOs and DEOs, and they have since identified the lacuna, to be addressed post-exam, in the next academic year.
Included in the list is the possibility of eleventh standard drop-outs finding their names in the exam enrolment, which critics have already said may have gone on to bolster the state's school enrolment figures even in these post-Covid years.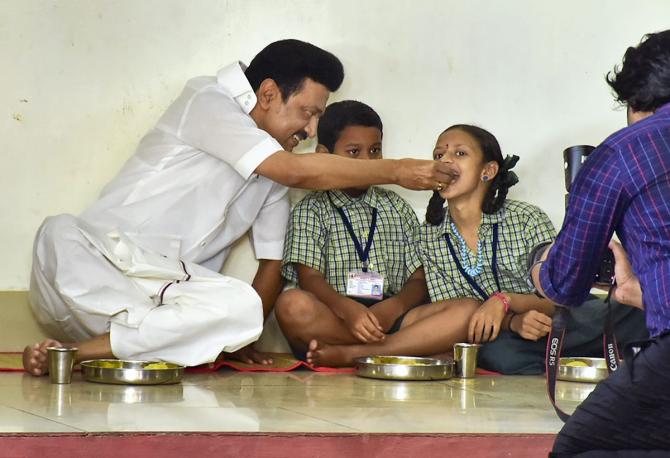 As may be recalled, the government lost no time in initiating programmes like Naan Mudhalvan ('I am the topper') and Illam Thedi Kalvi (home tuition of sorts) to re-acclimatise rural students especially after they had gone to join the agriculture workforce along with their parents, or taken up other odd jobs, to support the family.
As the early months of the outgoing academic year showed, there were also ruffians among those students who had taken to drugs and the like, and there were a few incidents across the state where they stabbed or otherwise assaulted their teachers who dared to discipline them. However, quick police intervention is believed to have made things steady.
Even without Covid, south Indian states like Tamil Nadu and unified Andhra Pradesh had adopted the 'all-pass' strategy up to the ninth standard, if only to ensure that drop-outs did not go wayward and join anti-social elements and others like Naxalites.
There was/is a negative fall-out as central government studies have shown poor performance in the reading and writing even in one's mother tongue, and also basic arithmetic.
Yet, when contextualised to the high number of 930,000 children who have dropped out of elementary schools across the country, Tamil Nadu's social sector initiatives starting with the decades-old free noon meals, and now the chief minister's breakfast scheme, may show the way, in the coming years.
As the government told Parliament in a written reply recently, of the total drop-outs, 503,000 were boys and the remaining 427,000 were girls.
The nation's most populous state of Uttar Pradesh topped the list with a total of 396,000 drop-outs, accounting for a high 42 per cent of the nation's total.
It is here, going beyond 'Dravidian politics', for and against, the Tamil Nadu schemes can be a harbinger for societal change and national progress in the years and decades to come.
N Sathiya Moorthy, veteran journalist and author, is a Chennai-based policy analyst and political commentator.
Feature Presentation: Rajesh Alva/Rediff.com