Good intentions and elaborate roadmaps apart, there is an urgent need for the Tamil Nadu chief minister to come up with branded schemes like MGR's meal scheme, asserts N Sathiya Moorthy.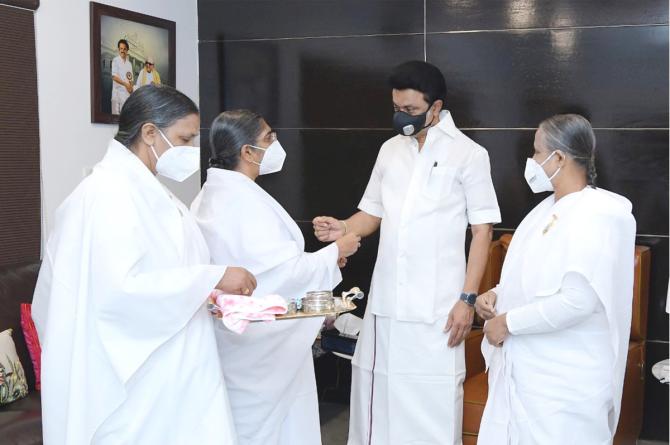 Breaking from the mutually hateful Dravidian political culture, Tamil Nadu Chief Minister M K Stalin has been quietly setting new and healthy precedents, or re-discovering what the state had lost over the past five decades.
Thus, he has continued with subsidised Amma Canteens for urban poor, free school bags bearing the pictures of his All India Anna Dravida Munnetra Kazhagam predecessors, Edappadi K Palaniswami and J Jayalalithaa, saving Rs 13 crores (Rs 130 million) for the exchequer, and chided party ministers and MLAs for singing his praise in the assembly and wasting legislative time.
Likewise, even while replacing the inherited chief secretary with one of his choice, he has retained inherited Finance Secretary S Krishnan and Health Secretary J Radhakrishnan, to ensure continuity at the peak of the fiscal and Covid crises that were rocking the state when he took over.
If either or both are transferred out now, it would be for administrative reasons -- Radhakrishnan has been the health czar for a record 10-plus years -- now that his ministers have got a grip on administration.
In the appointment of an Economic Advisory Council of international experts, Stalin also set a national precedent for the states. Taking the cue from the CM, his technocrat finance minister Palanivel Thiagarajan has been underscoring the need for transparency and accountability in governmental functioning.
Unlike his Dravidian predecessors, namely, father M Karunanidhi and AIADMK rivals Jayalalithaa and M G Ramachandran, Stalin does not sit on every governmental decision. He has heaved off financial affairs after choosing the right man who in turn says it is for the departmental ministers to decide how and where to utilise the funds that he allocates. Decentralisation at a high and healthy level.
The unhurried phase of the government's decision-making with regard to honouring many of the ruling Dravida Munnetera Kazhagam's poll promises is another indication of the governmenT's resolve to solve the inherited, cumulative fiscal crisis.
The government has thus held back DA arrears for 1.2 million government servants and 700,000 pensioners, ahead of the much-delayed local bodies elections that the predecessor evaded in much of rural areas and all of urban and semi-urban centres.
It has also decided to delay the Rs 1,000 a month for every woman-led family as promised by the DMK and discontinue the Jaya era free two-wheeler scheme for women.
In their place, the government introduced free bus ride for all women and transgenders, and also gave away a one-time household gift-hamper with 14 food articles for 20 million poor families. Both were meant to approach the poll promises from a different direction.
With schools and colleges reopening now post-Covid, the government has announced free bus travel for all students, originally introduced by Karunanidhi in the seventies. It serves the twin social welfare purposes of making it easy on parents and check anticipated high rates of school dropout rates.
On the larger policy side, it limits government losses to one sector without opening up new avenues involving actual cash-flows.
Thiagarajan also explained that the government giving away Rs 4,000 each to poor families, totalling Rs 8,000 crores (Rs 80 billion), as promised in the DMK manifesto, put money in the hands of people who would spend it on essentials, and thus generate 'demand' -- which experts say the Centre has failed to do.
The minister is convinced that Tamil Nadu is a 'wealthy state' and he only required time to fix structural, institutional and procedural problems, before taking it forward. He has sort of set himself a five-year deadline.
Like his chief minister, he is also convinced that people will live with some discomfiture in the interim when they are convinced of the present gloom and the promised recovery. Pure economic thought that very few politicians in the country can preach and practise at the same time.
Increasingly, there is also less of the mutual blame-game of the past Dravidian variety. Barring MGR's nutritious noon meal scheme and Karunanidhi's Tidel Park in Chennai providing single-roof technical infrastructure solutions to the IT-ITE sector early on in the nineties, DMK and AIADMK governments habitually sacrificed inherited schemes and projects to political jealousy or vendetta.
Thus, Jaya converting the Karunanidhi-built state secretariat into a multi-speciality hospital at additional cost, that too after complaining of structural weaknesses in the 17th century Fort St George, is a case in point.
So was her shutting down the Anna Centenary Library, also in Chennai, that benefited professionals, students and civil service aspirants. It was no different from what rivals Karunanidhi and mentor MGR had done in their time.
Critics from outside the DMK point to some of Stalin's proposed initiatives, including a Rs 370 million memorial for Karunanidhi at his burial site, a multi-speciality pets hospital and colour-fish aquarium in the capital could have waited until after the government's finances improved.
Yet, there is grudging admiration that Stalin is trying to be different from his Dravidian predecessors -- and has also been able to distance administrative initiatives from political issues, including corruption and other criminal cases against AIADMK predecessors.
For now, public sympathy is lacking for the AIADMK's charge of political vendetta as the police move against former ministers, possibly including EPS, but there is also no celebratory support for the ruling party.
The upcoming local bodies polls will be a yardstick -- not only of the DMK's continued popularity but more so of the acceptance of its fiscal measures, of gifts and hold-ups alike.
Though EPS, now Leader of the Opposition in the assembly, jumped the gun and led his party, both inside the assembly and outside, that the police were after him over trumped-up charges in the Kodanad murder and heist charge on Jayalalithaa's sprawling estate when he was CM, not everyone in the party seemed to buy it wholesale.
Independent of internal squabbles, setting a healthy trend are the likes of three-time chief minister O Panneerselvam (OPS), who is deputy leader of the AIADMK Opposition, and K A Sengottiyan, former minister and EPS's guru-turned-loyalist, who have been praising Stalin in the assembly when they feel praise is due.
For the dog-eat-dog Dravidian polity, Stalin set the precedent by attending Jaya's 2016 swearing-in, with her following up with a qualified apology for not allotting him a front row seat.
The bonhomie ended there, but that itself was path-breaking.
Ahead of Stalin's swearing in, DMK General Secretary S Duraimurugan, now Leader of the House, invited EPS personally on the phone. Though the latter stayed away, OPS and outgoing Speaker P Dhanapal represented the AIADMK at the Raj Bhavan function. Small gestures, yes, but big symbolism in post-Karunanidhi, post-Jaya Dravidian era.
Stalin is still walking a tightrope. Unlike in the past, he has nothing to fear from inside the party -- like his estranged elder brother, M K Azhagiri, who failed to retain whatever cadre-base he had and more so voter-imagination in a world sans the Karuna-Jaya duo.
Yet, for the chief minister, who has to keep winning elections for the party, the transition and administrative reforms, all take time, and the latter especially is a slow process. This can tire out the voter, who has been used to unending political drama, but not available any more.
Every government sop is accompanied by a bitter-pill caution, but there is no clarity as yet on its potency and timing.
On the other side, gentleman politics will only go thus far, both with the elite who now applaud him in private, and more so the masses whose votes count even more, though no one is in a mood to pour cold water on Stalin's initiatives, which they too want to succeed and re-set the Dravidian imagery.
In this, they are not as much worried about the continuance of the Hindutva brigade's continuing 'anti-god', 'anti-Hindu' charge against the Stalin leadership as opposed to the fiscal situation, where the government is yet to roll out its action plan four months after taking charge.
It is this that has been occupying social media space, without relevance to ground realities as it happened through the long run-ups to both the Lok Sabha and assembly polls. The Bharatiya Janata Party and its AIADMK ally lost both.
But that is not the case with a population strapped for cash, which was a contributing factor for incumbent DMK losing elections 2001, after giving a relatively clean Dravidian government for five years.
Good intentions and elaborate roadmaps apart, there is an urgent need for Stalin to come up with branded schemes like MGR's meal scheme. In the 21st century, however, it has to be development-centric.
There again, the voter and the cadre alike need to witness not only up and coming big-ticket infrastructure projects but also draw direct benefits in the form of jobs and higher family incomes -- or, putting more money in the hands of the people.
This is where Jaya and EPS failed as they bundled out construction contracts that kept smaller players totally out of the picture. The Stalin government has changed that rule, but that is only a beginning.
Such an approach will be a positive alternative to subsidies and freebies, which Stalin and his FM have reiterated would continue to meet Dravidian social justice demands.
Others too would continue to expect them, if those anticipated jobs and incomes do not materialise, and in good time.
N Sathiya Moorthy, veteran journalist, political analyst and author, is Distinguished Fellow and Head-Chennai Initiative, Observer Research Foundation.