On its own or with allies the Congress has a strong presence in states that account for a total of 253 Lok Sabha seats, or 20 short of the magic figure of 272 required to form a government at the Centre.
So what is Mamata Banerjee talking about, asks N Sathiya Moorthy.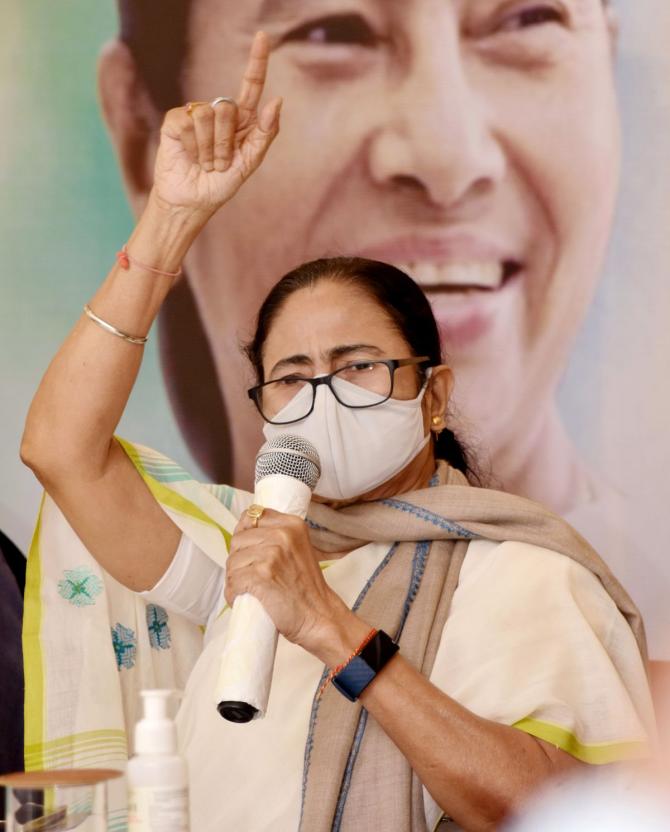 West Bengal Chief Minister Mamata Banerjee is going the whole hog, to put together a new national coalition of regional parties minus anti-Bharatiya Janata Party national outfits, and projecting herself as a prime ministerial aspirant.
While her coalition calculations may be the best for a divided Opposition against a monolith BJP ruling the Centre under a strong and charismatic Prime Minister Narendra Modi, it may have come too early in the day, way ahead of the seven-state assembly polls due next year, causing consternation even across equally assertive regional party leaderships, leave aside the left out lots like the Congress and the two Communist parties.
Mamata's logic to stay away from the Congress for putting together a new national coalition is not wide of the mark.
The Sonia-Rahul-Priyanka family leadership has not only not done anything to erase the negative image that befell the party ahead of the 2014 Lok Sabha polls.
They have also been sending out worse signals, of being increasingly incoherent and intrinsically incapable of reviving the Congress's future and cadre morale alike.
And Mamata also has no use for the two Communist parties, her sworn enemies from her Congress past or an alliance involving them.
So, so she seems to have concluded.
But then, as a Congress leader, she had greater ideological problems with the BJP but that did not stop her from joining hands with them under the Vajpayee-Advani duo and becoming railway minister, not once but twice.
In a way, her short-sightedness in joining hands with the BJP to finish off the other two in native West Bengal is now behind the latter expanding its cadre-base and voter-strength in the state, to be able to finally challenge her in her turf of long.
Going beyond it, the recent local bodies polls in Tripura, where the ruling BJP swept her Trinamool Congress out of the reckoning should open her eyes, to slow down her perceived march forward elsewhere in the country.
Yes, she has more than consolidated her electoral hold over West Bengal by trouncing the BJP challenger in the assembly polls earlier this year, but that does not mean that she has consolidated her voter-base to sweep the Lok Sabha polls in 2024, likewise.
Especially if she were to lose whatever little help the Congress and the Communists may be capable of rendering her, together, on an anti-Hindutva, anti-Modi electoral agenda.
Mamata needs to push back only a few pages in national political history to know how the over-arching national ambitions of other regional leaders did them in.
Ahead of the 1996 Lok Sabha polls, southern Tamil Nadu's charismatic and equally assertive chief minister Jayalalithaa aspired to become prime minister.
Coupled with the rival Dravida Munnetra Kazhagam's clean wipe-out in the 1991 twin polls to the Lok Sabha and the state assembly in the aftermath of the Rajiv Gandhi assassination, she had wrongly concluded that she needed big money to buy up MPs in a hung Parliament, post-poll, and also check against inner-party rebellion.
The deadly combo flowing from such a construct meant that not only did Jayalalithaa lose power in 1996, but she also lost her native Bargur assembly seat by a sizeable, 8,000-vote margin.
Worse still, unwilling to learn her lesson after returning to power in 2001, she mounted her prime ministerial hobby-horse ahead of the 2004 Lok Sabha polls, and lost equally bad.
The residue fallout ensured that she lost the assembly polls of 2006.
If Jayalalithaa won the succeeding 2011 assembly polls, it owed to the BJP's anti-DMK national campaign centred on the 2-G scam.
If she continued the winning spree five years later in 2016, it was because the BJP and Modi swept the intervening Lok Sabha polls in 2014, thus killing her prime ministerial aspirations for good.
Unlike Jayalalithaa, mentor MGR and bete noire M Karunanidhi were well aware of their inherent political limitations to be able to retain the prime ministership even if won.
In their time and afterwards, the average period of a non-Congress, anti-BJP government at the Centre did not cross a year.
Learning from the mistakes of Congress rival K Kamaraj, who lost the state for the party in the historic assembly polls of 1967 after becoming Congress president in 1964, both Karunanidhi and MGR shied away from such aspirations.
Karunanidhi even pooh-poohed Biju Patnaik's valiant attempts for him to move to the national scene, and become prime minister if a regional coalition became the deciding factor, post poll, 1996.
Against this, in neighbouring Andhra Pradesh, then chief minister Nara Chandrababu Naidu aspired for prime ministership, especially after the national media went overboard by projecting his 'Cyberabad IT hub' and promoting him at the national level.
The Telugu Desam Party's slide began then. Despite returning to power in the state, he too could not sustain the politico-administrative momentum, especially after the ever imaginative BJP became an electoral ally against the common Congress rival first, and challenger later.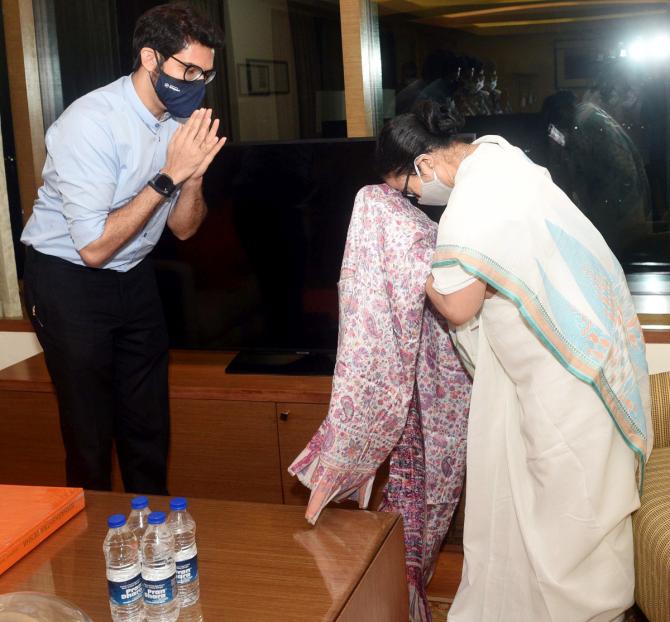 It is anybody's guess if Mamata has the authority to declare that the Congress-led United Progressive Alliance is dead.
She could only say that she was pulling out of the alliance.
Her meeting with veteran Sharad Pawar was followed by the latter's Shiv Sena ally reiterating the suitability of party boss and Maharashtra chief minister Uddhav Thackeray to be prime minister.
Mamata has not declared her own candidacy for the top job, at least not as yet.
But other non-BJP parties could anticipate the likes of Telangana Chief Minister K Chandrashekar Rao throwing his hat into the ring, if and when it came to that.
Unlike Mamata and more like Uddhav with minister-son Aaditya Thackeray, Rao has his minister-son K T Rama Rao waiting in the wings to graduate as chief minister early.
To the list political speculators would want to add Tamil Nadu Chief Minister M K Stalin, whose legislator-son Udhayanidhi is raring to go too.
But Stalin is a product of father Karunanidhi's school and would be too cautious to hand over the reins of the state to his less experienced son, that too with no hope of becoming or remaining as PM for long -- if he became one like Karnataka's Janata Dal-S boss, H D Deve Gowda.
The latter became prime minister in 1996 only to lose the prime ministership and also the state when he lost power.
However, any and all such speculation could change if the Samajwadi Party were to do well, if not win, the Uttar Pradesh assembly polls in early 2022.
If the party wins, then party boss Akhilesh Yadav would want to be seen as king-maker in Delhi if not the king.
The chances are Akhilesh, especially if he became chief minister next year, would not want to exit as a short-stint PM.
Nor does Akhilesh have any dependable aide, especially A family member, who can keep the CM's seat warm when he's away in Delhi.
None of these calculations has considered the eternal dark-horse in Odisha Chief Minister Naveen Patnaik, who has been at the helm for an unbroken five terms, like only West Bengal's Jyoti Basu and Sikkim's Pawan Chamling.
Incidentally, his party's reluctance to see him grow in national stature was among the reasons why Jyoti Basu did not become PM in 1996, but it was possible that the CPI-M's end in Bengal might have been hastened if there was a hasty transition to Buddhadeb Bhattacharya, which happened in a planned manner four years later -- giving the CPI-M another 10 years at the helm, after which Mamata came to power, in 2011.
That apart, as with Madhya Pradesh Chief Minister Shivraj Singh Chauhan, the question will arise if Patnaik's longer term as chief minister was an asset or a liability for the PM's job.
There are those who seem to believe the latter is the case even with Modi, now in his second term in office.
Sadly, from the BJP-NDA camp, Bihar's Nitish Kumar, once considered a challenger to Modi, is a spent force.
Rival Rashtriya Janata Dal's hard-working, ambitious Tejaswi Yadav can make himself heard if and only if he snatches the state from the ruling BJP-Janata Dal-United combine in elections 2023.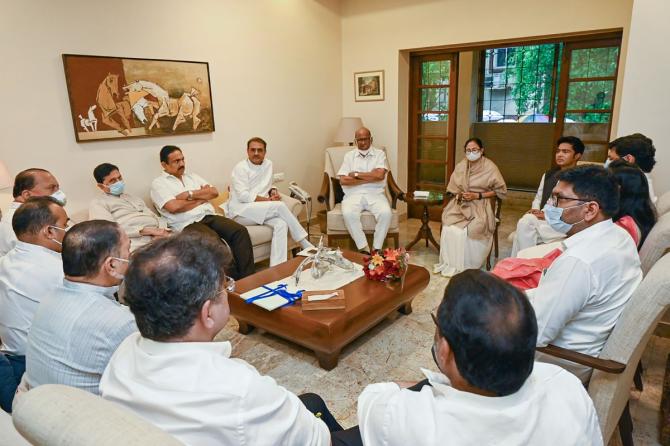 The question is not about what Mamata wants to become, but is more about what kind of message she wants to send out and ends up sending out, given her current bid to hijack a UPA-like combine minus the Congress and the Communists.
Granting that the Communists are down and out, except in Kerala, where Chief Minister Pinarayi Vijayan won a second consecutive term earlier this year, the Opposition cannot do without the Congress, even if not as a coalition leader as in previous elections.
The Congress is still the only Opposition force to reckon with against the BJP in the western states of Himachal, Rajasthan, Gujarat, and also Madhya Pradesh, Chhattisgarh, Haryana and Punjab, adding up to 118 seats in a House of 542.
In the other western states of Maharashtra, Karnataka and Kerala, apart from Dravidian Tamil Nadu, the party has a significant presence, though only in the company of regional allies -- a total of 135 seats.
In all these states, the anti-BJP regional parties have no use for a non-Congress, anti-BJP party for an ally, especially in respective state assembly elections, which is their major interest compared to the Lok Sabha polls.
Together, the Congress 'monopoly states' and party-inclusive alliance states account for a total of 253 Lok Sabha seats, or 20 short of the 'magic figure' of 272 required to form a government at the Centre.
What then is Mamata Banerjee talking about a 'Congress mukt' Opposition for!
N Sathiya Moorthy, veteran journalist, political analyst and author, is Distinguished Fellow and Head-Chennai Initiative, Observer Research Foundation.
Feature Presentation: Aslam Hunani/Rediff.com