What would an Indian American president of the US look like, sound like and act like, especially on issues and policies pertaining to his or her 'mother-land'?, asks N Sathiya Moorthy.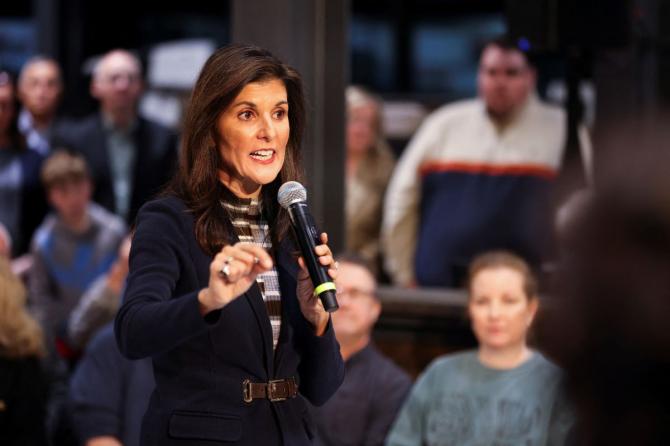 Unpredictable are the ways of American politics, yes, but the way it is ravelling, the possibility of an 'Indians-All' presidential poll cannot be ruled out in November 2024.
Already, two Indian Americans have thrown their hats into the nomination race in the Republican Opposition, and in the incumbent's Democratic Party, Vice-President Kamala Harris, though seemingly guarded until her boss the president decides, may stand a fair chance after calls for incumbent Joe Biden's retirement re-surfaced when he tripped while boarding Air Force One -- the second time in as many years in office.
As always, the nomination fever has caught on in the Opposition early.
The custom demands that the incumbent makes his position known before aspirants in his party start announcing their intent to contest the primaries.
Thus, in the Republican Opposition, outgoing President Donald Trump, rather than retiring gracefully as those before him had done after losing the presidency at the end of the first of the mandated high of two terms, declared his intention to contest in 2024, very long ago.
In an unprecedented sight, the so-called free world saw Trump's supporters ransacking US Congress as if it were in a scene in the Wild West movies.
Even Hollywood had restricted its imagination when it came to hurting American national sentiments, pride and institutions as Trump and his supporters did when Congress met to formalise the process of recording the 'electoral college votes', declaring Democratic rival, Joe Biden, president.
The moot question remains if the pending cases could lead to Trump's disqualification from being allowed to contest the presidential poll one more time.
But Trump himself has been campaigning across the country, off and on, if only to stay in the memory of the American voters, especially his own rank-and-file, lest they should transfer their electoral and political loyalties to another Republican.
Against this background, Nikki Haley, two-term governor of South Carolina and a former US special representative to the UN, became the first Indian-American to throw her hat into the ring for the Republican nomination this time.
What has surprised many is the fact that within a fortnight or so of announcing her intention, Nikki Haley, 51, was ahead of President Biden, in the Ramusen Report opinion poll, 45-41 per cent, conducted between February 16 and 19.
Interestingly, 18 per cent of Democrats favoured Nikki against 74 per cent for Biden, indicating her ability to connect with the rival camp.
It is only so much however, as she has only 18 per cent support in her native Republican party, after Trump (52 per cent) and Florida Governor Ron DeSantis (24 per cent), indicating that she has a long, long way to go before being considered a serious candidate for the nation's high office.
The fact is that Nikki Haley is the only competitor to her former boss Trump, and DeSantis is only expected to enter the fray but has not yet announced his decision.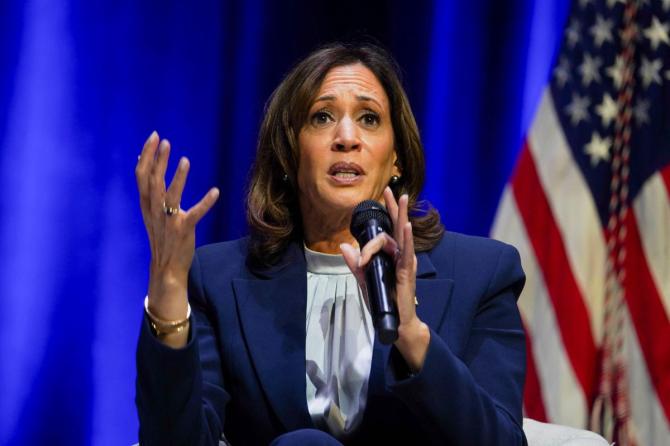 If this is where a relatively more experienced Nikki stands, a green-horn 'outsider' in Vivek Ramaswamy, too has expressed his desire to contest the Republican primaries, on his perceived way to become president, if only to "put merit back" and end dependence on China.
'We are in the middle of this national identity crisis where we have celebrated our differences for so long that we forgot all the ways we are really just the same as Americans bound by a common set of ideals that set this nation into motion 250 years ago,' Ramaswamy, 37, told a Fox New prime-time talk-show.
Sounding every bit conservative, Ramaswamy, son of migrant parents from Kerala, called 'wokeism' a national threat.
'Wokeism' is the promotion of liberal progressive ideology and policy as an expression of sensitivity to systemic injustices and prejudices. That's why I am proud to say tonight that I am running for United States President, to revive those ideals in this country,' he declared.
A second-generation Indian American, Ramaswamy had worked in General Electric before founding Roivant Sciences in 2014 and led the largest biotech IPOs of 2015 and 2016, eventually culminating in successful clinical trials in multiple disease areas that led to FDA-approved products, according to his bio.
He has founded other successful healthcare and technology companies, and in 2022, he launched Strive Asset Management, a new firm focused on restoring the voices of everyday citizens in the American economy by leading companies to focus on excellence over politics.
With the Republican primaries showing early signs of getting crowded, the media focus has turned to the Democratic Party as well.
Even as speculation was doing the rounds on Biden's intention, his second slip-up while claiming Air Force One has led to motivated and not-so-motivated social media posts, questioning his physical and mental condition to contest a second time, leave alone continuing in office.
Naturally, Vice-President Kamala Harris tops the list of probable in the analyst's chatter board.
Yet, dismissing Washington 'chatter' about whether Biden should run for re-election in 2024 and whether her own party thinks she would be a suitable replacement if he did not, Kamala told NBC News that Biden had told her that 'he intends to run for re-election ... and I intend to run with him as Vice-President'.
Biden has not formally declared a run but all signs suggest that he will.
Last month, the White House physician pronounced him 'fit for duty, and [to] fully execute all of his responsibilities without any exemptions or accommodations'.
However, Politico reported (external link) concern among Democrats that at 80, and already the oldest president ever, Biden is too old to run for a second term by the end of which he would be 86.
The Web site also reported that some insiders believe Harris would not be a good presidential candidate herself.
Rebuffing such comments, that too while outside the country, participating in the Munich Security Conference, Kamala Harris sort of skidded supplementary questions of the kind when she said: 'I think that it is very important to focus on the needs of the American people and not political chatter out of Washington, DC.'
At Munich, Kamala was also asked about Nikki Haley's call for a 'new generation' of leaders and said politicians over the age of 75 should be subject to mandatory mental health tests, but without naming names.
The suggestion becomes pertinent as her own Republican Party rival and front-runner, Trump, at 76 (DOB: June 14, 1946) is only four years younger to Biden but has also crossed the threshold fixed by her.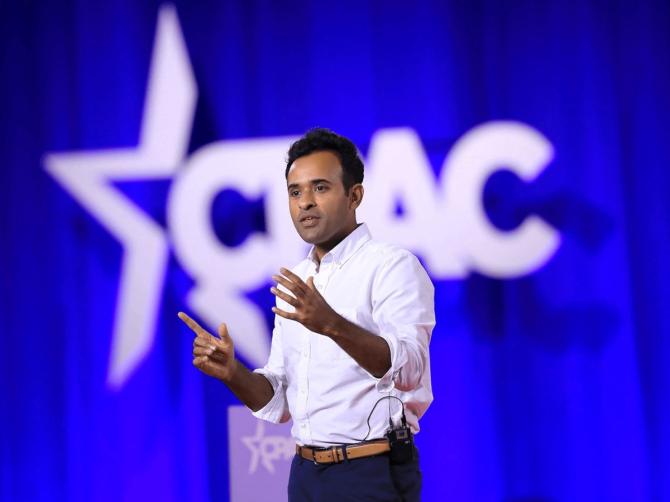 Like Nikki Haley, 51, Kamala Harris, at 58, is also in the fifties, though it remains to be seen what prescription she would have for the likes of much younger Ramaswamy, who is in his thirties.
Kamala said Nikki was using 'very coded language', adding that the American people want leaders who will see what's going on in their lives and create solution.
As if responding to criticism that touch upon the incumbent's age and perceived health Kamala told NBC in Munich: 'In Joe Biden, we have a president who is probably one of the oldest and strongest American presidents we have had in his response to the needs of the American people."
Yet, what if Biden himself decides that enough was enough and he needed a well-deserved retirement?
Kamala's name would then prop up, along with many others.
For now, she seems the favourite but then no other Democrat has begun talking, as yet.
For all her caginess just now, Kamala Harris already holds the record for being the first woman vice-president of the world's most powerful democracy.
She is also the first Indian American to reach this far in American politics, so to say, at a knocking distance from Oval Office.
Though not many, especially those outside the US, remembers it, Kamala Harris also became the first 'woman acting president' of the US.
For 85 minutes on November 19, 2021, Biden transferred his presidential powers to his VP while undergoing a colonography, and White House Press Secretary Jen Psaki said that the president too 'knew he was making history'.
It is another matter that up to now, Biden has also proved doomsayers, even within his party wrong, as they spread murmurs of protest against 'handing over the world's most important job to an old man'.
Their taunts did not leave out Kamala, either, as they said should the presidency fell vacant during Biden's term, they should be careful to choose a vice-president, who would be up to the job and would not be lost in the mire of White House politics, policies and priorities.
It did not worry Biden, and Kamala did not care --- and so did the American voters.
For all this, what would an Indian American president of the US look like, sound like and act like, especially on issues and policies pertaining to his or her 'mother-land'?
Though Indians, starting with her family's native village in Tamil Nadu, had celebrated her ascendancy, Kamala Harris is yet to make the customary 'maiden trip' to India.
Maybe, she does not want to be seen in India, or be seen even more as an elected American top-notch official whose foreign policies priorities may be clouded by sentiments.
It is another matter that Kamala never ever has displayed such sentiments vis-a-vis India any time before. Nor has Nikki Haley, nor Ramaswamy.
So was the case with Bobby Jindal, the first American to try his luck for a presidential nomination (Republican) in 2016, followed by Kamala Harris in 2020.
If one went by Ramaswamy's first statement, it reads more radical about everything America, with no space or scope for a sympathetic or familiar approach to India.
As Ramaswamy said in his television interview, 'I'm all for putting America first, but in order to put America first, we have to first re-discover what America is. And to me, those are these basic rules of the road that set this nation into motion from meritocracy to free speech, to self-governance over aristocracy... I think we need to put 'merit' back into 'America' in every spirit of our lives," he said, adding that he will end affirmative action in "every sphere of American life'.
That way, if elected president, he too can be expected to be guided by administration experts on the nation's India policy, which is positive just now -- for a variety of reasons, no sentiments or sensibilities attached.
A Kamala tenancy of the White House, again if it came to that, too would not be any different -- or that of any American-Indian president in the White House, now and ever.
It will be business and business alone, whatever be the Indian street perception in such matters, which will have to make do with the 'feel good' feeling and a sense of inexplicable pride that it all gives, and nothing more!
N Sathiya Moorthy, veteran journalist and author, is a Chennai-based policy analyst and political commentator.
Feature Presentation: Aslam Hunani/Rediff.com