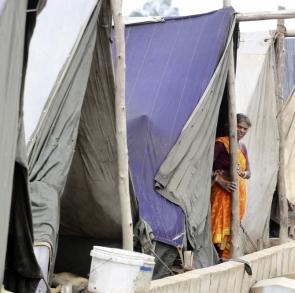 The last batch of post-riot refugees are stuck between the government and camp patrons who have gone from being benefactors to opportunists, says Sreenivasan Jain
It says something about the state of affairs in Lucknow that the Uttar Pradesh government is triggering a needless crisis with a handful of post-riot refugee camps in the districts of Muzaffarnagar and Shamli.
When I say a handful, it means relative to early September, when I was witness to dozens of camps exploding into existence in the immediate aftermath of the riots. There would finally be about 70 camps, home to about 70,000 people.
The state did nothing, and as is common in post-riot scenarios across India, the task of settling refugees and providing them food and shelter was taken over by Islamic charities, local politicians and village pradhans.
Today, even though only 18 camps are left, home to roughly 15,000 people, a worrying confrontation is building up.
This is the legacy of a state that abdicated responsibility, and of self-serving camp organisers who see political capital or profit (or both) in prolonging the refugee crisis.
In a belated attempt to win back the trust (and votes) of the riot affected, and to speed up the winding up of the camps, the government decided in October to award families from nine worst-hit villages, where the possibility of return was bleak, a compensation of Rs 5 lakh each to shift to a new location. To avail of the money, they had to sign a bond that they will not return to their home village. The shortage of space here doesn't permit a debate on the legality of demanding such an undertaking.
Suffice to say that this was a miscalculation. The cash compensation stalled, rather than hastened the outward exodus of refugees. Yes, several families from the nine villages did take the money and leave. But several others from these same villages have stayed back.
They say that the compensation, which calculates a family on the basis of the chulha or hearth, doesn't factor in cases where multiple families might be sharing the same roof. And so, a household of, say, three families has been given only a single payment. (The government has woken up to this anomaly and says after a round of fresh surveys they will expand the pool of compensation to cover more families from the nine villages).
But the bigger crisis triggered by the selective doling out of cash compensation is this: people from villages that have witnessed no significant violence or rioting, but who fled out of fear, are also staying back.
Some of them have come from the district of Baghpat, quite a distance from the epicentre of violence. When asked, they almost uniformly say that they cannot go back because fear still stalks their villages.
As a test case, we visited five such villages spread across Baghpat, Shamli and Muzaffarnagar, and found that in almost every instance, the Muslims had returned in large numbers and said they were living without fear. When we asked them why some families from their village were staying back in camps, they said it could be because they had loans to repay, or in the hope of compensation.
Hardly surprising, given that most of the refugees come from the lower tiers of the rural economy, easy prey for camp organisers who have whipped them into a frenzy of false promises, assuring them of plots of land that technically belong to the forest department.
In the village of Barnavi, for instance, the local pradhan has settled refugees on forest department land, on which he had, according to the district forest officer, been illegally farming for years. On the day we visited, the pradhan made a thunderous speech, promising the refugees he will ensure they get homes on the land.
The DFO told us that the pradhan has five prior cases of land grab, and that he is likely to be declared "forest mafia".
Similarly, the patron of the Malakpur refugee camp is Kanwar Ahmad, who is making his political debut in the Lok Sabha elections on a Bahujan Samaj Party ticket. Ahmad denies that his defence of the refugees comes from his new-found political ambitions.
Arrest warrants have now been issued against Ahmad under the pretext that a metal factory he owns violated sales tax norms.
This policy, of first abandoning refugees to dubious patrons, and now taking on these patrons, is leading to a potentially volatile situation. The camp organisers have told the refugees that they are stepping back, and that the refugees need to directly confront the administration.
The mood in some of the camps we visited was combustible, with refugees claiming they would "rather die than be evicted".
One way of defusing the impasse is for the administration to involve neutral, non-opportunistic NGOs and activists to facilitate the return of refugees by busting the false propaganda they have been fed about unsafe villages and free land.
These civil society groups working in tandem with the administration can survey villages that the refugees have left, identify those which are safe for return, and organise visits by refugees to those villages to demonstrate that there is, indeed, nothing to fear. During this exercise, the government can keep the JCB machines at bay.
But instead, every day, teams of officials accompanied by armed police are making visits to these camps. This is needlessly escalating a crisis for this last remaining batch of refugees, caught between a government pursuing a deeply flawed carrot-and-stick policy, and camp patrons who have gone from being benefactors to opportunists to leaving the displaced to their own devices.
Image used for representational purpose only