Ahmedabad's cultural scene would not have gone beyond the garba, but for Mrinalini Sarabhai's pioneering efforts, says V Gangadhar who spent many years in the city.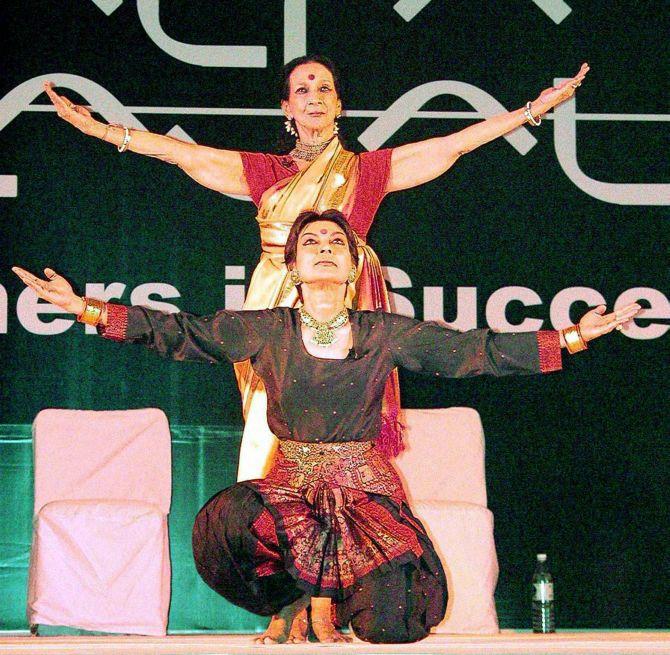 IMAGE: Mrinalini Sarabhai performs with her daughter Mallika in New Delhi in 2004. Photograph: PTI Photo
When I set foot in Ahmedabad for the first time in 1958 to earn a living, the city was dirty, the sky was dark with smoke dribbling from the chimneys of its 60-odd textile mills. Almost everyone worked in the mills, and at their opening and closing times the roads were choked with mill workers, clutching their lunch boxes.
The next 20 years saw many changes. The textile industry collapsed and slowly, one by one the mills closed town. The city became more urban and crowded with traffic, shops and cinema theatres. Communal harmony began to disappear and the city was divided into 'Hindu' Ahmedabad and 'Muslim' ghettos. The 2002 communal riots left a permanent blot on peace and tolerance.
Yet Ahmedabad was blessed with a special culture ushered in by certain men of vision which led to the birth and nurturing of institutions like Indian Institute of Management, space agencies like ISRO, PRL, and meteorological and weather forecasting agencies along with those which helped industrial growth -- the National Institute of Design and ATIRA (the Ahmedabad Textile Industry's Research and Development Association). These agencies employed thousands of technicians and scientists and helped the all round growth of the city.
But there was a cultural vacuum. Barring bhajans, garba, film music and folk dances, Ahmedabad was left untouched by the fast-changing famous Indian cultural scene. There was hardly anyone to teach, practise and perform classical dances from different parts of India, like Bharata Natyam, Kathak, Kuchipudi and Kathakali.
This was the cultural scene which greeted the new young bride of the illustrious Sarabhai family, pioneers in the local textile industry and devoted followers of Gandhiji.
One of the Sarabhai sons, Vikram, excelled in science and took a PhD in physics from Cambridge, collaborating with textile tycoon Seth Kasturbal Lalbhai with whom he shared visions for developing Ahmedabad and making it a science showpiece in the country. On a trip to Bangalore, Vikram met Mrinalini, they fell in love and got married in 1942.
It was a great meeting of liberal, cultured, minds. Father, an illustrious lawyer, mother Ammu Swaminathan, a noted social worker, brother Govind Swaminathan, a criminal lawyer, and sister Captain Lakshmi Seghal, a leading figure in Netaji Bose's Indian National Army which sought the help of the Japanese to defeat the British in World War II.
Mrinalini, educated at a Swiss school, an American dance academy, then joined Tagore's Shantiniketan where she was personally taught by Gurudev, learnt Bharata Natyam and Kathakali from Guru Meenakshisundaram Pillai and Thakazhi Kunchu Kurup. In those early days she expressed her passion for classical dance and in an interview commented, 'Even at age 4 I knew I would be a dancer. Dance is the breath of my life and the stage, my mother. I was born with a desperate consuming desire to create and the need to question.'
Married and settled down in Ahmedabad, Mrinalini had to contend with certain harsh realities. Classical dances did not have much of a popular appeal and large sections of Gujarati society associate it with the Devadasi culture.
Vikram and the rest of the Sarabhai clan stood by her. Association with Gandhiji also helped. Soon, prejudices began to crumble as more girls and even boys joined Darpana, which she founded. This was possible thanks to Mrinalini's versatility in dance forms.
Darpana began to create dance drama, starting from bhakti themes to more modern ones on burning social themes like dowry evil, bride burning, joint family systems, Dalit discrimination and more themes from Indian mythology revolving around women. The male participation in these dance dramas rose sharply, enhancing the element of realism.
Ahmedabad's cultural scene would not have gone beyond traditional garba, but for Amma's (as Mrinalini was adoringly called) pioneering efforts, observed theatre lovers.
Mrinalini's children, now growing up, were inspired by Amma's passion. Daughter Mallika was a chip of the old block, eagerly taking part in theatrical and dance innovations. Foreign innovations came to Darpana in a big way. Beckett, Moliere, Tolstoy, Pinter and other playwrights helped to put Darpana firmly on the world theatre map.
Thanks to the Sarabhai initiative Ahmedabad was now a cosmopolitan city and the mixed population began to enjoy and appreciate international shows. Mallika proved to be a worthy successor, taking an independent stand on vital topical issues of the city. Staunchly liberal, the family guarded its liberal tradition and secularism. This did not go down well with right-wing elements and then chief minister Narendra Modi's government tried to file criminal charges against Mallika over frivolous issues.
Somehow the communal divide in Ahmedabad has not healed. The spirit of Darpana is trying its best, but much more needs to be done. The element of orthodoxy and conservatism still runs deep in Gujarati society. The affluent society of the Sarabhais does not care. But the upper middle classes and the middle class are still bothered by the communal divide. There is no coming together of Hindus and Muslims who are still tradition-bound.
Visiting the theatre, understanding its real themes and reading about what is happening in the world, still remain the privilege of the upper classes.
Several years back there was much eyebrow-raising in Ahmedabad when daughter Mallika reached forward to light the funeral pyre of her father: 'O, the daughter has breached the gender wall of Hindu society. They will get away because of their wealth and special status! Had the Sarabhais belonged to a lower strata of society, there would have been trouble.'
Those who belong to the same strata of Hindu society could get away with such progressive steps, but they need guts. They should not peep behind to check if 'Big Brother' was watching.