If Mehbooba is 'allowed' to survive unchecked, she could transform her campaign into a sentiment typically suited to the ground conditions in Kashmir, observes Mohammad Sayeed Malik, the distinguished commentator on Kashmir affairs.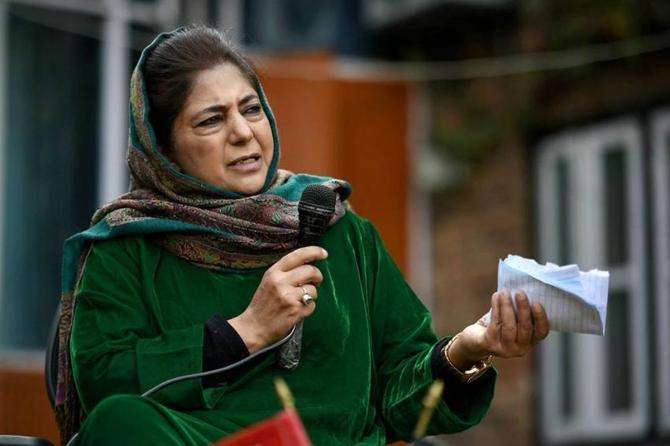 Kashmir has gone through it so many times, since 1953, that the ongoing cat-and-mouse game being played between the Bharatiya Janata Party-led 'New Delhi' and the Peoples' Democratic Party leader Mehbooba Mufti looks like a miniature replica of a familiar political game.
Only that unlike her predecessors in the game, Mehbooba appears to be preparing herself for the 'dire' personal and political cost of a prolonged unequal combat.
At the moment, she seems determined to pursue her course, unmindful of its consequences.
Already, a big chunk of her partymen including former ministers and legislators has deserted her and the process is still on.
She is a helpless witness to her key supporters and some family relatives being hunted down by official agencies let loose upon them without mercy.
Her tweet last week alleged that her maternal uncle Sartaj Madni's home had been ransacked by the local army unit in course of a search operation.
It is already known that she has been officially told that her passport application stands rejected as well as that of her mother for undefined 'security reasons'.
She was recently questioned the Enforcement Directorate.
Some of her relatives, including her brother Tassaduque who was a minister for some time in her cabinet, are under the scanner of this or that central investigation agency.
What is it that has singled out the former PDP chief minister from the rest of the Opposition for receiving this 'this special treatment' by the Centre?
Her PDP is much smaller in size and influence, compared with the National Conference.
Desertion of partymen including former ministers and legislators has become a torrent.
More so after the recent District Development Councils elections in which the PDP's alliance with the National Conference and Sajad Lone's Peoples Conference swept the polls.
It is, however, a different matter that after the elections, a large number of elected DDC members were 'persuaded' to change their political label.
The BJP's hand behind all this was too transparent to miss.
Sajad Lone has since walked out of the Gupkar Alliance whose burial appears to be an imminent formality.
Mehbooba looks to be headed on to a lone path as National Conference leader Farooq Abdullah relishes himself being seen in the good books of New Delhi.
His instant and warm response to Prime Minister Narendra Modi's get-well message says is more eloquently.
On the contrary, Mehbooba , though formally still in alliance with the Farooq-led National Conference, is unrelenting in her opposition to the BJP-led Centre over the issue of Constitutional and political degradation of the erstwhile state of J&K.
She has taken the position that, come what may, her struggle for 'full restoration' of Article 370 and the statehood of the Union Territory would continue 'even if I am left alone in the fray'.
It is obvious that Mehbooba is on a different wavelength from where she started while succeeding her father Mufti Mohammad Sayeed in 2017 and even from last year when she tied up with the National Conference-led Gupkar Alliance collectively pledging full restoration of the position as it existed on August 4, 2019.
Her words and her action suggest that she had either lost the appetite for returning to power politics in Kashmir or that she is resigned to the position that she would not be the one to 'surrender to New Delhi' but would go along the popular sentiment in the Kashmir Valley favouring 'resistance to usurpation of our legitimate status and constitutional position'.
This sentiment is latent and it did show up in the form of popular support in the Valley for the Gupkar Alliance in the DDC polls whose aftermath, however, was morally ugly, to say the least.
Right now the process for delimitation of the 87 assembly seats is underway and its conclusion is yet nowhere in sight.
So there appears to be a long haul to formation of a new House.
Only the long-race horses can survive till then in the extreme trying conditions in this part of the country.
Old horses would find it impossible to cross quite a few unfamiliar new obstacles being put in place.
For the BJP, breeding long race horses and in good number is not going to be easier either.
That is because the political climate in the Kashmir Valley is not so conducive on the ground.
Yet the BJP is bent upon eliminating any serious political challenge to its game plan for the future of J&K needs.
If and when ready, their roadmap would have more unfamiliar landmarks than familiar ones (if any at all).
The power game may be old, but the run up to its final is likely to be qualitatively different.
That is where the 'treatment' to Mehbooba matters. If she is 'allowed' to survive unchecked, she could transform her campaign into a sentiment typically suited to the ground conditions in Kashmir.
Whether she is able/allowed to go that far only time can tell.
But one thing is clear if the sentiment that drew the recent DDC polls is any indication, kuch bhi ho sakta hai.
And therein lies the potential significance of Mehbooba who, though, swears by her aversion to power politics.
But, perhaps, those 'dealing' with her know it better and that is why nobody is willing to take a chance in her case.
Feature Presentation: Aslam Hunani/Rediff.com