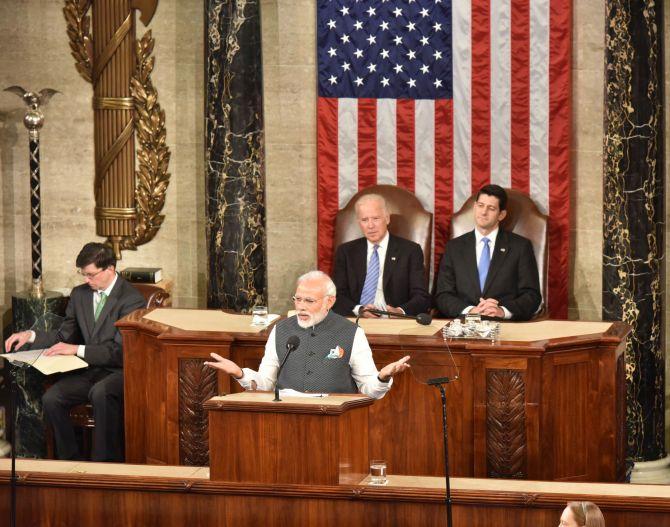 IMAGE: Prime Minister Narendra Modi addresses the joint session of the United States Congress, June 8, 2016.
'The American efforts to make India a security partner have enhanced India's importance to Chinese decision makers, says Walter Andersen..
I have been teaching graduate international relations seminars at a Chinese university in Shanghai for the past two weeks and the topic of Prime Minister Narendra Modi's June 7-8 visit to the United States has been a subject of consirable interest to several of my colleagues here.
Two of China's leading strategic analysts at Shanghai think-tanks who follow South Asia closely told me that the prevalent reaction of their fellow analysts to the Modi visit could be characterised as calm. They argue (as does the Chinese press) that India remains committed to foreign policy independence despite some recent incremental security moves of India toward the US.
By way of example, they point to the recent Indian refusal to support an American proposal jointly to patrol the South China Sea and External Affairs Minister Sushma Swaraj's reported statement that the South China Sea issue should not be internationalised.
Press reporting on the Modi visit to the US and his June 8 speech to the joint session of the US Congress, however, has been sparse so far, partly because the visit has coincided with the Dragon Boat festival, a major family event here.
My colleagues speculate that, barring some unexpected military agreement between India and the US, the press coverage is not likely to be extensive because the focus of China's foreign policy is to the east.
Reporting on Modi's speech to the joint session of Congress so far has been very selective. I have seen no references to two issues which seemed to me core parts of that speech. The press here omits any reference to terrorism incubated in India's neighbourhood, a clear if unstated reference to Pakistan.
It also omits reference to statement that India will also help to ensure the security of sea lanes and commerce and the freedom of navigation which could be interpreted as a reference to the South China Sea.
An oped in the State-controlled and nationalist Global Times, moreover, suggests that Beijing does not read too much into the significance of the Modi visit. According to this oped, Washington has failed to lure India into partnering together against China and uses as an example the Indian refusal to take part in any joint patrols in the South China Sea.
Furthermore, that oped argues that India continues to adhere to its traditional non-alignment principle in an effort to strike a balance between the great powers. India's foreign policy independence has been a prominent theme in what reporting there has been on the Modi visit.
Regarding Sino-Indian ties, the Chinese press appears relatively relaxed, predicting that China's significant economic assistance to India makes New Delhi more likely to deal with China as a friend than as an adversary. Earlier press reporting refers favourably to Modi's several visits to China when he was chief minister of Gujarat and his apparent admiration of Deng Xiaoping's economic reform model.
Several colleagues suggest, however, that the American efforts to make India a security partner have in fact enhanced India's inportance to Chinese decision makers and that the rather new recognition of India's importance and achievements are reflected in a much more positive reporting about India in the State-controlled media here.
While Chinese reporting acknowledges that the increasingly intimate India-US relationship is mutually beneficial to those two countries, that reporting does not seem concerned that improved Indo-US relations will result in any military alliance directed against China. The coverage has steered clear of belligerent rhetoric, especially regarding its characterisation of India foreign policy.
Nevertheless, there are abundant references to Washington's efforts, unsuccessful so far, to get New Delhi to play a supporting role in President Barack Obama's pivot to Asia, which the press here tends to define as motivated by strategic considerations directed against China.
Reporting on what the summit means for Obama and Modi personally, the Chinese press writes that the US president can interpret improved Indo-US relations as a positive contribution to his foreign policy legacy.
At the same time, the press writes that Modi has also benefited from his close personal ties with the US president by dramatically changing the narrative about himself in the US from that of a pariah unable even to get a US visa to that of a personal friend of the highest elected official in the US.
The press reports that the present meetings are particularly important in two areas: Economics and security. Both Obama and Modi want to enhance US-Indian trade from $120 billion to $500 billion, according to the English language edition of Global Times. Furthermore, the Chinese language version of Global Times writes that India would be more likely to back clean energy proposals if India were to become a member of the Nuclear Suppliers Group.
The press candidly reports that China has deep reservations about Indian membership in the NSG because it has not signed the 1970 Nuclear Nonproliferation Treaty and is a declared nuclear weapons power in contravention of that treaty.
On the defence front, the Chinese press writes about the US hope to wrap up the Logistics Exchange Memorandum of Agreement, the negotiation of which seems to be in its final stages after a breakthrough during US Defence Secretary Ashton Carter's India visit in April.
What is interesting about the reporting on defence issues is the apparent indifference of the government-controlled Chinese press so far to reports of US-Indian defence agreements.
Walter Andersen is a Teaching Fellow at Tongji University, Shanghai, China.