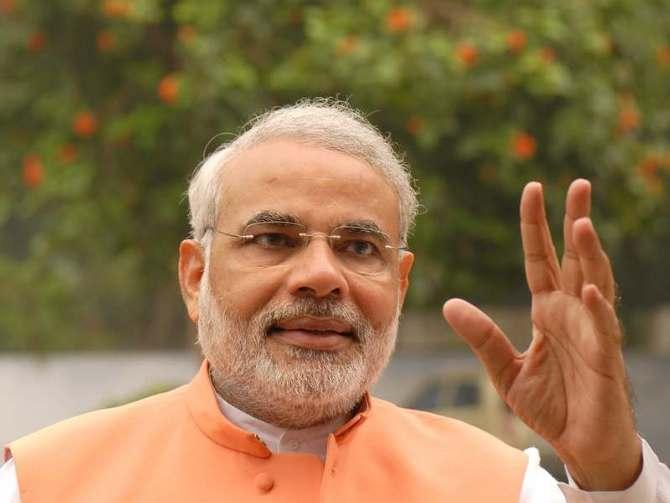 From early indications, the Modi government's foreign policy seems to be pragmatic and reciprocal, says K G Suresh.
One month is early days to pass a verdict on the performance of any government, leave alone one that came riding on high hopes in the backdrop of an apparent policy paralysis and indecisive leadership.
The new government will have to fill many a pothole before it gets into the task of nation building and for that even a year would be insufficient not to talk of one month, 100 days or six months.
Yet, in a democracy such as ours, where a large section of the populace finds it difficult to make two ends meet, expectations of fast results are neither unexpected nor unjustified. Hence, evolutionary changes is the panacea not radical reforms which would contribute to further enhancing the burden of the common man.
While one may have divergence of opinion on the initial steps (it would be unjustified to call it performance at this juncture) of the National Democratic Alliance government in reviving the nation's economy, foreign policy and defence are areas where the Modi regime has made some successful moves within a short span of 30 days.
To begin with, the fact that new Prime Minister Narendra Modi chose Bhutan as his first foreign destination after assuming office a month back was significant since China has lately intensified efforts to woo it and establish full- fledged diplomatic ties with Thimphu.
The visit came close on the heels of Modi's swearing-in ceremony where all the country's immediate neighbours, except, China, were invited though the apparent reason given was that only South Asian countries were invited (even Mauritius was there). There has been a perception that China has been gradually building close ties with India's neighbours in what was being seen by strategic experts as an attempt to encircle India though a 'string of pearls'. China has been building ports in Sri Lanka, Bangladesh and its 'all-weather ally', Pakistan. It overtook India as the biggest foreign investor in Nepal in the first six months of this year.
The aforementioned decisions of the Modi government reflect a subtle yet discernible change in the foreign policy approach towards China, as against the previous United Progressive Alliance government's policies which appeared to be more on the defensive.
China claims up to 4,500 square kilometers of Bhutanese land, more than 10 percent of the Himalayan kingdom's total area. Although the two sides have been talking about their dispute, they still have not established diplomatic ties. Any thaw between giant China and tiny Bhutan would be a setback for India, which has long dominated its neighbour's economy. By making Bhutan the destination for his first trip abroad, Modi has succeeded in keeping Bhutan out of China's orbit.
Interestingly, after Bhutan, Modi is expected to visit Japan. Japanese Prime Minister Shinzo Abe has spent years cultivating ties with Modi, who is said to be one of only three people Abe follows on Twitter
It could be a sheer coincidence that on his first two trips abroad as prime minister, Modi would be visiting countries that have territorial disputes with China.
Modi visited China four times as chief minister of Gujarat, Beijing is also closely watching the new government's policy towards US and Japan as also the countries Modi is visiting on his first trips abroad considering that Premier Mr Li Keqiang had made India his first destination abroad after taking power last year.
In his election campaign, Modi had promised a tough stance against both China and Pakistan.
In yet another strong signal to Beijing regarding border disputes, the Bharatiya Janata Party-led government has decided to nearly double the deployment of Indo-Tibetan Border Police personnel on the India-China frontier. The previous UPA government was often criticised for being 'soft' on the issue of Chinese incursions.
Interestingly, Minister of State for Home Affairs Kiren Rijiju who has been stressing on the need to enhance forces, infrastructure and modernisation of the ITBP to secure the border with China hails from Arunachal Pradesh, which Beijing claims to be part of South Tibet and issues only stapled visas to residents from the area, over which India has been raising serious reservations.
Similarly, the new government has shown urgency in expediting projects along the border that were held up due to objections from the Environment Ministry.
While the increase in deployment should not be construed as an aggressive posture on India's part, it is clear that the Modi Government is determined about securing India's territory.
Earlier this month, the Chinese Foreign Minister Wang Yi met PM Narendra Modi in New Delhi and discussed the entire gamut of bilateral ties including the contentious boundary issue.
The new Chinese leadership is keen to improve relations with India in the face of serious challenges it faces over its maritime disputes with Japan in the East China Sea and with Vietnam, the Philippines and other maritime neighbours in the South China Sea amid a major US military push into the Asia-Pacific.
Modi is expected to meet Chinese President Xi Jinping at the BRICS summit in Brazil next month.
In his meeting with Prime Minister Nawaz Sharif, the Indian prime minister was categorical in his assertion that India expects zero tolerance from Islamabad when it comes to terrorism directed against India from Pakistani soil. Interestingly, unlike in the past, the Pakistanis neither raised the 'K' word nor even met the separatist Hurriyat leadership. Some experimental border violations along the LoC were also thwarted with alacrity.
External Affairs Minister Sushma Swaraj's ongoing first stand alone visit to Bangladesh also is indicative of the emphasis on good neighbourly relations. Yet in consonance with his poll promise, Modi has moved fast on the illegal migration issue by restricting the entry of Bangaldeshi nationals through the visa on arrival regime.
Similarly, the decision to go ahead with Sri Lankan President Mahinda Rajapakse's visit for the swearing-in ceremony notwithstanding protests from Dravidian parties including BJP's own allies amply reflected that regional satraps can no more make foreign policy hostage to their whims and fancies. While regional issues are of concern to the government, regional parties cannot be allowed to determine the course of bilateral ties.
In yet another major move, India has decided to enhance transparency of its nuclear infrastructure by ratifying an additional protocol with the International Atomic Energy Agency -- a step that in a single stroke can be leveraged to boost energy security and lift international confidence.
Later this year, the prime minister is also expected to visit USA with whom he shared an uneasy relationship over the denial of visa which took him closer to Asian countries such as Japan with whose leadership he has already established a personal rapport during his tenure as the Gujarat chief minister. Yet, the practical Gujarati that he is, Modi would not be dogmatic in his ties with Washington.
Also on the cards are major decisions and policy announcements including indigenisation aimed at beefing up the country's defence.
Modi's initial foreign policy moves have shown few major indicators:
National interest would be paramount as against Nehruvian idealism.
Improved trade ties would be the hallmark of bilateral ties.
Reciprocity and not philanthropy would be the guiding principle.
Emphasis would be on dehyphenating ties between India and Pakistan as the core of India's foreign policy
Focus on India emerging as a leader of South Asia before pursuing its dream of becoming a superpower.
Emphasis on reducing Chinese influence in the South Asian region.
Pursue good neighbourly relations with China but not at the cost of India's territorial integrity or self-respect.
Build common cause with countries having territorial disputes with China as a long term strategy.
Act tough with Pakistan on terrorism and cross-border violations.
Pursue with determination the 'Look East Policy' wherein the focus is on Asia, particularly the country's immediate neighbourhood, even as it engages with the rest of the world
All in all, India's foreign policy is set for a paradigm shift.
K G Suresh is senior fellow & editor with the Delhi-based Vivekananda International Foundation.