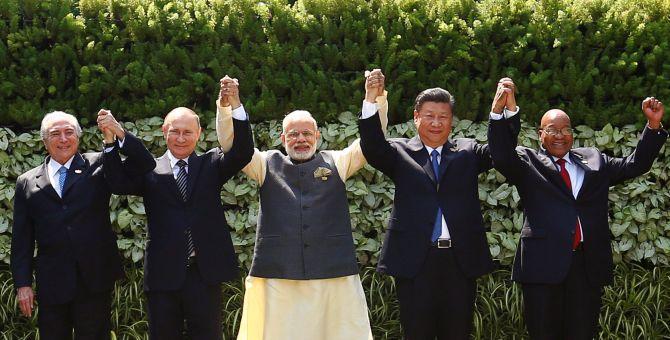 IMAGE: Brazil's President Michel Temer, Russian President Vladimir Putin, Prime Minister Narendra Modi, Chinese President Xi Jinping and South African President Jacob Zuma at the BRICS summit in Goa. Photograph: Danish Siddiqui/Reuters
Narendra Modi's success at the BRICS summit is the best Diwali gift for India's diplomacy and marks her ascendancy to global leadership, says Tarun Vijay..

The biggest breakthroughs are the simplest and coolest ones.
The BRICS (Brazil, Russia, India, China, South Africa) summit concluded with the Indian theme -- focussing on terrorism, pushing for economic development.
Prime Minister Modi's 'mothership of terrorism' description has reverberated globally, delivering the right, stern, message to Pakistan and showing India's firm position on terror.
The significant BIMSTEC (Bay of Bengal Initiative for Multi-Sectoral Technical and Economic Cooperation) heads of State meeting added to BRICS' stature and presented powerful voices converging on development sans terror.
There couldn't have been a better Diwali gift for India's diplomacy and her ascendancy to global leadership.
More than a regional bloc, BRICS has gradually assumed the role of a global power equaliser -- steering geopolitical equations to the eastern hemisphere so far blocked by the West.
The West has always scoffed at BRICS claims and the Western media has tried its best to create clouds of less hope and more suspicions on the future of BRICS, citing various factors -- debt issues, political problems and demographic challenges. Though these problems exist in more challenging ways in the Western bloc.
Nevertheless in spite of the divergence of views on many issues, the BRICS countries have done pretty well, showing a togetherness that promises a positive outcome for the regional and global geoeconomic architecture.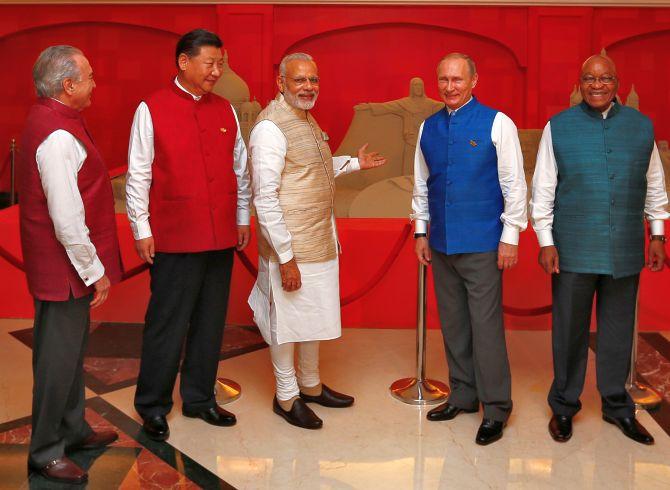 IMAGE: Temer, Xi, Modi, Putin and Zuma pose with Sudarsan Pattnaik's sand sculpture tribute to BRICS in Goa. Photograph: Danish Siddiqui/Reuters
The Goa summit has given a clear message that BRICS must end Western hegemony and blatant monopolisation of resource sharing and for that it is necessary to forge a convergence on the largest possible issues including terrorism.
With India's emergence as a strong economic leader -- surpassing all BRICS countries in its GDP growth rate as it stands currently -- things may move fast.
Modi's summit with Putin and his talks later with Xi, ending with a positive note on terrorism and economic growth, signals a hopeful future for moving together.
Nothing in diplomacy is charity and each country's priority is to serve its interest. Therefore, we have to move with divergence on some issues while trying to build a consensus on key security and economic matters.
There can be broad convergence and it depends on how we make the geo-economics to drive BRICS geo-politics to drive home the dividends that are beneficial to us.

One aspect that has ironically not played up by the media so far is breaking the perception on China's stand on Indian concerns. The Modi- Xi talks were positive on these issues and that must be welcomed to carry the dialogue forward.
The fact that Modi's acknowledgement that 'all BRICS leaders were united in acknowledging the global threat posed by terrorism, and that those who perpetrate acts of terror are no more dangerous than those who support them' was a remarkable one in the present context when we wanted to isolate the perpetrators of terror in our neighbourhood -- Pakistan.
The fight against tax evasion, black money and corruption was reiterated while giving a special emphasis on the spread of traditional knowledge, thus putting the civilisational stream of ancient nations as part of the main discourse.
Modi's phrase hinting at Pakistan as the 'mothership of terrorism' was a strong indictment of the terror factory that Pakistan has become and also a signal that India expects those who are helping and shielding Pakistan's terrorists must change their stance in the interest of peace and humanity.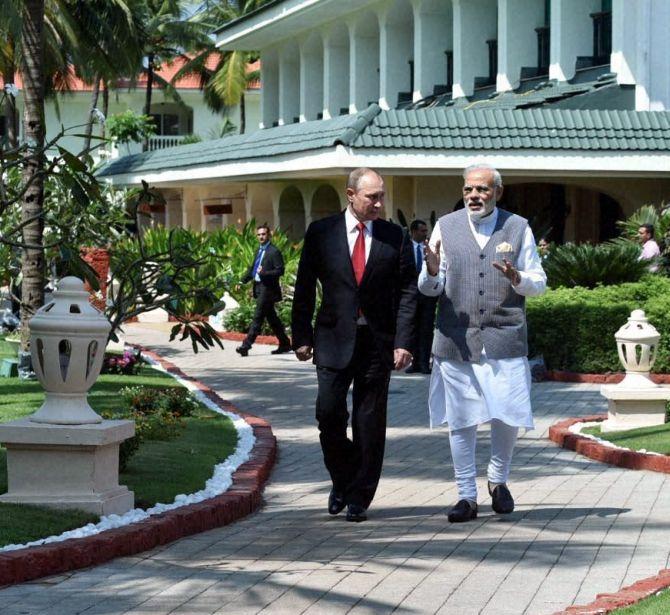 IMAGE: Modi and Putin after India and Russia signed 16 key pacts. Photograph: PTI Photo
The Modi-Putin summit was the highlight with 16 strategically significant agreements inked. But beyond these statistics, the resurfaced mutual trust was the biggest achievement.
Modi's line, 'An old friend is better than the two new ones' will always be quoted to reiterate India's commitment to continue its time-tested relations with Russia.
Putin is a dear friend for all times and the Indian people have a great respect for his strong, decisive policies. Our relations with Russia are also a hallmark of our independent foreign policy which to many was seen as getting too close to Washington.
The Goa declaration with 109 points formed the agenda for the next 11 months after which the BRICS chairmanship will pass on to China. It lay emphasis on building collectiveness to combat terrorism.
The Goa declaration's policy emphasis markedly said: 'Common interests and key priorities to further strengthen our strategic partnership.' It quite strongly manifested in various initiatives with a mission statement -- 'to reach out and enrich our understanding and engagement with fellow developing and emerging economies, we will hold an Outreach Summit of BRICS leaders with the leaders of BIMSTEC member countries comprising of Bangladesh, Bhutan, India, Myanmar, Nepal, Sri Lanka and Thailand.'
One can clearly see that Pakistan stands completely isolated from all the major regional partnerships and dialogues, which is a leap forward to keep the terror sponsors at bay and out of any civil deliberations.
The detailed mention of the structured approach to combat terrorism was quite meticulously prepared as is evident from this para, 'We call upon all nations to adopt a comprehensive approach in combating terrorism, which should include countering violent extremism as and when conducive to terrorism, radicalisation, recruitment, movement of terrorists including foreign terrorist fighters, blocking sources of financing terrorism, including through organised crime by means of money-laundering, drug trafficking, criminal activities, dismantling terrorist bases, and countering misuse of the Internet including social media by terror entities through misuse of the latest information and communication technologies.'
'Successfully combating terrorism requires a holistic approach. All counter-terrorism measures should uphold international law and respect human rights.'
There are other important issues that require a mention:
1. The BRICS Network University as well as the BRICS University League , which will commence its programmes in 2017.
2. Hosting of the first BRICS Young Scientists Conclave in India, and the institution of the BRICS Innovative Idea Prize for Young Scientists.
3. First call for proposals under the BRICS STI Framework Programme, in 10 thematic areas, with funding commitment from the 5 BRICS STI ministries and associated funding bodies.
4. Establishment of the BRICS working group on research infrastructure, and mega-sScience to reinforce the BRICS Global Research Advanced Infrastructure Network.
5. Decision to hold the first BRICS Trade Fair in New Delhi.
IMAGE: Modi with the BIMSTEC leaders in Goa. Photograph: Press Information Bureau
Addressing the seven-nation grouping of BIMSTEC, Modi focussed on economic development and propserity.
'With 1.5 billion people and a combined GDP of $2.5 trillion, the countries of BIMSTEC have shared aspirations for growth, development, commerce, and technology. Their quest for economic prosperity can shape the agenda for building economic partnerships with BRICS,' the prime minister said.
In 48 hours, Modi deliberated with world leaders and put before them the Indian vision of togetherness for prosperity and a secured, terror free future.
This success creates a path of challenges and opportunities, both.