Over the next five years, it will be Narendra not Nitish who will be under pressure to deliver vikas and atmanirbharta in Bihar, notes Kanika Datta.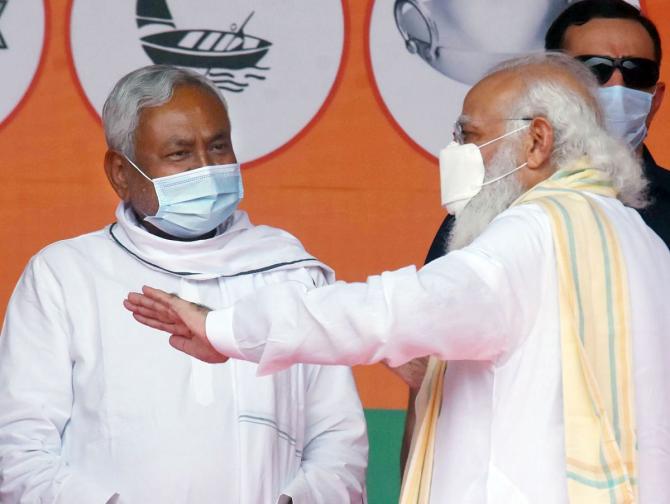 The Bharatiya Janata Party has much to cheer about in the party's strong showing in Bihar, even though it turned out to be, as a British general once famously wrote in despatches over a century ago, 'a damned near-run thing'.
But beyond demonstrating Narendra Modi's election-winning abilities, the state that has just come within his party's fold could also be the real test case for the prime minister's famed ability to deliver progress as he defines it -- with corporations pouring in billions for manufacturing facilities, creating thousands of well-paid jobs and creating a haven of prosperity into which that benighted state can finally awake.
Sceptics have questioned Modi's achievements in Gujarat principally because he leveraged decades of prosperity and efficiency in the state. And his economic and transformational talents as leader of India failed abysmally long before Covid offered the fig leaf for underperformance.
So Bihar offers him a clean slate, so to speak, to credibly demonstrate the truth of his storied abilities.
Indeed, Modi showed good understanding of Bihari voters's desires, astutely reviving the bogey of poverty by referring to the state's 'Bimaru' status, which he blamed squarely on Lalu Yadav and the Rashtriya Janata Dal.
The enormity of the problem can be had from the record of his political ally and Chief Minister Nitish Kumar, whose achievements in delivering electricity, roads and water and improving law and order in the state over his three terms has earned him a deserved reputation for good governance.
His record on affording electricity access offers one index of just how challenging his job has been: Expanding consumption from just 700 Mw to 6,000 Mw and bringing an end to what he called the 'lalten yug' --a sly reference to the rival RJD's election symbol of the hurricane lantern.
Outsiders visiting the state for the first time, not least its shabby capital, may have legitimately wondered what the fuss about Kumar's achievements was all about. But Biharis themselves certainly felt the difference. Yet, the irony is that despite 15 years, Bihar remains in the Bimaru ranks and still generally scores at the bottom of state rankings.
Quoting extensively from the Economic Survey of Bihar, Govind Bhattacharjee, a former director general at the office of the Comptroller & Auditor General of India, points to the state&'s many infirmities: Bihar's per capita income is less than one-third the national average, the share of manufacturing in gross state domestic product has actually dropped over a percentage point between 2015-16 and 2018-19, and 13 of the state's 38 districts figure among India's 117 most backward districts identified by NITI Aayog in 2017 on the basis of poverty, poor health, education and basic infrastructure deficit.
It is significant that in setting out these dismal performance indicators Dr Bhattacharjee adds a caveat that it would be unfair to blame Kumar alone.
Anyone involved in public service delivery in India will be well aware of the entrenched institutional obstacles to reform -- and Bihar in its social backwardness and deep history of corruption presents no small challenge.
This, then, is Modi's opportunity since Kumar manifestly appears to have lost his zest for politics and governing, and is likely to wield less clout given his new status as the junior partner in the alliance.
The PM ostensibly has all the tools he claims can transform India, and Bihar is a great place to test all of them.
He could start with industrialisation. Bihar has huge cohort of migrant labour, so finding workers for factories will not be a problem.
Finding large tracts of land for factories may be, especially with 75 per cent of the state's population relying on the diminishing returns from agriculture.
Like many parts of India, Bihar is one of the states where acquisition is near impossible because of the absence of clear land titles. So this is a great chance to unleash SVAMITVA, Modi's grand programme to map and digitise records in rural India and ease the process of land acquisition.
Or perhaps he could surge ahead with his signature Swachh Bharat programme and declare Bihar Open Defecation Free -- so far less than half its 38 districts could boast of that status.
Or he could make Bihar the focus of his ''Har Ghar Nal Se Jal' programme to bring piped water to every rural household.
Or he could use central monies at his command to augment Bihar's dismal healthcare infrastructure and expand access to healthcare via his Ayush health insurance programme. The opportunities are endless.
These may well have been the dreams that voters bought into when they pressed the button beside the lotus symbol.
Over the next five years, it will be Narendra not Nitish who will be under pressure to deliver vikas and atmanirbharta in Bihar.