'I realised that if we don't get relief from the government, I'll be faced with the prospect of either starving in Delhi, or starving in my village.'
Geetanjali Krishna meets a street vendor whose life has been turned upside down by the lockdown.
Illustration: Dominic Xavier/Rediff.com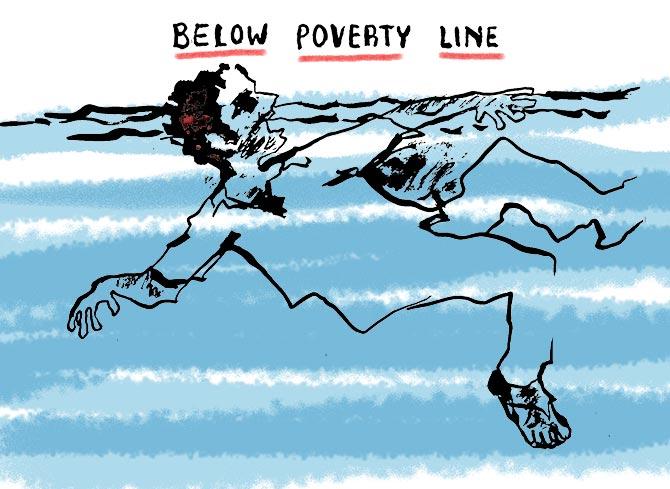 Last month, Prime Minister Modi announced a three-month extension of relief measures for ration card holders.
Few commented on the fact that the coverage of people benefiting from the National Food Security Act hasn't been recently updated, even though it was suggested in the Economic Survey 2019-2020.
The uptick in poverty caused by the lockdown in India has made this even more imperative.
On the ground, I've been hearing stories of people who used to earn well enough to not need government subsidies before the lockdown -- but now do.
Sunil Mishra is one of them.
From being a self-respecting street vendor/entrepreneur earning up to Rs 30,000 a month, he's been brought to his knees by the lockdown. Here's his story.
Sunil Mishra runs a pavement stall selling readymade garments in Delhi's bustling Karol Bagh.
He migrated here from Bihar's Madhubani district in 1987.
"A massive flood had devastated my village," he says. "I came to Delhi penniless."
Yet, as a testament to his entrepreneurial spirit, within a year, he'd saved money doing odd jobs and daily wage work to start his own business on the pavement.
Over the decades, Mishra had managed to build a comfortable life for his family here, even as he continued to support his mother back in the village.
He was able to move to a comfortable home, paying a rent of Rs 8,000. He was also able to send his children (both in Class 12) to good, but expensive, tuition classes.
Additionally, Mishra became the president of the Karol Bagh Street Vendor Association. "I became well known in my community and relatives came to see me as someone to approach for loans when they needed them,"; he says.
"The lockdown changed this."
Since the lockdown began, Mishra hasn't earned a penny.
"Even today the rules on street vending aren't clear, and most of us haven't resumed business," he says.
He hasn't been able to pay his monthly rent since March and has taken a loan of Rs 30,000 to tide him over.
"Half way through the lockdown, we swallowed our pride and applied for an e-coupon to avail of the free ration offered by the government," he says.
"We were allotted a ration shop 5 km away from our house. My wife walked there thrice, but couldn't get our allotted rations."
His present state of penury has made Mishra rue the fact that he has no savings.
"Street vending is a short-term business," he says.
"We take loans to buy our merchandise and repay them as soon as we sell it. There's no scope for saving or investing money even though when business is good and one can live a good life."
When Mishra called his mother, he learnt that once again floods are threatening to engulf his village.
"I realised that if we don't get relief from the government, I'll be faced with the prospect of either starving in Delhi, or starving in my village," he says. "I hadn't imagined in my wildest dreams things would come to such a pass..."
Mishra's story underlines the crying need for the government to update its list of social security beneficiaries.
The world's biggest lockdown has left an indelible impact on the country's socio-economic fabric and unless this is taken into account, the government's relief measures may not reach all the people who desperately need them.
Feature Presentation: Rajesh Alva/Rediff.com