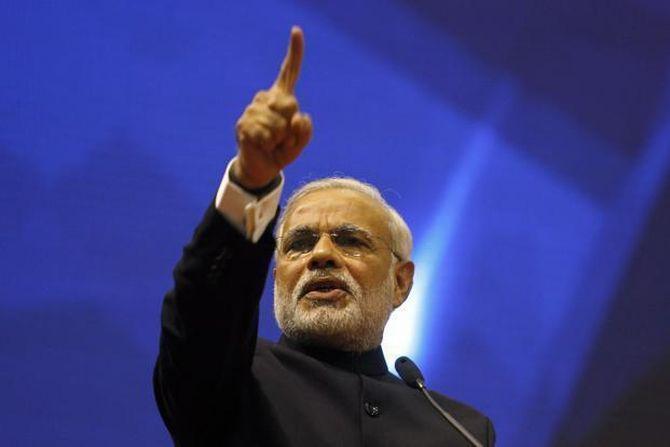 Modi needs to get his act straight and get it straight soon. Five years down the line, Modi may continue to have support from his ardent supporters, but for the masses he would lose the plot on his sudden inability to tell a good story, says Shruti Vyas.
We all love a good story. We thrive on them. Stories create history, and future. They bind us, they destroy us. Better still we all love a good storyteller. And politics is all about giving people stories. Leaders need to tell stories which are compelling, evoking and compassionate. The world has produced many storytellers. From Abraham Lincoln to Winston Churchill, from Ronald Ragan to Margaret Thatcher to Bill Clinton, they have all touched our imagination, our emotions. They have left a mark in our minds.
Sadly for a long time in India, a country with lots of stories, a storyteller was a miss. There was a need of a master storyteller who was able to deliver narratives that resonated across the broad section of this diverse nation. After all, a prime minister's success is measured against the way he tells his story, the way with which he speaks and sells his policies, his goals and aspirations for his country. A story that is exciting enough for him to gain power over the electorate, time and again.
A year ago all this changed for India. On this day amidst a lot of excitement and fanfare, our 15th prime minister started penning a new story. A compelling storyteller himself, India finally seemed to have found a story and a storyteller in Narendra Damodardas Modi. Today the prime minister completes one year in office. And like the saying goes, that time has come, for 'after the applause comes the appraisal'. But, one year in office is not enough to evaluate a leader and his work definitely. Stories from the past have shown us that many leaders have not achieved success well until their second term.
Yet, one can understand the palpability that Modi's one year holds. At the onset, Modi himself had set the standards so high, by which he would be judged now and, will continued to be judged at each milestone.
For the past one month everyone, from political analysts, to the intellectuals, the CEOs, economists, ludicrous television anchors, overcritical journalists, all have once again sat down to assess the prime minister's performance, each one of them revealing their emotional attitude. For majority of these assessors, it has been a satisfactory year in office for the prime minister. They are optimistic and hopeful for a better future. But there are the certain few skeptics and cynics who continue to thrive on pessimism, critical of India's future under Modi.
But for me, who lives and breathes on narratives, on stories, Modi's first year in office has not given me a story to read. And nor for the saava so crore deshwasis. Reading Modi since his election days, his first year in office has given a story with no essence. Modi has failed in this one year to provide us with a comprehensible, accessible story.
And it's tragic that the man who proved himself to be a fantastic storyteller during the elections, who waltzed into office by fashioning his humble upbringing of a chaiwala, championing on delivering ache din with sabka saath sabka vikas, has faltered to write an equally engaging narrative for his prime ministership.
The pradhan sevak till the end of his first year has only been bequeathing ideas. The idea of 'swach bharat'; the idea of high-speed trains and smart cities; the idea of a clean Ganga; the idea of more jobs and more comfort, all coupled in the idea of new and shining India.
He even promised to do something new, an idea only expected from an outsider, he vowed to change the ways of Delhi. All grand ideas. But what are ideas without a story to put into?
For a year now, the common man has waited for these ideas to unfold in a story. Ideas have been flowing but Modi has yet to flex his narrative muscles to tell the story of his legacy, of his Modi sarkar, to tell the story of where our country is headed and how will he achieve it.
For a compelling, artful storyteller this is dreadful. Modi may have started to weave a story, gotten patches of narratives on foreign policy, started implementing the Jan Dhan Yojana, but we have yet to hear anything that excites our mind and soul. We have yet to see the elements come together alive for it to truly become a fitting tale.
After all Narendra Modi is no ordinary prime minister. He is a craftsman. Unlike his predecessors or his peers, Modi is a gifted storyteller. He has the charm, the charisma, the theatrical appeal to keep his audience engaged. He did it during his reign as chief minister. He did it during electioneering. His forte is his personality, which drives him forward. He has an extraordinary skill of an orator. He is a shrewd and polarising politician who has a plan, a bold sharp progressive plan. He possesses the courage and willingness to make painful choices to take India forward. All thriving ingredients for a successful story.
But none of this will matter if he fails to express his vision, his policies, his plan and his courage in a story. In this last year Modi has failed to write that story. In the remaining four years, Modi needs to craft a strong story, and fast, if he expects to be able to accomplish his ideas.
His opponents are already hard at work. The Congress has finally gotten over its hangover and has aggressively started crafting their story. The regional parties too have woken up from their slump.
Modi needs to get his act straight and get it straight soon. Five years down the line, Modi may continue to have support from his ardent supporters, but for the masses he would lose the plot on his sudden inability to tell a good story. After all in the end, all that matters is a good story. Even if the man is remarkable and the story simple, it is always a good story that leaves a lasting impression.