'The Vajpayee personae is so mirrored in Modi's initiatives that one wonders if the similarities are merely a coincidence or a divine design,' says RSS ideologue Tarun Vijay.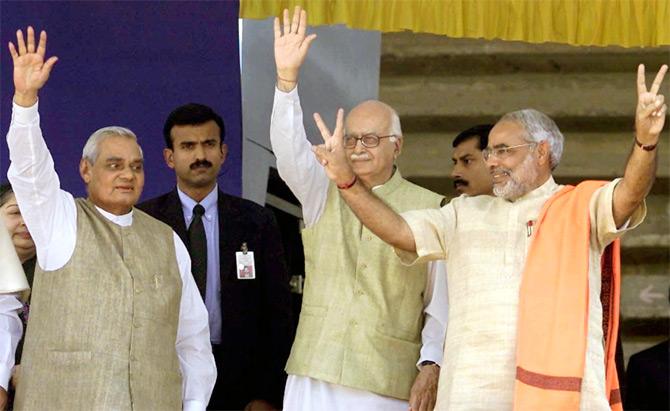 When Prime Minister Modi tweeted his birthday wishes to Atalji on Sunday, it was understandable.
When he tweeted his birthday greetings to Pakistan Prime Minister Nawaz Sharif the same day, it reminded one of the return of the Vajpayee mould.
Only a strong, confident, leader perfectly rooted in the Indian ethos would have had the courage to do that.
Modi once again proved he is building up where Vajpayee left, for peace with India's neighbours, striking hard when it is needed (a la Kargil) and making friends the world over.
What better message for Atalji on his birthday than this?
I remember how suspicions clouded Atalji's Lahore bus journey.
While the preparations were on, I visited his home. During a relaxed evening, he asked, in his inimitable way, what the reactions in Sangh (Rashtriya Swayamsevak Sangh) circles were to his plans to visit Lahore.
I told him that most of us Swayamsewaks felt good about it because it was being done under his initiative.
None could doubt his intentions and none could say we are compromising our national interests, I added.
Shri Madan Das Deviji, the then RSS sah sarkaryavah, was in Delhi and I sought an interview with him (Tarun Vijay then edited the RSS journal Panchjanaya).
I discussed the Lahore bus journey with him, explained that as the Opposition was trying to raise the bogey of possible RSS disapproval, we should have on the (Panchjanya) cover the RSS leader expressing his best wishes for the success of the Vajpayee initiative. He readily agreed.
When Prime Minister Modi suddenly visited Lahore to attend a marriage in Nawaz Sharif's family last Christmas, I remembered Vajpayee's bold, courageous, Lahore move. This time too, the RSS disappointed all the doubting Thomases.
Like Vajpayee, Modi is deeply rooted in the RSS ethos and the Hindu philosophy that teaches to work for Param Vaibhavam -- the glorious pinnacle of the nation -- through peace and amity, but at the same time be unforgiving to the unrepentant wicked.
Both rose from being RSS pracharaks, both have a deep devotion for the Sangh's second sarsanghchalak, 'Guruji' M S Golwalkar.
Vajpayee showed it in Kargil. Modi showed it through the September 29 surgical strikes.
Vajpayee pursued a policy of development, strengthening the infrastructure for a greater, stronger, and happier India.
His moves on the technological front, the mobile telephone revolution, the Golden Quadrilateral, standing up firmly to American sanctions, developing our own super computer, his stress on rural development and poverty eradication, setting up an exclusive ministry for tribal welfare, special packages and extraordinary peace initiatives in the North-East and Jammu and Kashmir, the 'Insaniyat' message to the Kashmiri awam, unprecedented initiatives for the minorities and help to modernise madrasas, bold steps to ease tensions on the India-China border and his historic visit to Beijing... his poetry, philosophical bent of mind and a wizardly virtue to mesmerise the masses with his oratory...
Vajpayee was instrumental in having the Kailas Manasarovar route reopened. Modi got the second route through Nathu La for the Kailas Yatra opened.
The Vajpayee personae is so mirrored in Modi's initiatives that one wonders if the similarities are merely a coincidence or a divine design.
Modi's initiatives to provide pension to farmers, the Jan Dhan scheme, the solar revolution, new vistas in highways and waterways, Ujjwala, infrastructure build-up, Make In India, Digital India, skilling the youth... these innumerable schemes echo the Vajpayee mindset.
And Modi is a poet too. His poems are popular in Gujarati, sung by many celebrated singers.
And his oratory has mesmerised world audiences -- from New York to Shanghai, from Riyadh to Kathmandu.
On Atalji's 92nd birthday, I feel seeing Modi as the strongest-ever leader of the nation -- decisive, bold and courageous, yet open to dialogue -- is the best birthday gift to the Ajatshatru Ataljiji, the leader who created a world of friends around him and his dearest Motherland.
Tarun Vijay is a former Bharatiya Janata Party member of the Rajya Sabha.
IMAGE: Then prime minister Atal Bihari Vajpayee, then deputy prime minister L K Advani and then Gujarat chief minister Narendra Modi in Gandhinagar.